RIP Willie Moore
by pangloss
2019-03-17 13:35:30
Mr. Willie Moore

Mr. Moore and his wife Betty were long time friends of my parents. My mother and Betty were childhood friends in Ogden. Over the decades they lost track of each other. One day my grandmother struck up a conversation with a black woman on the bus. They were both long time residents of Ogden. My grandmother mentioned her daughter in law, phone numbers exchanged, and after about 50 years their friendship renewed.

Betty was married to Willie Moore, a barber and owner of a barbershop on 25th Street in Ogden. For years, Willie, Betty and my parents met often.

I was close to 30 when their friendship grew and I met Betty and Willie. Willie was quite a character. His stories of a black man in Utah during the 1930's and 40's were great. He cut hair in the Hotel Utah before opening shop in Ogden and met dozens of famous people like JFK. He played for the Globetrotters. I dropped by his shop about a dozen years ago. He was in his 80's, still cutting hair six days per week. He said I looked raggy and cut my hair.

When my son was about 5 he asked about his grandparents. I told him about my parents and my wife's parents. Then he asked how his other grandparents, Willie and Betty fit in. This is an old picture of my son, Mr. Moore, and another kid.


After the ASU @AZ game, Miller sounded a lot like he's coached his last game in the desert. The feds are closing in, they alledgedly have him on tape discussing then-recruit Ayton and $100,000
by pangloss
2019-03-10 13:03:55
If he resigns or gets fired, Az's #1 rated recruiting class is free to go elsewhere, right?

Miller to Arizona fans: 'Thank you for everything'
In the spirit of finding something all of us can agree on. Here is the goofiest bunch of shat I've seen in decades - the best pictures from the New York Times Men's Fashion magazine.
by pangloss
2019-03-03 13:21:54
When I was a young student radical hippie I remember when old farts would get in your face and ask if you were male or female because you had long hair and dressed casual-cheap. If this is this is the natural progression of hippie style, I apologize to all the old farts I told to fuck off.

The best pictures from the New York Times Men's Fashion magazine



Ungrateful little jerk
by pangloss
2019-03-02 13:39:35
Just to lighten the mood.

Parrot Trapped On Roof Keeps Telling Fire Crew To "F**k Off"
I'm no coach and I'll support the Utes whatever they do, but the Utes should go back to their roots and play man-to-man defense.
by pangloss
2019-02-25 16:39:11
With so many freshmen the Utes will make mistakes playing man. It's worth it.

The extra effort with man defense transfers to offense. We saw that against WSU. The team played hard at both ends for 40 minutes. Rebounding is better. Tracking down loose balls is better. Playing 'monster' against star opponents is better. Players stay active, pay attention and don't turn into spectators.

Utah has been a man D program since spot was a pup. Majarus thought if you had to play zone to win, it wasn't worth it (box & 1 the sole exception). The six inch in-your-face stance wasn't a zone. Unless you're Boeheim, one of his disciples, or Air Force, zone D is for sissies.
2010 Syracuse
by pangloss
2019-02-21 14:25:56
Washington is similar to the 2010 Syracuse team. Hopkins was the long time assistant to Bayheim and brought their defence with him.

In 2010 Syracuse played in the NCAA regionals in SLC. That team started a 6'5" guard, three 6'6" - 6'8" swings and a 6'9" center. At least three players were drafted. They won the Big East regular season, then lost in the first round of the conf tourney. Despite that loss, they were a #1 seed in the NCAA and won their first game against Vermont by 24. They beat Gonzaga in the 2nd round by 22, 87-65. They played in the Salt Lake regional and lost in a 'shocking upset' to the Gordon Hayward Butler team, 63-59.

I expect Washington will have a similar post season - without the #1 seed.

Last night Syracuse beat #18 Louisville 69-49.
weird season, weird game
by pangloss
2019-02-16 23:30:42
Edwards went 1-7, 4 points in Boulder. He went 9-14, 28 pts 64% tonight. He's shot 31% for the season

ASU shot 42% FG, 43% 3, 59% FT in Boulder; 54% FG, 46% 3 and 20-24 84% FT in SLC

Congratulations to ASU, damnit.

I hope the Utes play them on Friday in Vegas
Arizona
by pangloss
2019-02-13 12:40:26
This century, Utah's record against Arizona is awful - one win and a bunch of losses, I think.

Tomorrow should be different. They've lost six of their last seven and five in a row. They've had bad loses against Wash St (14 points), @UCLA (21) and @USC (23). Last year's promising-but-underperforming freshman, five star PG Akot quit the team seven games ago when their losing funk started and will transfer to Boise.

Jeter (6'10" center) and Randolph, the two who each scored 21 against the Utes in January have been inconsistent.

Miller describes his team as fragile in terms of depth and talent. He's developed a nervous twitch in his left shoulder. He and Jeter look & sound like their dogs died in this week's news conference.

So anyway, the Utes should pound 'em. The cats can't lose enough to make me happy, but they're going in the right direction.
I don't know which Utah win was more improbable, last night's or this one.
by pangloss
2019-02-10 13:21:20
One thing is sure, yesterday's win will be included in the updated version of the 100 greatest moments when the do the 200 seasons of Utah basketball.

I was at this 1985 game. It was swell.



Hendrix is now the Senior Associate Athletics Director for Development. He was a great basketball player - 4 year starter, three year captain. He didn't play football at the U, but went on to play six years for the Cowboys.
What an improbable week in an odd PAC12 year
by pangloss
2019-02-10 11:35:52
I'm probably influenced too much by prior years, but the games in bold seem like upsets. And there seemed to be a home court disadvantage, home teams 3 wins, visitors 8 with the So Cal teams getting swept at home by Colorado & Utah, Arizona getting swept, and ASU beating Washington at home after losing to WSU.

Wednesday
Utah 77 @USC 70
Colorado 84 @UCLA 73
Cal 62 @Oregon 73

Thursday
Washington St 91 @ASU 70
Wash 67 @Arizona 60
Stanford 83 @Oregon St 60

Saturday
Utah 93 @UCLA 92
Cal 71 @Oregon St 79
Wash St 69 @Arizona 55
Washington 63 @Arizona St 75
Colorado 69 @USC 65
ESPN has 6 or 7 highlights from the game on their site, all UCLA.
by pangloss
2019-02-09 18:00:20
I don't care how long it's been since UCLA dominated, beating them at Pauley is fantastic.


The LAX team won their first ever today.
So, which UCLA team will show up? ESPN has the Bruins at 76% win probability.
by pangloss
2019-02-09 14:21:03
I expect the crowd will be flat today - afternoon game, coming off a loss and three losses in a row. I saw one of their recent games, I don't remember which one, and Bartow was in the face of a player screaming at him. I doubt he has a chance to be elevated and lose the interim tag. They're talented, but have folded - their 5 conference losses have all been by double digits.

Utah by 12.
I'm always looking for cheery things. Here's one - Arizona has lost three games in a row and faces Washington tonight.
by pangloss
2019-02-07 11:28:14
Maybe the NCAA will put 'em on probation. That would be like Christmas when I was 12.
stumbled on this video of Bol Bol v. Ute signee Matt Van Komen
by pangloss
2019-02-06 20:58:26
7'5" - tallest Ute ever?

It's too bad Bol got hurt. It sounds like he's going pro.


A theory of winning college basketball after a disappointing weekend.
by pangloss
2019-02-03 12:46:15
First, a definition of 'win'. I think these are conservative milestones: getting into NCAA regularly (2 years out of 4), making sweet 16 occasionally (1 out of 5 years), competing for conference titles (top quartile 4 of 5 years). Other off-court requirements: academic excellence or close-to-it, no recruiting or other NCAA scandals, turds get run out after failing a second chance. There are other on- and off-court requirements, but these are a reasonable start.

There are two ways to win in college basketball. Truism: Teams win when their roster includes 2 or 3 NBA or near-NBA talented players.

The perennial marque programs (Duke, Kentucky, N.Carolina, Kansas etc.) and near-marque programs (Arizona, Oregon, Gonzaga, Michigan St. etc ) win by one of two routes: 1) By recruiting a couple one-and-done and two-and-done players every year.

Or 2) Develop a few NBA or near-NBA juniors and seniors. The near-marque and near-marque-wannabes (Utah, Stanford, Tennessee, Wichita etc) usually win this way - with several players in their 3rd and 4th years of playing together.

Utah's player turnover causes years like this one, where 50% of the minutes are played by the three freshmen and the sophomore, Tillman. They're inconsistent with flashes of great and bad. None of those four players are one-and-done and probably not two-and-done NBA talents. All four might develop into NBA or near-NBA talents as juniors and seniors and the Utes will win bigly. If the core players transfer, the Utes will stay in the "wait till next year or the year after" realm.
I just tuned into Utah's first Lacross match v. Vermont. They're down 10-4 at the half. I saw two Utah goals and a flag ( I don't know who it was against or for what ). The ball (?) is really small and hard to follow. It looks like a great game.
by pangloss
2019-02-01 17:14:54
We need a new sports category. I put this in other sports but that's for darts and bowling, if I'm not mistaken.

It's on PAC12 network.
Youtube - Operation Backfire. Launching a V2.
by pangloss
2019-01-27 15:22:11
I found this while wandering around virtual land. A couple of you might be interested.

It shows the post-war assembly and launch of a V2 by the Brits using captured Germans and captured German equipment. A couple nifty things I saw were the portable 10 ton overhead crane and the <something-or-other> wagon. The special tooling, special equipment, ground support equipment and launch support equipment were also interesting, but my previous life selling stuff like that warped my interest. The trajectory of the rocket is a kick, 20 miles of thrust, 180 miles of ballistic arc. The 'launch troop' guy smoking a cigarette on the launch pad is a surprise.



numbers geek that I am, a few M BBall stats
by pangloss
2019-01-27 12:34:52
PAC 12 games only, PAC 12 stats

Utah team
fg% 2, 49.1% (Wash 1, 51.4% )
3pt FG% 1, 42.4%
3pt FG made 1, 73
points/game 2, 78.3 (UCLA 1, 81.9)

Individual
points/game Barefield #7 18.1, Allen #17 13.3, Tillman #25 12.3
3 pt shots/points per game Barefield #1 3.7/8.6, Tillman #10 2.1/4.6
3 pt % Tillman #4 46.9%, Gach #8 43.5%, Barefield #9 43.3%
Is hairspray a product that indicates class distinction? Maybe I'm just one of the great unwashed proletariat and these upper class necessities are beyond my comprehension.
by pangloss
2019-01-23 15:07:03
I heard the name of the hairspray Tяump uses, TRESemme, and went to their site. I tried to think of something funny, insulting or clever to write about it. I couldn't get past how weird the site is. It's the New York fashion scene I think. I keyed in my zip to get the nearest store. There isn't one. Apparently they don't sell the stuff in Utah. It's a different world than I inhabit. Hamdillah (thank God).

TRESemme - 16 types of hairspray
You probably already knew this, but this article explains a lot.
by pangloss
2019-01-07 17:17:06
Wapo: What's behind the confidence of the incompetent? This suddenly popular psychological phenomenon.

"The Dunning-Kruger effect explains why unskilled people think they know it all and tend to be overconfident."

It certainly explains Trump: "I know more than <fill in the blank>"

Variables:
the generals about ISIS
the Sec. of Defense about NATO
"My Twitter has become so powerful that I can actually make my enemies tell the truth."
"I know all about knives and belt buckles."
"And I know more about wedges than any human being that's ever lived." "I know more about [campaign] contributions than anybody."
"Nobody has better toys than I do."
"Nobody loves the Bible better than I do."
"I'm the king of debt. I understand debt better than probably anybody."
"I think nobody knows more about taxes than I do, maybe in the history of the world. Nobody knows more about taxes."
Oh what the hell, I'll go there. Congratulations to University 4. And not that I'm neutral, but I thought the officiating was less than fair and balanced. Barefield's 3rd & 5th were mysterious.
by pangloss
2019-01-05 15:45:51
Utah's turnovers, D and rebounding need to be more consistent. The team is playing well now, and in spans they're damn tough..

With Bol out for the season, I don't see a favorite. I wish Colorado would get tougher to make the mountain road trip more difficult.
On to Arizona. They aren't all that tough this year. Ayton, Tarczewski, Grier and Alkins are in the NBA. In their final non-conference game they beat UC Davis by 2. UC Davis' record is 3-10.
by pangloss
2019-01-04 10:34:55
My hopes are up.

The last time Utah won @Ariz cars had cassette players (I actually don't know the last time, but that sounded clever).
ESPN: Pac-12 caps worst December by major conference in 20 years as five teams lose
by pangloss
2018-12-30 11:40:31
Ugh. At least the Utes got thumped by a really good team.

Pac-12 caps worst December by major conference in 20 years as five teams lose
Watching god's gift to football (Notre Dame) lose cheers me up. Now if Satan's er... Saban's spawn loses the world will be right and delightsome.
by pangloss
2018-12-29 17:43:50
Not that I like Oklahoma or Clemson.

UCLA is losing to Liberty, that's a nice omen too.
I'm a believer, Nevada is the real deal.
by pangloss
2018-12-29 15:03:26
Turnovers killed Utah's chances. But Nevada caused most of them with tips & such. They're good. Coming into the game their 3 pt shooting looked like a weakness @ 34%. Utah sagged in to help and they shot 46%.

I like the Utes' rotation - with Tillman & Barefield off the bench. The team is improving. I hope Tillman likes the rotation.

Bring on ASU.

Oh, and I remember an awful lot of Ute fans complaining about Majers' style of play - too slow, too deliberate, too much emphasis on defense.
Anything is possible, that's why they play the game.
by pangloss
2018-12-13 18:14:31
December 18, 1976, Utah 70 - #3 Kentucky 68, Kentucky's first loss in the brand new Rupp Arena

Juddy



From the Des News 23 years after the game:

"We had no chance," said Judkins, who had one of his best games ever, scoring 24 points. "Everybody back there thought it was over before it started. But we went out and really executed."

Jonas recalls that even after they won, people couldn't believe it.

"I remember waiting in the airport to go home with this huge trophy that they thought would never leave the state. Someone saw it and said, 'Hey what are you doing with our trophy?' "

Here's how Jonas describes the game-winning play.

"We got the ball with seven seconds left. I brought the ball up the left side and they expected us to go to Judkins and they double-teamed him. Earl Williams was all alone on the right side of the foul line so I passed it to him. When he hit the shot at the buzzer, it went from bedlam to absolute silence. All you could hear was our team celebrating and Bill Marcroft, saying 'Utah wins.' "

"I've never seen anything like it," added Judkins. "The place was going crazy, but when Williams made that shot, it went dead silent."
Just because an athlete is personable, generous with his time and money, and is supremely talented doesn't mean he isn't an idiots
by pangloss
2018-12-12 12:05:31
I like Curry a lot. He gives a lot of himself to others. He may prove to be the GOAT in 3-point shooting.

But he's idiot for believing fantastical conspiracies.

Stephen Curry Doubts Moon Landings. NASA Offers to Show Him the Rocks.
I'm the Tom Lovat of the fantasy football I donate to. Third year in a row, failed to make the championship playoffs. I'm glad it's only a $30 donation.
by pangloss
2018-12-02 17:46:28
I seem to be the kiss of death to late career, former star players and mid career prospects, and promising 'hidden gem' rookies.
The Washington drive to start the 4th quarter was like a slow, no anesthesia root canal.
by pangloss
2018-12-01 12:54:56
Washington's killer drive to start the 4th Qtr:
17 plays
5 first downs
started on the Wash 6 went 73 yards to the Utah 20
lasted 10 minutes
ended with the blocked FG, but only 5 min left in the game

Their third quarter drive was 14 plays, lasted 7 minutes and also ended with no score.

Time of possession usually doesn't mean much, but it did last night-- Wash had the ball 17 minutes more than the Utes. They also ran 73 plays to Utah's 52.

Congratulations to Washington. They beat Utah at its own game. I'm glad Browning and Gaston are seniors.

Sigh.

Go Utes, beat TBD
There is a thread a couple pages back about the Utah County artist McNaughton. As an amatuer art historian, I was going to respond there, but was afraid it would get lost.
by pangloss
2018-11-27 14:59:45
The origins of McNaughton's style date back about 90 years. It's called Political Realism. It started in Russia and Germany. Out of those origins sprouted the Chinese, North Korean and Utah County McNaughton sub-genres.

Here are a few examples.


1930's German



Russian / USSR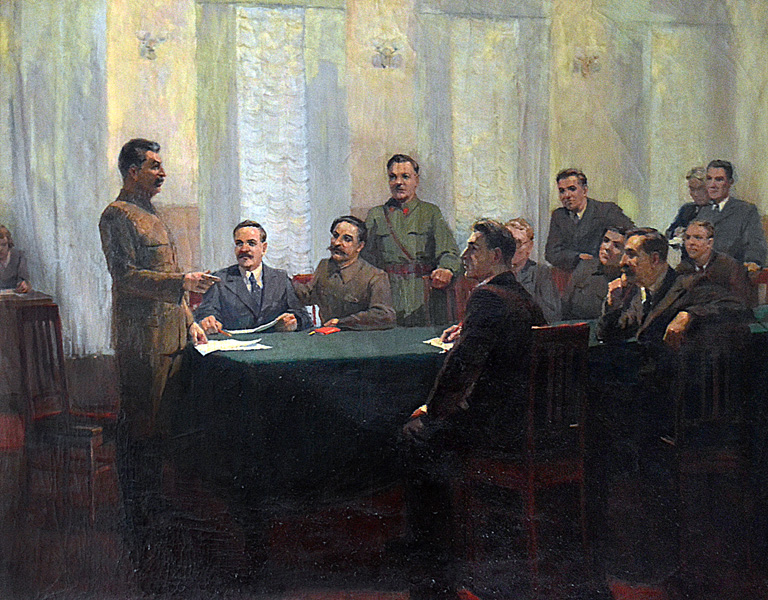 North Korean



Chinese



McNaughton