For all users. This page is automatically generated and contains the most recent and best work on the message board.
Post Statistics:
* Note: Current rankings are based on activity in the last calendar year.
Recent Topics:
You probably already knew this, but this article explains a lot.
by pangloss
2019-01-07 17:17:06
Wapo: What's behind the confidence of the incompetent? This suddenly popular psychological phenomenon.

"The Dunning-Kruger effect explains why unskilled people think they know it all and tend to be overconfident."

It certainly explains Trump: "I know more than <fill in the blank>"

Variables:
the generals about ISIS
the Sec. of Defense about NATO
"My Twitter has become so powerful that I can actually make my enemies tell the truth."
"I know all about knives and belt buckles."
"And I know more about wedges than any human being that's ever lived." "I know more about [campaign] contributions than anybody."
"Nobody has better toys than I do."
"Nobody loves the Bible better than I do."
"I'm the king of debt. I understand debt better than probably anybody."
"I think nobody knows more about taxes than I do, maybe in the history of the world. Nobody knows more about taxes."
Oh what the hell, I'll go there. Congratulations to University 4. And not that I'm neutral, but I thought the officiating was less than fair and balanced. Barefield's 3rd & 5th were mysterious.
by pangloss
2019-01-05 15:45:51
Utah's turnovers, D and rebounding need to be more consistent. The team is playing well now, and in spans they're damn tough..

With Bol out for the season, I don't see a favorite. I wish Colorado would get tougher to make the mountain road trip more difficult.
On to Arizona. They aren't all that tough this year. Ayton, Tarczewski, Grier and Alkins are in the NBA. In their final non-conference game they beat UC Davis by 2. UC Davis' record is 3-10.
by pangloss
2019-01-04 10:34:55
My hopes are up.

The last time Utah won @Ariz cars had cassette players (I actually don't know the last time, but that sounded clever).
ESPN: Pac-12 caps worst December by major conference in 20 years as five teams lose
by pangloss
2018-12-30 11:40:31
Ugh. At least the Utes got thumped by a really good team.

Pac-12 caps worst December by major conference in 20 years as five teams lose
Watching god's gift to football (Notre Dame) lose cheers me up. Now if Satan's er... Saban's spawn loses the world will be right and delightsome.
by pangloss
2018-12-29 17:43:50
Not that I like Oklahoma or Clemson.

UCLA is losing to Liberty, that's a nice omen too.
I'm a believer, Nevada is the real deal.
by pangloss
2018-12-29 15:03:26
Turnovers killed Utah's chances. But Nevada caused most of them with tips & such. They're good. Coming into the game their 3 pt shooting looked like a weakness @ 34%. Utah sagged in to help and they shot 46%.

I like the Utes' rotation - with Tillman & Barefield off the bench. The team is improving. I hope Tillman likes the rotation.

Bring on ASU.

Oh, and I remember an awful lot of Ute fans complaining about Majers' style of play - too slow, too deliberate, too much emphasis on defense.
Anything is possible, that's why they play the game.
by pangloss
2018-12-13 18:14:31
December 18, 1976, Utah 70 - #3 Kentucky 68, Kentucky's first loss in the brand new Rupp Arena

Juddy



From the Des News 23 years after the game:

"We had no chance," said Judkins, who had one of his best games ever, scoring 24 points. "Everybody back there thought it was over before it started. But we went out and really executed."

Jonas recalls that even after they won, people couldn't believe it.

"I remember waiting in the airport to go home with this huge trophy that they thought would never leave the state. Someone saw it and said, 'Hey what are you doing with our trophy?' "

Here's how Jonas describes the game-winning play.

"We got the ball with seven seconds left. I brought the ball up the left side and they expected us to go to Judkins and they double-teamed him. Earl Williams was all alone on the right side of the foul line so I passed it to him. When he hit the shot at the buzzer, it went from bedlam to absolute silence. All you could hear was our team celebrating and Bill Marcroft, saying 'Utah wins.' "

"I've never seen anything like it," added Judkins. "The place was going crazy, but when Williams made that shot, it went dead silent."
Just because an athlete is personable, generous with his time and money, and is supremely talented doesn't mean he isn't an idiots
by pangloss
2018-12-12 12:05:31
I like Curry a lot. He gives a lot of himself to others. He may prove to be the GOAT in 3-point shooting.

But he's idiot for believing fantastical conspiracies.

Stephen Curry Doubts Moon Landings. NASA Offers to Show Him the Rocks.
I'm the Tom Lovat of the fantasy football I donate to. Third year in a row, failed to make the championship playoffs. I'm glad it's only a $30 donation.
by pangloss
2018-12-02 17:46:28
I seem to be the kiss of death to late career, former star players and mid career prospects, and promising 'hidden gem' rookies.
The Washington drive to start the 4th quarter was like a slow, no anesthesia root canal.
by pangloss
2018-12-01 12:54:56
Washington's killer drive to start the 4th Qtr:
17 plays
5 first downs
started on the Wash 6 went 73 yards to the Utah 20
lasted 10 minutes
ended with the blocked FG, but only 5 min left in the game

Their third quarter drive was 14 plays, lasted 7 minutes and also ended with no score.

Time of possession usually doesn't mean much, but it did last night-- Wash had the ball 17 minutes more than the Utes. They also ran 73 plays to Utah's 52.

Congratulations to Washington. They beat Utah at its own game. I'm glad Browning and Gaston are seniors.

Sigh.

Go Utes, beat TBD
There is a thread a couple pages back about the Utah County artist McNaughton. As an amatuer art historian, I was going to respond there, but was afraid it would get lost.
by pangloss
2018-11-27 14:59:45
The origins of McNaughton's style date back about 90 years. It's called Political Realism. It started in Russia and Germany. Out of those origins sprouted the Chinese, North Korean and Utah County McNaughton sub-genres.

Here are a few examples.


1930's German



Russian / USSR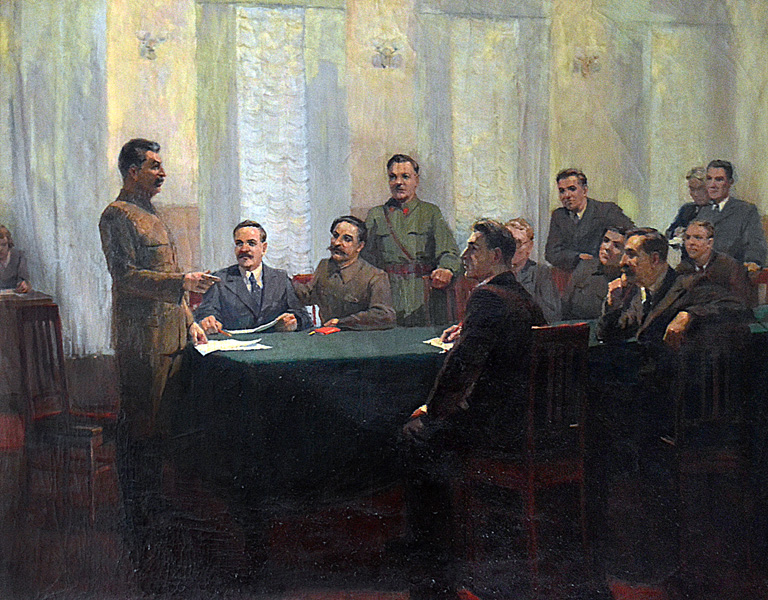 North Korean



Chinese



McNaughton

From former Utah player, CJ Johnson (and others), a real toe tapper
by pangloss
2018-11-23 11:24:38
Anyone have a pimple that didn't heal and hung around for a few months?
by pangloss
2018-11-15 15:33:09
Well I did.

My pimple was red, had smooth edges and was about half the size of a pencil eraser a few centimeters above my right eyebrow. When the top of it fell off, or was rubbed or scratched off a couple times it scabbed over and looked like it was healing - only to come back. It was still red and had smooth edges - I thought it didn't look like the type of mole to be worried about.

After more than a few folks told me to get it looked at, I asked my primary care guy about it during a visit for some other irritant. He wasn't too concerned and suggested I see a dermatologist, which I did. The dermatologist shaved off slices for biopsy. The biopsy came back positive for basal cell carcinoma. With that diagnosis I learned that if you're going to get cancer, that is the kind you want.

Yesterday I went to the surgeon/dermatologist for Mohs surgery. That's an iterative process where they chop a chunk off, examine the chunk for cancerous cells and if there are some, take another chunk, examine, and repeat if necessary. I was there for about 8 hours. The doctor gave me a mirror after he was finished chopping. There was an impressive hole in my forehead about the size of a half-dollar and about three stacked half-dollars deep. I had no idea the skin on my forehead was so thick.

Then, he cut 1.5 inch triangular 'flaps' above and to the side of the hole and somehow plugged the hole with the flaps. He used some kind of electric current cautery tool during the process. It made foul smelling smoke and an odd electronic noise that reminded me of Frankenstein movies when they revive the monster with lightening. When that thing hit a nerve it felt like a big spark was shooting out the top of head. They covered the wound with a kotex-sized bandage.

I didn't see the repair before they put the bandage on, so I'm not sure how the triangular flaps covered the hole. The scar will be somewhere between movie star plastic surgery and Frankenstein's monster's forehead - I suppose.

So, word to the wize, wear wide brimmed hats, and get those moles and peculiar looking pimples looked at early. Hoping they will heal themselves is a poor decision.
I posted this a couple pages back. But I think it has general 'gee whiz' appeal so I repeat it.
by pangloss
2018-11-12 12:37:48
If Alex Smith plays out his Washington contract, he will earn about $258 million in his NFL career. His guaranteed career money today is about $178 million.

A HOF honor would be nice, but I doubt he will lose sleep over it.

Smith is now the highest paid Ute sports alumni. Andre Miller is second at $98 million.

I haven't actually researched all Ute pros but I'm fairly sure Smith and Miller #1 and #2.
Wow, the Utes are favored in Vegas by 10 1/2 - 11. O/U is 54.
by pangloss
2018-10-26 17:56:03
I hope the team is over last week's win, because I'm not.

First downs 27-10, total yards 541-205 against freaking USC. I drank a lot of wine last week. Maybe that brought some luck to the team. I won't risk interrupting the trend and start now.
Offensive line
by pangloss
2018-10-21 11:40:55
Since we're heaping praise on the team & coaches, I want to recognize the O-line's progress.

After the NIU game I was afraid they were the team's achilles heal. The Utes rushed for a net 68 yards and passed for 286 in 31 attempts. Huntley was chased all over the field and ended up with a 39 QBR.

This sounds silly, but Last night, Utah's O-line held their own against freaking Southern Cal at the start. In the first qtr the Utes were gettin 2 or 3 yards per play on the ground. It was tough sledding. As the game wore on, Utah started opening holes for Moss and gave Huntley time to throw. By the end of the game the SC defensive line looked gassed and wanting it all to end. Huntley had a QBR of 79.

After struggling against Northern Illinois, the O-line dominated USC. Let that sink in.
Get a flu shot.
by pangloss
2018-10-16 18:50:59
My doctor told me today that the flu killed about 80,000 people in the U.S. last year. That's more than highway and gun deaths combined.

So get a flu shot.
A few things I really liked last night.
by pangloss
2018-10-07 12:52:12
In Utah's second possession they had a 4th & 2, Wish stalled his punt for a couple counts and Stan got a running into the kicker penalty, giving the Utes a 1st down. Stanford only had 2 penalties on the night, that one was huge. The Utes then marched down the field and scored the game's first TD - setting the tone & momentum. I don't know the stats, but it seems like the Utes suffered several drive killing penalties and enjoyed few drive sustaining opponent penalties in the two losses.

Stanford has always been a run-first offence with huge, tough O-lines. Utah stuffed their run, they only had 42 net yards (-30 on Costello sacks). Forced to pass when they were behind and couldn't run, they gave up two interceptions and only had one TD pass in 41 pass attempts.

Over the years Stanford has also had huge, tough D-lines. Utah gashed them for 222 yards on the ground, blowing open huge holes, getting blockers on their linebackers. On several runs, Moss wasn't touched until he was 6 or 7 yards downfield.

Huntley went 17 for 21 with no interceptions. He had a QBR of 76, Stanford's Costello was 41.

The smiles on the faces of the Utes late in the 4th quarter were beautiful. It was a terrific win.
Meanwhile, in a New York courtroom, the Adidas trial continues.
by pangloss
2018-10-06 12:15:33
Arizona Sports.com: Agent offered $50,000 for basketball recruit to attend Arizona, dad testifies

Louisville fired Pitino for the same crimes Miller's Arizona program committed. I guess Louisville runs a cleaner program - or maybe just less flagrantly crooked.
Want to learn about DARPA?
by pangloss
2018-10-05 15:44:50
Some history and some current activity at DARPA. No alien technology, sad to say.

DARPA
Good story about Mike Leach when he was the OC at Oklahoma
by pangloss
2018-10-03 18:33:29
The untold story of Mike Leach's 'lost' OU play script that fooled Texas
Congratulations to Wash. But...
by pangloss
2018-09-16 15:11:13
Can someone explain why the hits on Covey didn't call for a defenseless player penalty?



NCAA Rule Book
Rule 2, Article 14 Defenseless player:
...
- A receiver attempting to catch a forward pass or in position to receive a backward pass, or one who has completed a catch and has not had time to protect himself or has not clearly become a ball carrier.
...

I couldn't tell from TV, but ...
by pangloss
2018-09-10 16:46:34
It seemed like Huntley had to check down to his second or third receiver on many, or most of his passes. I couldn't tell from TV if NIU played man or zone, whatever they did it disrupted things. Huntley didn't try to force the ball and didn't take off running very often.

Whatever the reason, it seemed like they struggled in passing.

Then again, 286 yards, 20-31 catches, and zero interceptions isn't awful.
So, I'm shopping for durable medical equipment on the web and had a couple questions and used their chat feature
by pangloss
2018-05-11 16:02:43
Here's the exchange

Me: - how long does it take to ship? I live in Utah

vendor: Unfortunately, <vendor> does not ship outside the United States.

You have several options. First, you can look for a freight forwarder in the US. Second, you can contact the manufacturer and looking for dealers in your local country.
There were 68 teams in the NCAA and 32 in the NIT. Ninety eight of those teams' seasons end with a loss.
by pangloss
2018-03-28 15:45:41
It's cool that the Utes are one the last six teams playing. I wish Utah was playing for the NCAA championship, but since they're playing for the NIT championship they might as well win it all and end the season on a high note. One of only two that will.

On a personal note, I have a friend who went to Penn St. I drug him to the UC Davis game. He was dismissive of the PAC and Utah. It would be nice to avoid taking additional shit from him.


Go Utes
way back machine
by pangloss
2018-03-27 16:56:33
In 1985 or '86 or '84, Gator and I attended the Crimson Club inaugural meeting. We were organized into a dozen or so little groups with about 8 people in each. It was kind-of exciting that Utah athletics was imitating big time programs. I think it cost $20 to join. Chris Hill was the director of the CC.

We stuck around after the meeting (beats work) and talked to Hill. He was interested that Gator and I worked at a big corporation (Hercules). He was using paper. He wanted recommendations on how to computerize club member lists. I don't remember if we had graduated from Visicalc to Excel, but I told him I didn't think a workbook would work for him. He's a pleasant guy and has done a marvelous job. I wish I could have helped.
It's too early to ask, but does anyone know anything about W.Kentucky?
by pangloss
2018-03-22 13:17:17
Looking at the ESPN info, they score and give up a lot of points. Their tallest players are two guys at 6'9", they seem like a bunch of wings at 6'4" to 6'7". Run & gun, I'm guessing.
What's the worst place to play -- a field house like tonight or at a converted football field like they use in tournament regionals & finals.
by pangloss
2018-03-21 18:15:11
I went to the Utah regional in Minnesota's Metrodome. The basket looked like it was floating in mid air. Utah couldn't hit shit that game.
I usually like St. Mary's. The refs seem to like them tonight.
by pangloss
2018-03-19 22:51:48
Give 'em hell Huskies.
The Immortal Irishman
by pangloss
2018-03-17 10:10:34
Listening to Bill Walton do UCLA games this year, he referred to Walsh as The Immortal Irishman and referred to the book. I finished my Kindle book and Walton's recommendation. It's pretty good, the biography of Thomas Francis Meagher (1823-1867).

The Immortal Irishman
---
Top 10 Most Recently Posted Messages:
back to politics
(1 day ago, 6 stars)
I want it known that I red-starred FFU, Thrill and Flyer (and would have starred Hammer, no matter how misguided he is) in the spirit of Utefan ecumenism.
(1 day ago, 2 stars)
Trump bringing up Cohen's father-in-law is a new low. I wonder what will happen to his base when Trump hits bedrock.
(3 days ago, 1 stars)
"We live in deeply stupid times" - Anonymous Official not authorized to speak
(3 days ago, 4 stars)
Another possibility is that Giuliani is trying to de-fuze the press bombshells he knows are about to explode. They'll call new disclosures of collusion with Russians 'old news'
(4 days ago, 2 stars)
You're absolutely right. But the thought of Trump being thrown out of office on a 'Go To Jail' card helps me sleep better.
(4 days ago, 6 stars)
Giuliani is signaling that Trump wants to make a deal with Mueller. He'll rat out Kushner and plead guilty to lesser crimes.
(4 days ago, 0 stars)
Pense would be politically hamstrung worse than Ford. I'm willing to risk it.
(4 days ago, 3 stars)
Memory is a fickle thing. My memory of his death announcement is clear and apparently wrong. Sorry for the mistake.
(4 days ago, 0 stars)
WashPost: Here are 18 reasons Tяump could be a Russian asset
(6 days ago, 5 stars)
You are clearly laboring in a fact-based reality.
(6 days ago, 1 stars)
If ghostly things happen at the sites of tragic events, you would think the train crossing at 10200 South would be crowded with apparitions. Maybe it is.
(7 days ago, 1 stars)
There is nothing like a wall. Nothing in the World.
(7 days ago, 9 stars)
That's quite a document. She wasn't even a primary actor in the conspiracy but her actions on behalf of the Russian govt for the benefit of Tяump's campaign are damming.
(7 days ago, 0 stars)
The author is a Russia expert at the Naval War College and Harvard.
(7 days ago, 3 stars)
Just to nitpick
(7 days ago, 0 stars)
I think the last line in Woodward's book 'Fear' was perfect for nearly every Trump question (NSFW)
(8 days ago, 2 stars)
"at least we won"? It was entertaining. The Utes played well and ran from the start. Six players scored double figures and Johnson had 8. The three freshmen looked good. Clean your crimson colored glasses and celebrate the win. It's more fun.
(9 days ago, 1 stars)
I believe the country and its people are resilient and will survive and thrive. I don't believe in vague, cryptic 19th century prophecies of dubious origin.
(9 days ago, 5 stars)
My wife had a DOE Q level security clearance - Top Secret Restricted Data. To get cleared, the FBI did a background check. They interviewed our neighbors & relatives. It took several months.
(9 days ago, 6 stars)
It could be worse, Oregon was up 9 with 1:00 to go. They lost in OT to UCLA.
(10 days ago, 0 stars)
Yes, thank you, exactly.
(10 days ago, 0 stars)
Haven't you heard? The wall will pay for itself. I have a way for that to happen.
(10 days ago, 1 stars)
I spent most of my career working with government agencies or prime contractors. The corps stood out.
(10 days ago, 3 stars)
Yup. It was Ernie with the chest pains.
(11 days ago, 0 stars)
Ray Nagel is dead too.
(11 days ago, 0 stars)
Wayne Howard is dead
(11 days ago, 0 stars)
The company had cost plus contracts so they wouldn't let us fire anyone unless there was bullet-proof documentation.
(11 days ago, 2 stars)
One of my guys ...
(11 days ago, 1 stars)
I think if they came down heavy on the demand side, the migration would slow way down.
(11 days ago, 1 stars)
Meaningless forecast: If the Utes win these two they will finish in the top half of the conference.
(11 days ago, 0 stars)
Think of it as an autoclave. Hospitals used autoclaves for sterilization before everything became disposable.
(11 days ago, 0 stars)
Brilliant. I wish I had thought of that when I had a couple lazy deadbeats reporting to me. Swearing, yelling and humiliation was ineffective.
(11 days ago, 1 stars)
I'm with you. It's a lot worse, at basic tasks, than I thought. For example, I thought he would start his work day before 10 or 11am. I didn't think he would alienate our allies and embrace dictators.
(11 days ago, 0 stars)
As a career geek of sorts, ...
(12 days ago, 3 stars)
Long before the internet was born, the whiteboard in Gator's office was the Utah fans message board. He was the only poster, but it was the snide, anti-zoo precursor to this place and very funny.
(12 days ago, 3 stars)
One of these days Whit will announce his new assistant coaches. As much as we would like to know, we will never know who else he talked to.
(12 days ago, 0 stars)
We have yet to see if she has those virtues. There is no doubt Trump lacks them.
(13 days ago, 4 stars)
Apparently Trump decided to leave Syria immediately, after a phone call with Erdoğan - no DoD, intelligence or State Dept. analysis or staff input. It was the final straw for Mattis, Kelly and others.
(13 days ago, 1 stars)
At the height of the Viet Nam war in 1969, the US lost over 1,300 soldiers and marines per month.
(13 days ago, 1 stars)
New methods of extracting natural gas (fracking) at much lower costs killed coal. The fact that it is cleaner and emits less carbon is a secondary benefit.
(13 days ago, 3 stars)
In stark contrast with Trump, I think she is sincere, honest, well intentioned and not motivated by self aggrandizement.
(13 days ago, 8 stars)
One more, "I think I am actually humble. I think I'm much more humble than you would understand." -Trump
(14 days ago, 4 stars)
You probably already knew this, but this article explains a lot.
(14 days ago, 8 stars)
Look, no cat, no cradle. It's a virtual wall !
(14 days ago, 0 stars)
Breakthrough?: Lockheed Martin, Raytheon and Northrop Grumman (and other) companies (will compete for) a multibillion-dollar ... contract to build ... a "virtual fence"
(14 days ago, 4 stars)
It's hot, humid, flat, overgrown with kudzu, has no residential zoning or building code laws, has a poor education system, and the people speak an unintelligible dialect of English.
(14 days ago, 1 stars)
Watergate era saying, "It's not the crime, it's the cover-up"
(15 days ago, 3 stars)
Anyone know if the Sarkisian rumor is real? He was good enough for bama and SC, I guess he would be good enough for Utah.
(16 days ago, 0 stars)
Not so fun stat of the game, free throws - they shot 30 and made 23, Utah shot 14 and made 10. Utah outscored them from the field 71 to 61
(16 days ago, 1 stars)
Corrected. Thanks
(16 days ago, 0 stars)
Yea it's too bad. I was looking forward to the Ducks beating Az.
(16 days ago, 0 stars)
You're right, but it was not a great pass.
(16 days ago, 0 stars)
Oh what the hell, I'll go there. Congratulations to University 4. And not that I'm neutral, but I thought the officiating was less than fair and balanced. Barefield's 3rd & 5th were mysterious.
(16 days ago, 0 stars)
Master of everything, good for nothing
(16 days ago, 3 stars)
Economists who ascribe to protectionist trade policies are as rare as climate deniers among climatologists.
(17 days ago, 3 stars)
I don't know if this true...
(17 days ago, 0 stars)
Trump's revisionist rambling about the USSR, Afghanistan and Russia echos the Kremlin's interpretation of history. Where he got those ideas is a matter of national security. This is a real issue.
(17 days ago, 5 stars)
Vega?
(17 days ago, 0 stars)
I don't know. I'm glad we don't have race heritage criteria like the nazis.
(17 days ago, 1 stars)
Not so fast. John Adams defended the British soldiers who killed the 5 civilians at the Boston Massacre. Adams was a good man, a good founding father, and a good president. The Brits were scum.
(17 days ago, 0 stars)
Different tribes have different amounts of native "blood quantum" for membership.
(17 days ago, 1 stars)
Yikes, that 7 1/2 years before Van Dyke was born.
(17 days ago, 0 stars)
There's an ethical difference between lying and making a mistake. She repeated overstated family lore. Her transgression is venial.
(17 days ago, 8 stars)
On to Arizona. They aren't all that tough this year. Ayton, Tarczewski, Grier and Alkins are in the NBA. In their final non-conference game they beat UC Davis by 2. UC Davis' record is 3-10.
(17 days ago, 4 stars)
4th consecutive Utah win @ ASU. 27 point turnaround. Rebound, get back on D, run when it's there, shoot well from 3 - a good recipe.
(18 days ago, 1 stars)
Oh, we of little faith, there's plenty of room on the bandwagon. That was great.
(18 days ago, 8 stars)
Yea, that was fun. It was looking grim at first, down 17, now 4. The Utes are improving and they're playing hard.
(18 days ago, 0 stars)
ASU is good, they play really hard. The Utes will learn from this.
(18 days ago, 0 stars)
So, tax the people who are least able to pay and who receive no benefit. At least you're consistent.
(18 days ago, 1 stars)
Yea, I knew that. Brain fart. I'll leave it unedited as penance.
(18 days ago, 0 stars)
I'm reading 'Fear' by Bob Woodward. It keeps reminding me of the Twilight Zone episode "It's a Good Life"
(18 days ago, 9 stars)
Great news for Whit. He gets a $100,000 bonus for a top 25 finish on top of the $90,000 bonus for the division title and $50,000 for an APR over 970 (983). Football has been very, very good to him.
(18 days ago, 0 stars)
ASU beat #1 Kentucky. ASU lost to Princeton. Princeton lost to #2 Duke by 51, 101-50. Utah could win, but I'm not betting that way.
(18 days ago, 0 stars)
Wasn't Brian Johnson the QB coach at Houston when Applewhite was HC or OC? That would be a good reference.
(19 days ago, 0 stars)
If only Utah's 3rd drive in the second half to the NU 6 had ended in a TD rather than the scoop six, 17 pt lead vs 3 and the similarity with the Sugar would have been complete, or at least more-so.
(19 days ago, 3 stars)
Didn't they still get it wrong? Two separate dead ball fouls should have both been walked off, right?
(19 days ago, 1 stars)
The similarity of Sugar and Holiday games' ebb & flow didn't occur to me till now. Fast starts 21-3 and 20-3. After bama and NU comebacks, up 21-17 and 20-17. To NU's credit, that's where the similarity sadly ended.
(19 days ago, 1 stars)
"...just had issues holding onto the football" is a monumental understatement of monumental magnitude.
(20 days ago, 0 stars)
cheer up, buck-o
(20 days ago, 2 stars)
Ducks make it triple last year! (uh oh, maybe premature)
(21 days ago, 0 stars)
I heard an interview with him a while back. I expected to dislike him. But he was personable, humble, self effacing and funny at times. You just never know, first its one thing then its another.
(21 days ago, 0 stars)
The Vega rollout was exciting, sort-of
(21 days ago, 0 stars)
It's interesting that I write "if Mueller..." and you write "when Mueller..."
(22 days ago, 0 stars)
It is beyond questions of policy. If Mueller's report describes beyond-a-reasonable-doubt felonies committed by Trump, would that be a disqualifying milestone for your support? Simple yes or no.
(22 days ago, 1 stars)
Yes. But that has nothing to do with Trump's dishonor, dishonesty, or lack of integrity..
(22 days ago, 1 stars)
The accusation of slander is toward Trump not Gen. McChrystal. Putting it nicely, Trump has a strained relationship with the truth.
(22 days ago, 2 stars)
Sunday Trump bash: ABC interview with US Army General Ret. Stanley McChrystal
(22 days ago, 4 stars)
ESPN: Pac-12 caps worst December by major conference in 20 years as five teams lose
(22 days ago, 0 stars)
I'd like to see a pro-forma balance sheet showing $5 billion equity. The P12 logo alone must be worth a couple billion. Scott may go down as the Bernie Madoff of college athletics.
(23 days ago, 2 stars)
It's their 4th loss in a row. Arizona hit a last minute 3 to beat UC Davis. ASU lost to 7-5 Princeton. To put it mildly, there is no clear favorite, every team has sucked.
(23 days ago, 0 stars)
Watching god's gift to football (Notre Dame) lose cheers me up. Now if Satan's er... Saban's spawn loses the world will be right and delightsome.
(23 days ago, 2 stars)
I'm a believer, Nevada is the real deal.
(23 days ago, 3 stars)
It's hard to imagine a worse game. Maybe that canceled Boise game left a worse taste. Or that awful SMU(?) @ Utah when it was cold, wet and a bad game.
(24 days ago, 1 stars)
The recently passed Farm bill includes a Republican farm subsidy provision "expanding some federal agricultural subsidies to nieces, nephews and first cousins of farmers — even if those relatives do not directly work on the farm."
(24 days ago, 1 stars)
You have no idea. It's an idle time calling, but I don't know who called.
(25 days ago, 2 stars)
Trump knows the right way to design aircraft carriers better than the engineers at Newport News and General Atomics
(25 days ago, 7 stars)
The 0.05 limit lowers the odds of Utah getting the Olympics. In the run-up to the 2002, the liquor laws went from asinine to tolerable. Maybe that carrot can be used again. I don't think they can bribe the delegates again.
(25 days ago, 0 stars)
A draft-averse friend ate nothing but celery for a month or so before his draft physical. He was under-weight for his height and got a deferment. He looked like Ghandi in pants.
(26 days ago, 1 stars)
not exactly, but close
(26 days ago, 6 stars)
Top 10 Most Recommended Messages:
My son was riding his motorcycle up Big Cottonwood canyon at dusk on Sunday ... (52 stars)
2014-06-10 15:05:49
While sitting at the gate waiting for a flight from DFW to SLC this morning... (50 stars)
2012-09-20 14:39:44
Kragthorpe's article on Steve Smith's contribution (49 stars)
2008-03-27 10:17:59
star whore that I am, this is a nice pic (48 stars)
2015-01-14 16:38:31
Well, I'm retiring December 1 (46 stars)
2015-11-02 12:41:00
go for the kill shot or choke 'em out. (42 stars)
2015-11-09 12:49:33
Facebook update on our friend Chris Evans, Webmonkey (39 stars)
2014-05-16 09:17:02
Can you imagine a Big 12 president reviewing this week's nonsense coming from Provostan when trying to decide whether to vote for or against their admission into the conference? (38 stars)
2013-09-18 15:30:18
So, a four year walk-on will bring the University to its knees? (38 stars)
2013-03-10 12:14:50
"We've arrived at a point where the president of the United States is going to lead a war on traditional marriage" - Rush Limbaugh (5/9/12) (38 stars)
2012-05-09 22:20:22
Top 10 Most Viewed Messages:
Don't believe anything you hear and only half of what you see. (4056)
2008-06-03 16:03:38
Black lung disease rates are rising (2764)
2010-04-16 08:48:52
Every player got a special stick-on star for making the all-independent West division team. (2334)
2011-12-16 17:14:16
Geez. I went to a basketball game. The team played hard and better. I was entertained and left happy. (2176)
2011-12-16 22:03:42
I saw more than one Utah player locate his man and block out on a rebound. I teared up a bit. (2104)
2011-12-12 08:15:47
One of the CEO's mentioned in the article is John Hammergen of McKesson Corp. (2055)
2011-12-16 10:43:30
observation on the Utah - Lobo game and a TCU comment (1816)
2008-02-27 08:32:40
Suspected recruiting violation by the Y and the SL Tribune (1749)
2007-10-31 11:21:01
Utah Gang Sign (1542)
2003-11-23 17:51:31
Coach Majerus Luncheon at Marriot Park Hotel (1468)
2003-12-02 14:55:00