4 way tie for second....isn't looking good for Utah
by The Thrill
2019-02-17 10:28:05
That game last night had huge implications on the projected final standings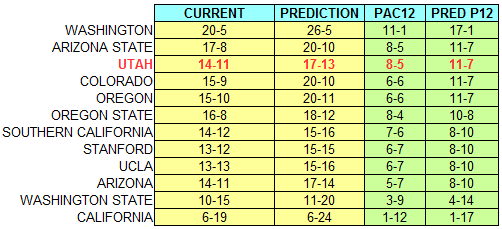 If all the cards fall as planned there will be a 4 way tie at 11-7 (ASU, Utah, Colorado and Oregon)

ASU would have the advantage with a win over Oregon and a split with Utah and Colorado but a win over Washington. Unless Utah or Colorado can beat Washington next week. Oregon plays Washington on the last game of the season.

I won't get into all the scenarios, right now there are too many.
But if Utah loses to Washington and Colorado they could easily slip to 5th or as far as 10th for the Pac12 tournament. Crazy.

Below is the current standings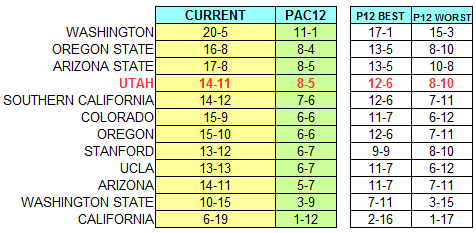 The entire ASU team, including Hurley, has a punchable face
by The Thrill
2019-02-16 22:30:48
The only guys who didn't are Edwards and Dort who also backed up their play on the court. Martin, Cherry, White, Hurley, Cheatham...very punchable
Rough week for Utah going 0-2 with another 0-5 looming. 7-11 and tied for 8th looks to be in the future
by The Thrill
2019-02-03 11:14:35



It's possible Utah could still finish 12-6 in conference but big things would have to change. So is 5-13. USC and Colorado have the largest variance. USC could finish as high as 15-3 or 7-11. Colorado could finish 11-7 or 3-15. Still a lot of games remaining

Here's my computers projections for the last 9 games.
Anything under 6 points I consider a swing game. At UCLA and Washington appear to be sure losses but anything is possible this season.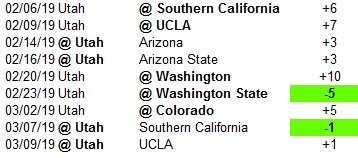 For Utah to turn this around they need a number of things.
1. Ball control. I must've heard K say 15 times "two handed passes". Sed is averaging 2.7 turnovers and Allen and Goch both at 1.8. That's 6 possessions a game just given away. In wins Utah is -3 on turnovers in losses they are +1.

2. Rebounding. Utah must keep rebounding. In wins Utah is +6 on rebounds, in losses they are -1.

3. Free throw shooting. In wins Utah is is 68.6% from the line, in losses Utah is 62.4% and their opponents shoot 77.3%

4. Move the ball without careless passes. In Utah wins Utah has 16.3 assists, in losses they have 11.7 assists.

Here are the magic numbers for a Utah win.
FG% = 47% - Utah is 9-1 when shooting 47% or better
Assists = 15 - Utah is 8-1 when getting 15 or more assists
Points = 73 - Utah is 9-2 when scoring 73 or more points
Turnovers = 12 - Utah is 6-2 when they commit 12 or less turnovers
Rebounds = 36 - Utah is 9-1 when they get 36 or more rebounds

Utah allows
FG% = 46.5% - Utah is 10-1 when allowing 46.5% or worse shooting
Points = 73 - Utah is 10-1 when allowing 73 points or less
Rebounds = 29 - Utah is 4-2 when they allow 29 rebounds or less
Free Throw attempts = 17 - Utah is 7-3 when they allow 17 or less free throw attempts
Utah is currently tied for 2nd in the Pac12 at 5-2
by The Thrill
2019-01-27 11:51:25



I have them finishing 9-9 but the way this season has been going Utah could finish 16-2, who knows.

Here are the final 11 game prediction lines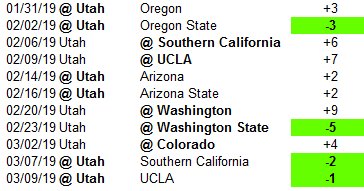 Oregon has been underperforming to their rating, mainly due to Bol being hurt. Utah could easily sweep the Oregon schools in Salt Lake this week.

Then it's that tough 5 game stretch in LA, vs the Arizona schools and Washington.
Don't hold your breathe but if Utah wins and Arizona loses Utah sits alone in 3rd place in the Pac12
by The Thrill
2019-01-26 18:14:36
Plus if ASU wins they hold a 1/2 game advantage on second where Utah holds the tiebreaker.
Utah got a commitment from the next Britain Covey recently. Jason Heller. Westlake CA
by The Thrill
2019-01-24 20:51:50
Kid wasn't a big recruit, barely 5'8" 165. Utah, Cal and Purdue were really the only programs looking at him.

The video below shows flashes of Covey.


Devante "Vante Hendrix" Doutrive signs with Fresno St.
by The Thrill
2019-01-22 17:50:11
First Seeley now Hendrix?
Sunday game threw off my schedule, here are my updated prediction
by The Thrill
2019-01-21 19:43:53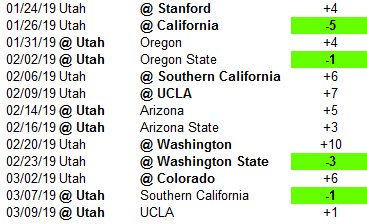 Utah has 14-4 in their sights, 3-15 is still possible, I'm taking somewhere in the middle. 7-11

With 13 games remaining and 11/13 of those games looking like 6 points or less, anything can still happen.

This week I have.

@Stanford 74 Utah 70
Arizona 75 @USC 73
@Oregon 70 Washington 66
@UCLA 77 Arizona St 75
Colorado 79 @Cal 72
@Oregon St 80 Washington St 69

Utah 77 @Cal 72
Washington 69 @Oregon St 68
@USC 78 Arizona St 77
@Stanford 74 Colorado 73
Arizona 74 @UCLA 73
@Oregon 82 Washington St 66

Looks like a lot of close games this week.
Wall tagging mural scam.
by The Thrill
2019-01-21 12:14:51
My work building was tagged over the weekend. We get tagged from time to time and the city always cracks down on us to paint over it. That in itself seems like a scam but that's not what brought me here.

About an hour ago a guy comes in and says "man, I see that you guys got tagged. Those kids man, I tell ya. Well, let me tell you what we do. We offer beautiful murals to provide 100% coverage to exposed walls. Something that is connected to your business. Then when these punk kids come tag you it's a waste of their time since their work gets lost in the mural. $500 for your wall. What do you say?"

We sent him packing. A girl in our office passes him in leaving and after he leaves she says, "that's the guy I saw this morning looking at our wall with the tagging. He looked suspicious and I thought he maybe did it."

So, do you believe that this guy is going around tagging random buildings and then selling his murals to cover them up? Because we do.

Your thoughts?
What does Fox News know that they aren't telling us?
by The Thrill
2019-01-21 10:15:27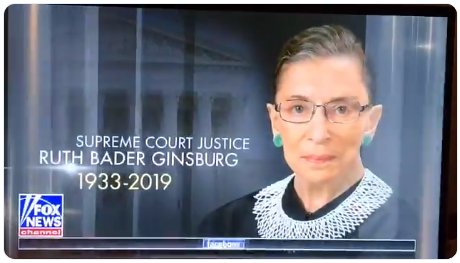 Utes look to finish somewhere from 6-12 and 12-6 in league play
by The Thrill
2019-01-13 10:29:48




Now an underdog vs Colorado next Sunday. The loss of Bol Bol doesn't hit the computers but that game is far from -4 Oregon. Utah might even be favored now, they could easily go 5-1 through Oregon trip from yesterday. February still looks rough with 5 straight losses eminent.

11 of 14 remaining games are swing games and could go either way.
As PVD said after his monster dunk yesterday "we can beat any team and we can lose to any team." So profound.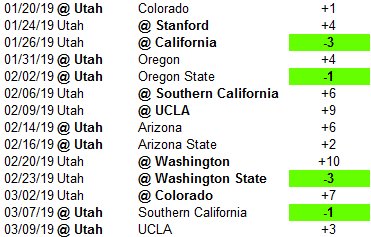 Utes are off for 7 days. Don't really need the rest but it can't hurt.
Utah's win over ASU and OT loss to AZ helped them with the computers. They picked up 4 future wins. Now have Utah as the favorite @Colorado, @OregonState, @Wazzu and vs USC. Projected 7-11 in Pac12 now.
by The Thrill
2019-01-06 10:29:23



Oregon lost Bol Bol for the season so 13-5 is generous, especially after they lost to rival Oregon State in Eugene last night. Utah only plays Oregon once and it's at home on 1/31. Computers have Utah +4 for that game but that could change a lot in the next 3 weeks.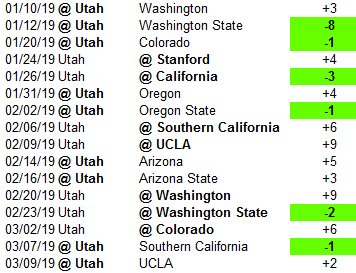 Utah now has 10 swing games (under 6 points) and potential for 15-3 in the Pac12. Yes I know they can still go 17-1 but realistically at UCLA and at Washington should be losses....but so was Arizona State


the way Barefield and Tillman have been shooting can't and won't last forever. Need some big man help, it's really uncomfortable watching JJ do athletic stuff. Is there a timeline for Thioune? Will he play this year? I'm guessing Gaskin is redshirting? I thought with Hendrix leaving that Gaskin might play.

Anyways, this week vs Washington I see Utah +3 and favored by 8 vs Washington St. February looks rough with 5 straight losses and 4/7 games on the road. We'll see.

Go Utes!
FFU I need your help. I'm torn between Morgan James and Loren Allred
by The Thrill
2019-01-05 09:59:09




Please help!
This is cool...
by The Thrill
2019-01-05 08:38:46
On a positive note, it was nice of us to loan TJ Green to Northwestern after Thorson got hurt. I can see why we don't play him at QB
by The Thrill
2019-01-01 10:31:30
1 player in the box score on offense is a senior. (Field)
3 players in the box score on defense are seniors (Ballard, Blair and Barton)
3 special teams players are seniors (Vickers, Gay and Wishnowsky)

Throw in the OL guys (Agasiva, Amaana, Jackson Barton, Falemaka, Katoa) and Chase Hansen and 13 players will be missed.

But without saying, just wait until next year....just wait until next year.

Linebacker might actually improve with Bowen and Bernards.
Huntley and Shelley will have a battle in April.
Utah might have the best WR core they've ever had next season (Mariner, Simpkins, Covey, Nacua, Thompson, Boyd, Dixon, Enis)...throw in one of Puka Nacua, Darren Jones or Donte Banton or all 3 and they are finally up to speed with other Pac12 teams. Not even mentioning the tight ends, Jackson, Fotheringham and Kuithe.
If Moss comes back the running back crew is stacked. They also get back Devonta'e Henry-Cole along with Shyne, Brumfield and Green (who isn't a quarterback) plus throw in Micah Bernard.

Defense should be another Utah defense. Not one senior on the defensive line. Pirtle, Tafua, Fotu, Penisini, Tonga, Cravens, Anae, Repp, Tupai...solid.
In the defensive backfield it's next man up. Aaron Lowe is legit, so is Pleasant Johnson. A lot of speed, Guidry, Johnson, Lewis, Burgess, Afia, Blackmon. Who will be the next Marquise Blair? By that I don't mean lead the team in targeting, but big hit capability? Vonte Davis?

Offensive Line is leaving the biggest holes, 5 seniors. To fill in are Umana, Ford, Capra, Dixon, Paulo. Will Braeden Daniels step it up? The two highest rated signees so far are both guards. Laumea and Talavou. Will they step in an play right away? Will Felix-Fualalo be in the mix? What about guys like Jake Grant, and Simi Moala? Their success will key in everybody else's success, especially the run game. Shelley had a great first half last night because that OL was awesome.

The biggest holes on the team are special teams. Gay and Wishnowsky. I don't know a lot about Ben Lennon but he's from Australia, that's enough for me. We forget that Chayden Johnston was a top 5 kicker recruit out of HS and Bingham. It's time for those guys to shine. Notably, the Notre Dame SR kicker Justin Yoon was the #1 kicker that year 2015. He is currently the all-time scoring leader at Notre Dame, for all scoring breaking RB Allen Pinkett 33 year record for the Irish.

Some notable missionaries. Chad Hekking, QB, punter, tight end. All everything. Is he the next Chase Hansen? Will he play?
Quinn Fabrizio, a year after mission legs. Will he contribute?
Keaton Bills, defensive tackle. Next Leki Fotu?
Semisi Lauaki, defensive end. Turned down USC for Utah. Could be the next Bradlee Anae.
Johnny Maea, offensive guard. Depth is very needed at OL
Utes now targeting 2-16 in Pac12 play!!
by The Thrill
2018-12-30 12:29:28



Again, it's still really early, 2/3 of the season still remains so anything can happen.

Best case scenario for Utah is 10-8 in Pac12. I still see the Utes somewhere around 7-8 wins in Pac12. 14-16 overall. Especially since the Pac12 appears to be a 1 bid team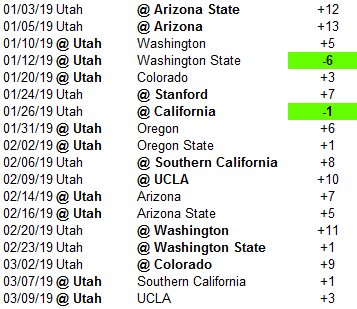 Tough to not be everybody's favorite Ute...it's Weddle time
by The Thrill
2018-12-23 13:19:07
Pac12 Basketball end of season predictions (updated)
by The Thrill
2018-12-23 10:04:03



Washington made a big move this week. Picked up future wins over Oregon, Stanford and Oregon State. Utah still looks like a 1 win team but improved their odds in 14 of 19 remaining games. The other 5 stayed the same spread.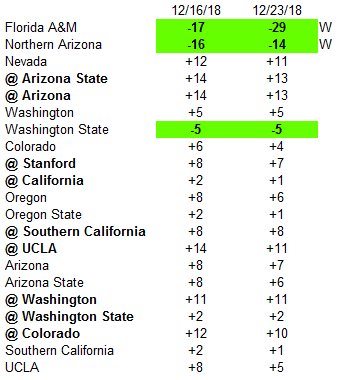 Upsets from last week
Santa Clara over USC
Kent State over Oregon State
Baylor over Oregon
Indiana State over Colorado
ASU over Kansas

The 3 UCLA losses?
At Oregon 1/10 +4
At Washington 2/2 +3
At Colorado 3/7 +2
Dakari Tucker - Rio Grande Valley Vipers - NBA G League - 27 pts, 9 rebounds, game winning 3, 8/14 from three
by The Thrill
2018-12-23 09:37:59
https://www.themonitor.com/2018/12/22/tuc kers-27-leads-vipers-win-swarm/

https://stats.gleague.nba.com/game/202180 0673/
Sigh....
by The Thrill
2018-12-22 17:56:01
Devon Daniels - NC State - 9.6 ppg - 4.6 reb - 1.5 ast. Season high 21 pts, 13.5 over last 4 games

JoJo Zamora - New Mexico St - 8.4 ppg - 1.7 reb - 0.6 ast. Season high 27 vs New Mexico 6/6 from 3

Isaiah Wright - San Diego - 12.3 ppg - 4.0 reb - 4.9 ast. Season high 22 pts vs Ole Miss. 14.7 last 7 games

Makol Mawien - Kansas St - 6.4 ppg - 4.1 reb - 0.5 ast. Season High 13 pts 7 reb vs Kennesaw St.

Brekkott Chapman - Weber St - 10.8 ppg - 6.9 reb - 2.4 ast. Season high 20 pts 13 reb vs UVU. 15.7 pts and 12.3 rebs last 3 games.

Kolbe "Kobe" Caldwell - University of Southern Indiana - 12.2 ppg - 4.6 reb - 1.4 ast

Jake Connor - Westminster - 11.3 ppg - 1.9 reb - 1.9 ast.

Austin Montgomery - Dixie St - 10.0 ppg - 2.0 reb - 0 ast

Chris Seeley - Fresno St - Sitting this year
I hope the JMHC is rocking next Saturday. Utah could really use a resume win heading out of non-conf schedule.
by The Thrill
2018-12-22 10:44:18
Tulsa win ain't going to cut it and the Pac12 is looking like a 1 bid team at this point. Are the WCC and MtnWest better than the Pac12 this year?

Utah is currently 138 in Sagarin and 191 RPI

Not one top 30 RPI team in the Pac12
This is tight.....legit....krunk....on fleek....
by The Thrill
2018-12-21 14:04:50
Running Utes are back baby! 29 pt victory over Florida
by The Thrill
2018-12-17 22:28:44
A&M
Pac12 Basketball end of season predictions
by The Thrill
2018-12-16 11:38:37
Just like football, here are my end of season predictions for basketball.
Things aren't looking great for Utah.





Best case scenario for Utah at this time is 13-17 overall.
The one game I have them favored in the Pac12 is at home vs Washington State
Although, I consider any games under 6 points to be swing games.
See the predicted lines below.

12/17/18 @ Utah -17 Florida A&M
12/21/18 @ Utah -16 Northern Arizona
12/29/18 @ Utah +12 Nevada

01/03/19 Utah +14 @ Arizona State
01/05/19 Utah +14 @ Arizona
01/10/19 @ Utah +5 Washington
01/12/19 @ Utah -5 Washington State
01/20/19 @ Utah +6 Colorado
01/24/19 Utah +8 @ Stanford
01/26/19 Utah +2 @ California
01/31/19 @ Utah +8 Oregon

02/02/19 @ Utah +2 Oregon State
02/06/19 Utah +8 @ Southern California
02/09/19 Utah +14 @ UCLA
02/14/19 @ Utah +8 Arizona
02/16/19 @ Utah +8 Arizona State
02/20/19 Utah +11 @ Washington
02/23/19 Utah +2 @ Washington State

03/02/19 Utah +12 @ Colorado
03/07/19 @ Utah +2 Southern California
03/09/19 @ Utah +8 UCLA
2019 Football recruits and targets and where they stand
by The Thrill
2018-12-15 19:02:05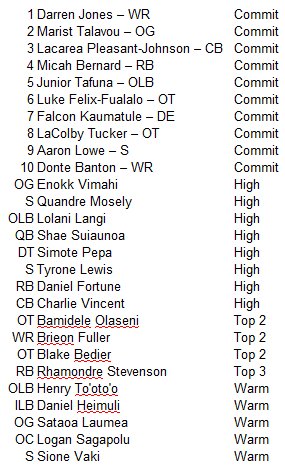 Ranked by national ranking
CRISPR - yeah or nay?
by The Thrill
2018-12-13 17:17:45
clustered regularly interspaced short palindromic repeats.

I think the U should welcome it and make super athletes.
Mo money mo problems
by The Thrill
2018-12-09 08:49:16
The Pac12 is a problem in recruiting. Utah would've landed both Yoeli Childs and Zach Wilson if it weren't for the Pac12.

Yes Utah probably landed Jaylen Johnson, Donnie Tillman and others from being in the Pac12 but they're also missing out with sights set on greener pastures.

Then there is the issue with talented kids who don't want to compete with greater talent or expected to be a star. Devon Daniels, Brekkott Chapman, Makol Mawien, etc...

Utah is in the Pac12 but there are 11 other teams who've been recruiting at this level for many decades. Utah has a lot to learn.
Keys stats to BYU .... yes or no?
by The Thrill
2018-12-08 17:42:48
https://utefans.net/message.php?id=193310 7#message1933107

Keep Haws under 10 shot attempts - NO 5/10
Force 13 turnovers or more - NO 10
Get 3 turnovers from Haws - NO 2
Keep Childs and Nixon off the offensive glass. BYU less than 7 off rebounds - NO 10 OFFENSIVE BOARDS, CHILDS WITH 4
Keep BYU below 40 at half, Childs at 10 by half. YES/NO 32 BYU, Childs 15
Get Childs into foul trouble, 3 by halftime. NO, 2 for the game

For Utah
Be over 40 points at halftime - NO 28
Own the glass. 20 rebounds by the end of the game - NO/YES, they did get 28 rebounds but BYU had 40
Barefield needs to draw fouls. Team must be over 22 FT attempts - NO 17 attempts
8 turnovers or less - NO 11
13 made shots by halftime, 26 made shots by the end of the game - NO 10 at half 19 by game
10 or more made three point shots - YES EXACTLY 10
Topalovic and Johnson must finish the game both with 2 blocks. NO BOTH HAD 1

If they would only do what I say they'd be much better.
Skipping bowl games.
by The Thrill
2018-12-08 10:56:51
North Carolina State wide receiver Kelvin Harmon and linebacker Germaine Pratt
ASU wide receiver N'Keal Harry
South Carolina wide receiver Deebo Samuel
Houston defensive lineman Ed Oliver
Michigan defensive lineman Rashan Gary
LSU cornerback Greedy Williams
Iowa tight end Noah Fant
West Virginia QB Will Grier
Oklahoma State running back Justice Hill

How would you feel if Chase Hansen or Marquise Blair skipped the Holiday Bowl?
Know your opponent....BYU breakdown
by The Thrill
2018-12-08 10:49:59
BYU is favored by 3.5

BYU had lost 3 in a row before beating Utah St.
6-1 at home - 0-3 on the road

Yoeli Childs and TJ Haws still lead this team. I didn't see Eric Mika on their roster, he must be injured.

They just got Nick Emery back so McKay Cannon and Zac Seljaas should be a non-factor.

I think their best player is freshman Connor Harding. Yoeli Childs is their go-to guy and a beast on the glass but from what I've seen Harding is a legit player and will be a pain for the next 4 years.

Although being older than the Nuggets and the Trailblazers, this is a young BYU team. Only 2 seniors account for 1/10 minutes and 4 points.

They love to shoot the three. Childs can make it 32%, Haws is a gunner 38%, Seljaas might be their best from three 37% but Emery is a headcase. We all know of his personal issues and mental instability, it follows him onto the floor. He's only played 1 game so he might have matured now that he's 27 years old.

They put up about 24 attempts from three but only make 7 30% Utah on the other hand also puts up 24 attempts but makes almost 9 at 37%. Jahshire Hardnett is a quick guard from Mississippi who somehow fits in with this team. He's not an average BYU player at all.

BYU likes to run and score but they're lazy on defense. Utah has to beat them on the boards and control the paint. Childs is big and likes to bang, he's a good player but he's too slow for the next level and his defense is awful.

Utah is much bigger and more athletic, but this BYU team has been playing together for 10 years....Utes have barely played 10 weeks together

Tale of the tape
Childs 6'8" 225 - Johnson 7'0" 235
Haws 6'4" 170 - Gach 6'7" 195
Hardnett 6'0" 185 - Barefield 6'2" 190
Seljaas 6'7" 215 - Allen 6'6" 210
Nixon 6'7" 215 - Tillman 6'7" 225

Emery 6'2" 185 - VanDyke 6'3" 185
Harding 6'6" 185 - Battin 6'9" 220
Cannon 6'0" 185 - Jones Jr 6'2" 200
Baxter 6'9" 210 - Topalovic 7'0" 230

A heavy dose of Topalovic and Johnson on Childs might wear him down. They're big enough they shouldn't require a double team but Childs is tricky and passes well so backdoor cuts and key cuts need to be cut off.

Haws turns the ball over and Gach has 3 inches on him. I think Gach is athletic enough to keep up with Haws but he's still raw and Haws has 10 years on him. He's a sneaky guard. If Haws gets less than 10 shots off then that's a win.

Barefield needs to have a good game. He has size and experience over Hardnett. I hope to see our bigs pull Childs out of the key with high ball screens and let Barefield break down the offense with drives to layups or corner threes.

Allen needs to show up. Seljaas and Harding are a handful and Timmy will be chasing them all game. There is a ton of talent there with Allen and he needs to figure it out quick. If he can control the ball and hit open guys Utah will be successful. Seljaas is a great shooter and the Utes need to watch him rotating around the wings.

Tillman is bigger and stronger than Nixon but Nixon is a hustler. He has great stamina and he just seems to be in on every play. Think Alex Jensen. Tillman can't be lazy, Nixon will beat him to the play. I think Tillman is the better player

Bench

PVD and Emery are very similar but Emery is a better shooter when it comes to creating his own shot. If these two are guarding each other look for just two solid players who do what they need to do. Emery isn't a bad guy, just a spoiled kid from the Lone Peak 3 fame. Same goes for Haws. I want to hate both of them but they're really good and frustrating players, the kind of guys you want on your team and hate facing. Think Andre Miller but not as good.

Harding and Battin are both very similar freshmen. Both have huge upsides and show a lot of promise. They will get to know each other well for the next 4 years and might go down as a classic battle by 2021. Battin is bigger and a better shooter but Harding has more hustle.

The key will be Utah's size. Topalovic could be a huge factor in this game. It will be interesting if BYU resorts to hack-a-JJ, Jayce is only 4/16 from the line and his form is awful. With that said I heard K say that JJ is practicing his FTs all the time and went 10/10 in practice. It's a big deal to not have your 7 footer on the floor at the end of games. Childs isn't a great FT shooter but he isn't bad. If Childs gets into foul trouble early then Utah could get ahead and not look back.

Utah's bench is better but BYU runs 3 guys nearly 30 minutes a game or more. Haws, Hardnett and Childs make up 1/2 their minutes.