What happened to Devaughan Vele? He received glowing reviews in camp, but I haven't heard anything about him recently. Did he get injured?
by Puget Ute
2019-08-29 11:21:22
I look forward to watching him play. He is a tremendous talent, especially for a walk-on.
RIP Dick Dale, the King of Surf Guitar. He was an absolute legend.
by Puget Ute
2019-03-18 11:01:17
Dick Dale (born Richard Mansour) was a highly influential and innovative guitar player who wove the Arabic melodies, scales, and rhythms from his Lebanese father's heritage into the mainstream of rock and roll in the early 60s. His songs were melodic and percussive, and did not follow the traditional 'Western-style' scales and chord patterns. This led to

He brought the use of reverb and smooth vibrato into the guitar sounds of the day. And he drove Leo Fender to develop the first 100 watt amplifier (Showman), that led to the legendary Blackface series of amps (Fender Deluxe Reverb/Twin Reverb, Princeton, Champ, etc). This is a This amp was famous for its 'chimey' clean sound, and it has been a key component to the sound of perhaps half of the guitar music produced in the last 55+ years.

He fought cancer off and on for 40+ years, as well as other illnesses. Three years ago at age 78 he said he had to keep touring despite the constant pain, because his medical supplies cost him $3k per month above and beyond the cost of his insurance.

(Interesting side note for guitar geeks: Dick Dale was a lefty, but played the left-handed guitar strung righty. Jimi Hendrix also did this.)

This song, Misirlou, is his signature song. It was a reworking of an Arabic song of the same name.


Breaking news. Urban Meyer will step down as tOSU's coach after the Rose Bowl.
by Puget Ute
2018-12-04 07:05:12
https://www.foxsports.com/college-footbal l/story/ohio-state-coach-urban-meyer-to-re tire-after-rose-bowl-120418
Clemson. Wow. 10 TDs and still an entire quarter remaining. They are making a huge statement for Statemet Saturday.
by Puget Ute
2018-11-03 12:55:13
70-9 right now.
Bronco Mendenhall, the coach who has transformed a perrennially-terrible UVA into the #22 team in the nation, throws this little nugget of shade at his former situation:
by Puget Ute
2018-10-29 15:33:28
BRONCO:
It is a more meaningful and rich college experience for players to be in a conference and even more so to have the chance to compete for a conference championship.
Urban Liar is at it again.
by Puget Ute
2018-08-03 16:23:40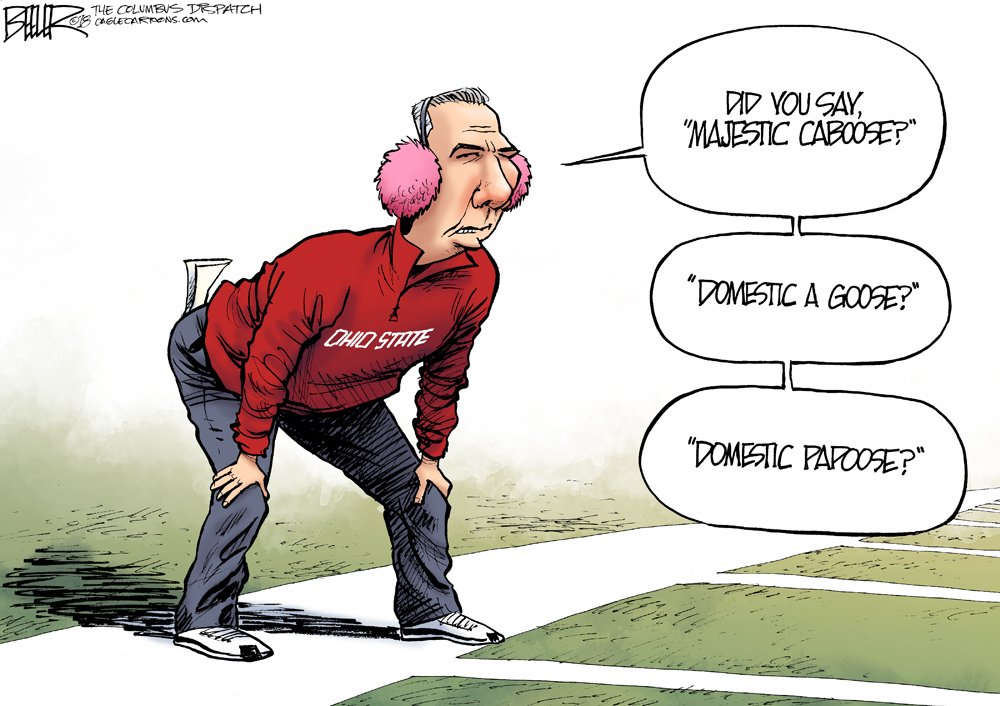 Early congratulations to Jim Harbaugh winning the Big 10. Urban Meyer was placed on administrative leave pending the investigation of the cover up of spousal abuse by his assistant coach.
by Puget Ute
2018-08-01 16:32:49
I have to say that as much as I loved Urban coaching at Utah, I think on some level that we dodged a bullet because he wasn't here long enough to generate any scandals.
FWIW, I will absolutely love watching byu-P play their 2020 schedule. They play 6 P5 teams, and begin and end the season with 6 of 8 on the road.
by Puget Ute
2018-07-16 18:55:30
That schedule is going to be a murderers row for a 2nd year Head Coach...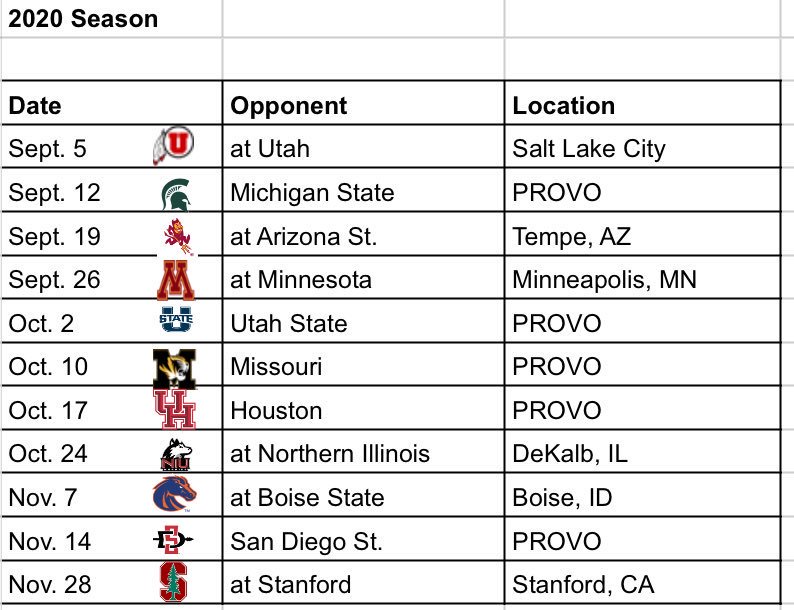 1) I absolutely love football, especially college football. 2) And it is apparent that the incidence rate of chronic brain injury in football players is far higher than we thought.
by Puget Ute
2018-06-26 22:24:24
#2 is profoundly concerning to me, because of #1. I am extremely conflicted because of it. I can see a day when the sport goes away for the future safety of the players. That will be a bittersweet day to be sure.

Today (WSU Cougars' starting QB ) Tyler Hilinski's parents stated that he had CTE at the time of his suicide this past spring. A 21 year old kid had the brain damage level of a 65 year old. He can't be an outlier, and the damage may be more of a normal than we ever imagined, at least by the college level.

Here are a couple of thought-provoking podcasts discussing football, head trauma, CTE, and their link to suicide.

The first podcast interviews retired NFL player Donté Stallworth and discusses the brain injury problem at the NFL level.

https://theintercept.com/2018/02/01/the-n fls-violent-ballet-concussion/

The second podcast is from Malcolm Gladwell, and compares the CTE epidemic to the black lung disease epidemic a century ago.

http://revisionisthistory.com/episodes/22 -burden-of-proof

Listen with an open mind, and enjoy the thought-provoking discussions.
I love this guy's videos. Here he is playing The Trooper by Iron Maiden with his 13 yr-old daughter.
by Puget Ute
2018-06-19 09:31:33
So fun! Sorry I can't embed from my kindle.


https://youtu.be/MfoBqmDpCM0

Side note: I need to download the Iron Maiden patch he uses on his Blackstar amps.It nails that signature Maiden tone!
Sad news today. Former Oregon football player Fotu Leiatu (who was kicked off the team last week) was killed in a car accident in Eugene.
by Puget Ute
2018-06-16 11:25:54
https://www.cbssports.com/college-footbal l/news/police-former-oregon-football-playe r-killed-in-a-single-car-accident-in-eugen e/
icymi, Robert Plant's favorite young band tore it up at Coachella and is bringing back good, classic 70s-style rock and roll music.
by Puget Ute
2018-04-19 11:49:49
Greta Van Fleet have a great sound and are immensely talented. They sound derivative of Led Zep of course, with some Triumph, Rush, and The Who thrown in for good measure. But these guys write their own music and are certainly more unique than most of those other bands were at this age and experience (they were playing high school talent shows just a few years ago). The band is 21 yr old twins Josh (vocals) and Jake (guitar) Kiszka, their 19 yr old younger brother Sam (19 yrs old), and 19 yr old Danny Wagner (drums).

Anyhow, give them a listen. Fans of late 60s/70s/early 80s Gibson/Fender through Marshall amps and falsetto vocals-style rock will love them.


Congrats to St Bonaventure on their first NCAA win in 48 years!
by Puget Ute
2018-03-14 06:08:35
What in the world happened to UCLA? This is going to be an embarrassingly bad year for the PAC-12 in the NCAA tourney. But at least we have a chance at an All-PAC-12 NIT Final Four...
Uh, tell me more about these women in math of whom you speak...
by Puget Ute
2018-02-21 11:26:49
Reason number eleventy billion why nobody should send their daughters to byu-P.










(I'm not sure how to post a pic from twitter...)
Tomorrow is Valentine's Day. And the world's Valentine's Day present to us is day number 3000 since we lost a game to byu-P in football...
by Puget Ute
2018-02-13 19:56:20
Me, watching the Olympics on TV: "Ugh this sucks. All they show is ice dancing and human interest stories, with 30 sec of other sports."
by Puget Ute
2018-02-13 12:40:23
Me, after adding the app and realizing I can watch every event without interruption : "This is awesome! I can watch exactly what I want to see! I love this!"
This has to be the greatest call in the history of attempted grand theft auto...
by Puget Ute
2018-02-02 16:45:52
It looks as though Arizona is going to hire Kevin Sumlin as their FB coach. ASU badly botched their hire, and it appears Arizona may have hit a homerun. Next year will be interesting.
by Puget Ute
2018-01-09 00:12:05
I must admit I am a bit nervous to see what Khalil Tate will be able to do in a Kevin Sumlin offense.
Good News for a rough day:
by Puget Ute
2018-01-03 17:40:37
The following impact players would have faced us next year, but have declared for the draft:
Sam Darnold and Ron Jones (RB ), possibly Cameron Smith (LB )
Josh Rosen and Kolton Miller (OT)
Dalton Schultz (TE)
JoJo Wicker (DE)
Hercules Mata'Afa (NT/DT/DE/OLB )
Vita Vea (NT/DE) - P12 DPOY
The UCF-Auburn game was an instant classic. Enjoyable from start to finish. I loved the Offense both teams ran, and see many similarities in what Troy Taylor wants to do.
by Puget Ute
2018-01-01 14:49:06
I am excited for the UCF fans, but also feel bad knowing they are losing their entire coaching staff next week.
How much of a factor is reffing in determining PAC-12 bowl and OOC success?
by Puget Ute
2017-12-31 11:39:05
The reffing by PAC crews has been quite a stark contrast to other ref crews. Does the PAC-12 emphasis cause teams to play a more touchy-feely game than other conferences? There were so many plays in various games where a PI, Holding, Targetting, Illegal Pick, etc, would have been called by PAC crews but the refs calling the games just let them slide.

OSU got away with a PI in the end zone on a 3rd and long play that forced USC to punt. In conference play, Darnold (or any qb, really) would get that call 90% of the time. USC was marching, and likely would have converted the RD on the drive. 7 points gone.

Wisconsin got away with multiple, PIs and egregious holds on the O line, that surely would have been called. Those were the missed calls that Richt was so upset about at the end of the first half, and they both led to Wisconsin scores. 14 Badger points came from allowing those holds and the PI (where the Wiscy player nearly pulled off the Miami WR's pants).

We become conditioned to playing a certain style of game over the course of 12 games, then seem to play to a different set of rules in the bowl games. I am all for allowing players to play, and aggressive play will often benefit the Utes. But do the PAC refs force a more nuanced finesse game?

**note: I recognize that individual PAC refs also crew games for multiple other conferences. It just seems that the PAC (and ACC) wants games to be called a certain way, while the Big 10, Big 12, SEC, etc, seem to be more live-and-let-live in calling games.
Excellent video of all of byu-P's football season highlights. Enjoy!
by Puget Ute
2017-12-23 11:07:22
Great work by "Magic" Dustin Newman.


I am not going to link to it, but Doug Robinson in the Des sNews wrote an article comprised exclusively of byu talking points about why Utah fans should be upset for being in the PAC-12.
by Puget Ute
2017-12-22 21:53:45
Everything is better in every way than life prior to PACmas. So what if we have not yet won a PAC-12 championship, and gone to the Rose Bowl or CFP? Sure I want to do those things, but being close multiple times is also exciting (though also frustrating).

Why can't zoobs like DR recognize how much more enjoyable everything is now? Life is good. Up until this rebuilding year we were in every CFP poll, had multiple top 25 seasons, beat some giants, and lost close heartbreakers to teams that would have obliterated us in the past (except that 2004 team, they would have rolled all but maybe 5 teams that year and still held their own against them).

Onward and upward. Go Utes!
Oregon was served with notice by the NCAA they are under investigation for recruiting violations in Mens Basketball, Womens Basketball, and Track and Field.
by Puget Ute
2017-12-21 13:10:35
This dirty basketball recruiting story is expanding everywhere.
Conner Manning had quite an outing in his bowl game for Georgia State. I am happy for him. It appears his transfer was an excellent choice.
by Puget Ute
2017-12-17 13:32:35
He went 20-28 for 276 yds, 1 TD, and 24 yds rushing. He finished the year with almost 3200 yds passing, 14 tds, 7 ints.

Nice work Conner!
Woof. Oregon is having a bad day. Down 14-0 in the 1st quarter, and just fumbled again inside their own 20.
by Puget Ute
2017-12-16 14:19:44
The Crystal Ball coaching stint is getting off to a rocky start.
As a person who has lost too many loved ones over the last 18 months, I will say that I love to hear this song. It brings out all the feelings of love, and longing, and loss, and reframes them in a beautiful way.
by Puget Ute
2017-12-14 18:30:50
And just like that, he was gone...
by Puget Ute
2017-12-04 23:49:02
Willie Taggart leaves Oregon for FSU, hasn't yet officially told the school or the players. And he is trying to take his assistant coaches with him. I have to wonder how many players will leave Oregon's #1 recruiting class to follow him to FSU?
Vegas odds have Utah as -1 vs WSU, and Massey's shows the Utes with a 51% chance of winning. I like that idea and hope we can pull it off, but am concerned about the injuries. Those of you who will attend the game need to GET LOUD!
by Puget Ute
2017-11-06 17:53:06
When will they release the 2-deep?
After Syracuse' historic win over Clemson last night, Clemson's coach Dabo Swinney went into the Syracuse locker room to congratulate the team on their performance against his team and to wish them well on the rest of their season. He is a class act.
by Puget Ute
2017-10-14 13:54:28
Clemson has one of the best defenses in CFB, and Syracuse just seemed to do everything right and made Clemson fall apart. Syracuse was a 24.5 pt underdog in the game.

Coaches like Swinney and Bill Snyder of Kansas State set a high bar for respectability in CFB.