Utah's win over ASU and OT loss to AZ helped them with the computers. They picked up 4 future wins. Now have Utah as the favorite @Colorado, @OregonState, @Wazzu and vs USC. Projected 7-11 in Pac12 now.
Posted By: The Thrill
Date: Sunday, January 6, 2019 at 10:29 am



Oregon lost Bol Bol for the season so 13-5 is generous, especially after they lost to rival Oregon State in Eugene last night. Utah only plays Oregon once and it's at home on 1/31. Computers have Utah +4 for that game but that could change a lot in the next 3 weeks.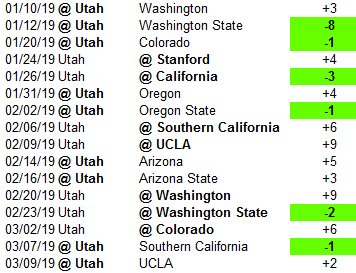 Utah now has 10 swing games (under 6 points) and potential for 15-3 in the Pac12. Yes I know they can still go 17-1 but realistically at UCLA and at Washington should be losses....but so was Arizona State


the way Barefield and Tillman have been shooting can't and won't last forever. Need some big man help, it's really uncomfortable watching JJ do athletic stuff. Is there a timeline for Thioune? Will he play this year? I'm guessing Gaskin is redshirting? I thought with Hendrix leaving that Gaskin might play.

Anyways, this week vs Washington I see Utah +3 and favored by 8 vs Washington St. February looks rough with 5 straight losses and 4/7 games on the road. We'll see.

Go Utes!
<< [ Ignore The Thrill ] [
Print This Message ] >>
Messages In This Thread
---
NEW: Utah's win over ASU and OT loss to AZ helped them with the computers. They picked up 4 future wins. Now have Utah as the favorite @Colorado, @OregonState, @Wazzu and vs USC. Projected 7-11 in Pac12 now.


The Thrill

-

Top 25 Poster

-- Sunday 6 January 2019, at 10:29 am [ID# 1935631] [reply]
(2)
NEW:

From what I understand, Larry doesn't want to play Lahat this year. (nm)


stonguse

- -- Sunday 6 January 2019, at 12:11 pm [ID# 1935635] [reply]
(1)