Week 8 end of season prediction
Posted By: The Thrill
Date: Sunday, October 7, 2018 at 10:16 am
Last week

NORTH
(11-1) WASHINGTON
(9-3) STANFORD -1 (lost to Utah)
(8-4) WASHINGTON STATE -1
(8-4) OREGON
(5-7) CALIFORNIA
(1-11) OREGON STATE

SOUTH
(10-2) UTAH +1 (beat Stanford)
(9-3) COLORADO +1
(8-4) USC
(5-7) ARIZONA STATE
(4-8) ARIZONA
(0-12) UCLA

IN STATE SCHOOLS
(10-2) UTAH STATE
(10-2) UTAH
(7-5) BYU

Not a ton of movement this week, this is about when all the teams begin to align and prediction machines are very accurate. I now have Colorado -1 over Washington State but that game has flip flopped all year.

You'll notice my computer now has Colorado #2 in the South behind Utah and that's with Colorado losing to USC. Makes that November 17th game very important for the right to the south championship. Right now I have Utah in a tight one, even on the road.

Colorado vs USC this week could go either way. I have USC as a 0.01 favorite...not much. Meaning, anything can happen. I have a feeling USC will be USC and blow out Colorado just to prove a point (aka #3 Utah vs USC 2015). Amazing what can happen when exceptional talent plays focused. USC could be Alabama levels if they only stayed focused. Too many pretty girls and parties in LA, I understand.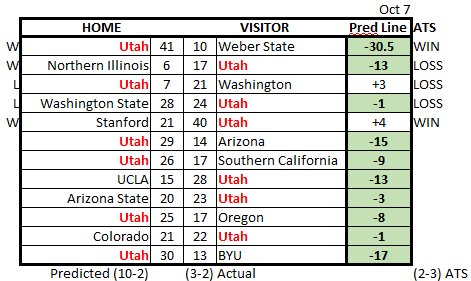 << [ Ignore The Thrill ] [
Print This Message ] >>
Messages In This Thread
---
NEW: Week 8 end of season prediction


The Thrill

-

Top 25 Poster

-- Sunday 7 October 2018, at 10:16 am [ID# 1925884] [reply]
(1)
NEW:

Ranked by record


The Thrill

-

Top 25 Poster

-- Sunday 7 October 2018, at 10:26 am [ID# 1925887] [reply]
NEW:

Just let me dream. (nm)


ironman1315

- -- Sunday 7 October 2018, at 12:29 pm [ID# 1925902] [reply]
(1)