I'd like to see a Rogue One version of the PAC-12 Story about the embarrassingly wrinkled U flag...
Posted By: Riot West
Date: Wednesday, July 11, 2018 at 12:51 pm
Before things could become official, there were a few details for Utah to iron out.
Obviously, the flags weren't considered "
a few details
"...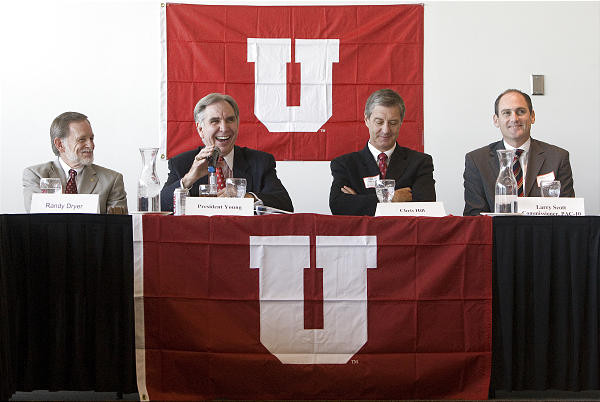 Scott: We were very much trying to stay below the radar as much as possible. I think there was a common understanding amongst our presidents and athletic directors that the best outcomes for the Pac-10 at the time were going to be to go about evaluating our options and have negotiations quietly and privately, not through the media.
Imagine if a simple chore like steaming or ironing the wrinkles out of a couple U flags would've blown the whole thing?
Why are you ironing those two U flags?

PACMAS! $#!+, I wasn't supposed to say anything!

We must alert the media!

No! Is there anything I can do to keep you quiet?

I like socks.

I think I know of a guy that can help you...his name starts with a B and he's got a safehouse and some pills and an alternative Honor Code...
And that's how BYU helped Utah into the PAC-12...
<< [ Ignore Riot West ] [
Print This Message ] >>
Messages In This Thread
---
NEW: I'd like to see a Rogue One version of the PAC-12 Story about the embarrassingly wrinkled U flag...


Riot West

- -- Wednesday 11 July 2018, at 12:51 pm [ID# 1915980] [reply]
(4)
NEW:

At least with Oklahoma, the state government sounded like it was to keep Okla. State involved...not some weird religious asylum (nm)


Riot West

- -- Wednesday 11 July 2018, at 05:05 pm [ID# 1916004] [reply]
(2)
NEW:

It was Cougar Club Harmon (nm)


Heike

- -- Wednesday 11 July 2018, at 05:45 pm [ID# 1916015] [reply]
(1)