Of course not
Posted By: pangloss
Date: Wednesday, May 16, 2018 at 01:22 pm
If you look at this chart, it plots the logarithmic cost of one airplane extrapolated to the year 2030. The correlation of the normalized historical airplane data is high - a lot better than the data we used at the rocket ranch to forecast costs and labor hours.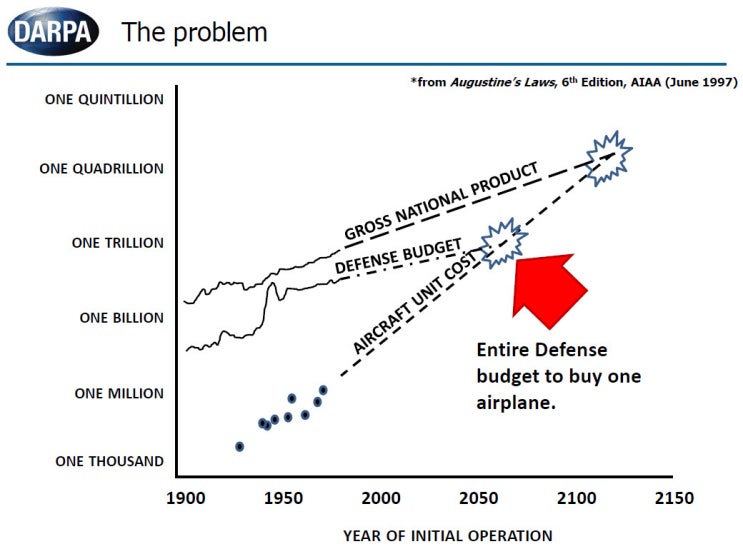 By about 2055 the entire Defence budget will be required for one plane.

By about 2130 the entire GDP will be required. But take heart, it will be a hell of a plane. No doubt better than Capt. Kirk's Enterprise.

I couldn't find an updated chart, but the F-22 and F-35 are on the trend line. The new bomber they're planning ought to be breath-takingly expensive.
<< [ Ignore pangloss ] [
Print This Message ] >>
Messages In This Thread
---
NEW:

The US Marine Corp (by themselves) are a larger military force than the Armies of:


Vegas Ute

- -- Wednesday 16 May 2018, at 01:24 pm [ID# 1910274] [reply]
(3)
NEW: Of course not


pangloss

- -- Wednesday 16 May 2018, at 01:22 pm [ID# 1910273] [reply]
(2)
NEW:

By then we'll only need one plane, not even a pilot.


Maji Man

- -- Wednesday 16 May 2018, at 02:40 pm [ID# 1910277] [reply]
(2)
NEW:

I don't even know where to begin...


AFUte

- -- Wednesday 16 May 2018, at 05:19 pm [ID# 1910293] [reply]
(2)
NEW:

Can you break that down into easy to read and easy to post on social media graphs so Bernie Sanders supporters can understand? Then can you forward it to their moms so they can post it for them? (nm)


Rocker Ute

- -- Wednesday 16 May 2018, at 06:41 pm [ID# 1910315] [reply]
(1)
NEW:

I'm going to temper my original response and just say this: while I get the sentiment ... that was a pretty douchie way to say it (nm)


96GradAlum

- -- Thursday 17 May 2018, at 06:27 am [ID# 1910334] [reply]
(1)
NEW:

I'm going to try to respond Friday -- At the moment I have work and personal responsibilities that prevent me from doing a detail response worthy of your post. ... and I think it's important that we have this discussion in more detail (nm)


96GradAlum

- -- Thursday 17 May 2018, at 06:30 am [ID# 1910335] [reply]