Basketball Archive
Jason Washburn is a class act . . .
By: prestonmadera, Saturday 16 February 2013
Jason Washburn is a class act . . .
Posted By: prestonmadera
Date: 2013-02-16 08:53:04
As some of you know I am very involved with high school sports at a local high school. Last night, I was running the score board at our boys basketball game, when I looked up and saw some extremely tall guy walk in the gym, and I think "Washburn? What is he doing here?"

The lady who does the scorebook (a mother of one of the players) tells me this story:

On Wednesday a large number of the high school basketball team went to the Utah vs. ASU game. I guess one of the assistants to the assistant coaches has some loose ties with the program. After the game he weaseled his way, with some of the high school players, into the locker room, where "some player" talked to them about working hard every time you hit the court, the mom did not know who the player was, but said it was a red-shirt freshman.

After player X talked to the team, Jason Washburn was hanging around and some of our more "outgoing" players started to talk to him. One player (my JV Quarterback) who is completely fearless and kind of a goof tells Wash that he needs to come to their game on Friday, because they came to his game. To the surprise of the kids he agreed to come, but none of them really thought that he would, they thought he was just being nice . . . .

Fast-forward to Friday night, and about 5 min into the game Wash and his short (she is a gymnast right?) girlfriend walk into the gym. The kids on the bench that noticed got WAY excited, it was cool to see.

After the game he stuck around, and even addressed the team in the locker-room. He even was nice enough to take some pictures with all the looser, drunk ute fans that were there . . . .

Mrs. Madera and our nieces with big Wash:



Me with Wash: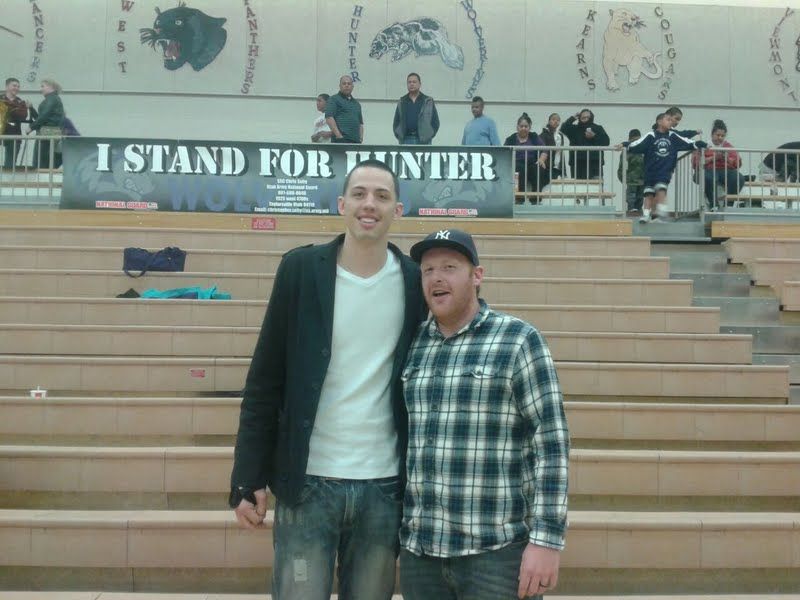 It is really neat to see a kid like Washburn do something like this. He obviously didn't have to, but it sure meant a lot to the kids. It furthered the opinion that I have had of him, that he is a very classy individual. It also doesn't hurt that he may have just helped Utah swing the best Soph, in my opinion, in the state of Utah from BYU or USU to Utah, if they want him. Anyways, story over, GO UTES . . . . BEAT THE CATS!!!