For all users. This page is automatically generated and contains the most recent and best work on the message board.
Post Statistics:
* Note: Current rankings are based on activity in the last calendar year.
Recent Topics:
Ogbe to UVU. Could be a good game Dec. 6th.
by leftyjace
2016-07-08 13:47:19
http://www.sltrib.com/blogs/uofusports/40 96162-155/utes-notes-lowell-lotulelei-four -other
So... how far has soccer come in the US?
by leftyjace
2016-06-26 18:47:42
This is a great piece by Brad Friedel.

http://www.theplayerstribune.com/2016-6-2 6-brad-friedel-soccer-copa-america/
You can't make this crap up. I work with this guy. I knew he was a delusional fan, but wow...
by leftyjace
2016-06-24 08:57:05
https://twitter.com/Mark_RK/status/746079 010401071104?cn=ZmxleGlibGVfcmVjcw%3D%3D&r efsrc=email
Yay! Evan Moeai is back!
by leftyjace
2016-05-24 09:46:49
http://www.deseretnews.com/article/865654 862/Utah-TE-Evan-Moeai-indicates-via-socia l-media-that-hell-be-back-for-fifth-season .html?pg=all


University of Utah tight end Evan Moeai is eligible to be back on the field this fall for the Utes.

The Provo native has missed most of the last two seasons because of injuries, and he posted on Instagram on Monday afternoon that he's been granted a fifth year of eligibility by the NCAA.
Job Searching...
by leftyjace
2016-04-20 08:36:27
So I get that working your network is vital.
I also am starting to get the idea that really working LinkedIn is a good idea for finding additional job prospects.
Any other places/sources that people would recommend, based on personal experience? Websites? Organizations?
Just want to make sure everyone is aware... real time streaming of all of the games is available on the NCAA March Madness Live App. Pretty darn cool. Watched the Utes yesterday on it. Sorry if already posted.
by leftyjace
2016-03-18 09:48:49
http://www.ncaa.com/march-madness
For those of you that are uncivilized and wouldn't know ;) , one of Alan Rickman's greatest performances (if not THE greatest performance of his career) was as Colonel Brandon in the movie Sense & Sensibility. A great actor.
by leftyjace
2016-01-14 07:44:07
Troy Williams is official.
by leftyjace
2015-12-17 09:50:21
Per Utah Football Facebook page:


So... with David Collette of USU losing his appeal for a full release, can he transfer to another institution and start playing immediately as a walk-on, without scholarship benefits? Just curious.
by leftyjace
2015-12-09 08:22:39
BTW, here's the article on the denied appeal.

http://www.ksl.com/?sid=37687888&nid=&s_c id=NBCNEWS
I posted similar to this on another message board (a basketball board, ironically), and thought I should post it here to give you all the opportunity to blue star me to death and tell me what a $#!++y Utah fan I am.
by leftyjace
2015-12-07 09:03:55
Much as I absolutely hate it, I understand why the powers-that-be did this. And you KNOW Larry Scott influenced things.

First off, other than the injuries that are certain to result from this game due to BYU's lack of honor, there is no "cost". The PAC-12 teams all pool their bowl game money and split it equally. So even though the payout at Vegas is less, the amount we get for being in a bowl game is equal to every other team in the conference. Yes, I get the potential "cost" of losing to a mid-major is a loss of face nationally. But we'd run the possibility of losing a bowl game against anyone, right? That's why we play the game, right? I think we have a good chance of beating BYU, probably a better chance than some of the other teams we might have played given the state of our team right now. We might as well make the most of it.

Second, I think ticket sales will be less of an issue than people on here are making it out to be. BYU fans aren't the only ones that got to guy tickets early. So did ticket brokers and scalpers. There will be plenty of tickets available for fans of both teams that want to go down there. The difference is, Utah fans will have to pay a premium for those tickets as they'll have to be purchased on the reseller market, which sucks. But at least we're willing to pony up the extra money. AND we will tip our waiters and waitresses while we're down there. Which only happens because we buy drinks.

Third, from a national perspective, Utah/BYU makes a lot of sense. That's a matchup that casual watchers of either BYU or Utah will want to make sure to catch. A lot of the importance of our team playing in a bowl game is exposure, and the opportunity to win admirers around the country via a bowl game that garners attention. Having Utah and BYU play each other is one of the easiest ways to draw attention to one of the PAC-12 bowl games. Having BYU play another PAC-12 team just wouldn't be the same, wouldn't have the same hype, wouldn't draw the same national attention.

Yes, the Vegas Bowl is the 6th bowl pick in the PAC-12.

But did you guys know that ESPN now rates the Vegas Bowl as the 9th biggest, most interesting bowl in the nation? In theory, based on the "level" of the bowl, it should be down in the 40's. But it's in the top 10. TOP 10, people.

And fourth - of COURSE Vegas wants us. They want a good, rowdy, money-spending, fun-loving, normal fan base to offset the tightwad, Motel 6, caffeine-free Diet Coke drinking BYU fans that will be down there doing their best to suck the life out of a traditional bowl game experience. Making this a rivalry game at least makes the environment of the Vegas bowl more like a real bowl game, even with BYU fans involved.

I'm not happy about this bowl selection. I hate the BYU fan base as much as anyone, and a lot of them are family members. I am scared to death that we're going to experience ridiculous cheap shots and injuries because BYU brings a bad Spirit to the game, is dis-Honorable, lacks Integrity, and has a Tradition of being ass holes.

This is going to be an insufferable couple of weeks. But as much as I hate it, it makes a lot of sense for those that are supposed to look at things from a macro perspective, and not my micro-perspective.

So let's at least try to enjoy it. We now have the opportunity to send Donko off in a way that he deserves - with a fantastic beat down.
I've seen this subject a few times, but I thought I'd start it anew. I'm cutting the cable. My only concern is Internet. I have Comcast now. How is CenturyLink, Dish Internet, etc.? My current download is about 90MBpS and my upload is about 6MBpS.
by leftyjace
2015-11-19 10:28:48
Utopia and Google Fiber are not options for me yet. My biggest concern is having a big enough pipe to enjoy Netflix and other online video streams (Hulu, Amazon Prime, etc.).

For those of you that have cut the cable and done your research on Internet service, what has been the good and bad you've experienced with your providers?
I never played organized football and don't know enough about different plays. But I noticed something.
by leftyjace
2015-10-24 19:35:37
Forgive me if I don't word this right but I'm not sure if I'm using the correct terms.

I notice that USC has change strategies to quick passes. Meaning, the quarterback does a three step drop and then immediately passes it away. One thing I noticed is that the five offensive lineman are counting on only a four man rush during these types of plays. One of the guards pulls off and comes out and positions himself to immediately block for the receiver of the short drop step pass.

Is this a pretty common thing? I'm finally starting to recognize different strategies utilizing the tight ends and the offensive lineman for blocking.

I'm not sure if blitzing would help. I don't think they could get to the quarterback fast enough to prevent the quick Pass. How would you go about counteracting this type of strategy?
Keep WebMonkey in your thoughts
by leftyjace
2015-10-06 08:07:27
Guys/Gals, send out some prayers or vibes or thoughts to WebMonkey and his family. Last night he was involved in a serious car wreck. He's in the hospital. I'm sure more details will come out as time goes on. But first things first - let's hope he gets well.

EDIT:

After some quick thought, I'm going to go ahead and post what Chris's brother, Jared, put on Chris's Facebook timeline this morning. I will let his words speak for themselves.


Friends of Chris, this is Jared, his brother.
After nearly three years sober, due largely to pancreatitis, kidney failure, and other medical issues caused by two decades of binge-drinking, Chris began drinking again this summer and last night was in a car accident, with a BAL of 27%. He drove into the city and hit a parked car, totaling both. He is in the ICU at the U Hospital.
Instead of arresting him, the police took him to the hospital because his glucose was over 500. He lost his license and has a court date in two weeks.
All summer long, as he began drinking more and more and his sweet wife encouraged him to go to rehab, he refused. He has the stubborn pride Evans gene (which I too am guilty of) of refusing to listen to others, ever.
I would appreciate it if you would leave words of encouragement for him to go to rehab, especially for the benefit of his two daughters who, last night, once again, became very close to becoming fatherless.
I would have posted this from his account from his phone directly but the scene of the accident was so bad that the police could not find his phone.
Thanks.
Holy wow. Finn gets a LIGHT SABER???
by leftyjace
2015-08-27 11:53:50
http://entertainthis.usatoday.com/2015/08 /27/star-wars-the-force-awakens-instagram- teaser-john-boyega/

This is going to be fun.....
My letter to Dr. Hill with a CC to Gordon Monson
by leftyjace
2015-08-19 11:41:14
Dr. Hill,

Let me add my voice to the chorus of those chanting "No more BYU". It's just not worth it. I am a season ticket holder to both Utah football and basketball. I don't mind scheduling BYU for basketball, that tends to be a bit more tame. But football? I'm tired of the injuries and hostility especially when playing BYU doesn't do us any good in getting to the Rose Bowl. The rivalry was meaningful when it mattered to both teams. It doesn't matter to Utah now.
The local media (one member of which is CC'd in on this e-mail) scream that the rivalry is needed and that the public wants it. I think they're wrong. I think the BYU fans want it, but most everyone that is a Utah fan could "take it or leave it". And if there's no real benefit (the games at RES will sell out anyway)... why are we playing them any more???
The rivalry is over. Utah won. Let's grant it the death it deserves.

Thanks,

<my name here>
The tide has turned. (Well, for one local media entity, at least.)
by leftyjace
2015-08-12 12:18:37
If you go to the Salt Lake Tribune web site and hover over the "Sports" menu, the sections are listed in the following order:

Jazz
RSL
Utah Utes
BYU Cougars
USU Aggies
etc.

It wasn't all that long ago that Utah and BYU were in a different order.

Just sayin'.


Man, we have some GREAT USMNT games coming up the rest of the year.
by leftyjace
2015-07-28 10:33:03
9/4 - Friendly - Peru - @ RFK Stadium - Fox Sports 1
9/8 - Friendly - Brazil - @ Gillette Stadium - ESPN
10/9 - Confederations Cup Playoff - Mexico - @ Rose Bowl - TBD
11/13 - World Cup Qualifier - St. Vincent or Aruba - @ Busch Stadium - TBD
11/17 - World Cup Qualifier - Trinidad & Tobago - TBD - TBD

Two friendlies against quality opponents (especially Brazil), a super-intense rivalry match for inclusion into the 2017 Confederations Cup, and then two World Cup Qualifiers that count towards qualification for the 2018 World Cup.

Killer stuff.
And now with today's WTF Moment - Sports Illustrated!!!!
by leftyjace
2015-05-14 12:54:42
They just released their Post-Spring Power Rankings. I have highlighted a few interesting positions by bolding them.

Here's your list:

1. Ohio State
2. Baylor
3. Auburn
4. Alabama
5. Michigan State
6. TCU
7. Notre Dame
8. UCLA
9. Florida State
10. Oregon
11. Stanford
12. Ole Miss
13. Arizona
14. USC
15. Boise State
16. Clemson
17. Missouri
18. Georgia
19. Arizona State
20. Wisconsin
21. Georgia State
22. Oklahoma
23. BYU
24. LSU
25. Oklahoma State

PAC-12 has 6 of the top 19....
And I have NO idea why BYU is in there and Utah is not. Mind boggling.
Cue the "Rise and Shout" choruses on Cougarboard...

The actual SI Article can be found HERE.
BAD Harbaugh! BAD HARBAUGH!!!!
by leftyjace
2015-05-12 13:24:46
Michigan has been very naughty. 4 secondary recruiting violations committed since Harbaugh took over.

Here's the link to the article...

http://www.freep.com/story/sports/college /university-michigan/wolverines/2015/05/1 2 /michigan-secondary-violations-jim-harbau g h/27154627/


The violations, all reported April 13, were improperly discussing a recruit before he had been admitted, providing a helmet and jersey for a fundraiser to benefit a high school scholarship fund, sharing recruiting materials through social media, and allowing a recruit to sit in premium seating at a campus hockey game.
Greg Marsden retires.
by leftyjace
2015-04-20 15:22:33
http://www.utahutes.com/sports/w-gym/spec -rel/042015aab.html


Greg Marsden, who led Utah gymnastics to unprecedented national success on the competitive floor and in the stands, has announced his retirement after 40 seasons as the school's head coach. Last Saturday, Utah placed second at the 2015 NCAA Championships, just five one hundredths of a point out of first place.

Megan Marsden, Utah's six-year co-head coach and an assistant for the previous 25 years, will continue in her current role. Tom Farden, Utah's assistant coach for the past five years and the former head coach at Southeast Missouri State, has been elevated to co-head coach.

A press conference announcing Greg Marsden's retirement and introducing Megan Marsden and Farden as Utah's co-head coaches will be held Tuesday, Apr. 21 at 3 p.m. in the Huntsman Center.
So for all you Breaking Benjamin fans... they're back...
by leftyjace
2015-03-23 13:42:27
Here's why SEC considers BYU as P5...
by leftyjace
2015-03-19 16:33:44
http://www.vanquishthefoe.com/byu-cougars -football/2015/3/19/8258701/byu-mississipp i-state-schedule-football-series-2016-17-i ndependence
So... just out of curiosity... is anybody else starting to get worried about this?
by leftyjace
2015-03-18 12:47:57
This GIF shows projections of drought conditions throughout North America over the next 80 years if we maintain current emission levels.



Here's the full video from NASA, which incidentally shows a model that only goes through 2075 (vs. 2095 in the GIF above):


Also, this video is about water levels in California. Again, this is from NASA of all places.


I find it interesting that even in the "drastic changes" model, things get pretty darn severe. Mexico basically looks like it would become a desert - and I'll give you one guess as to where all of those thirsty Mexicans will want to go.

By the way, kids, this is from NASA, not a left-wing liberal group.

Serious question: Do these projections make you want to change your behavior at all? Or do those that don't believe in carbon emission issues and climate change see this as further propaganda?
Ladies and gentlemen, I give you... the heartland of the SEC.
by leftyjace
2015-03-13 10:08:47
Super Cool article about the smartest and dumbest states according to Tweets

Interesting. Very interesting. Kudos, Wyoming. I didn't think you had it in you.
So does anybody know the skinny on Marcus Horne? Is this a good pickup?
by leftyjace
2015-03-05 13:10:15
So it's taken a heckuva long time, but I'm finally starting season 7 of How I Met Your Mother. I'm going through "story fatigue". Should I stick it through to the end? Has anybody watched all seasons?
by leftyjace
2015-03-02 11:04:25
So... I'm confused. ESPN never makes mistakes, right?
by leftyjace
2015-02-24 08:13:52
Check this ESPN PAC-12 Blog post out: LINKY LINKY

Chantel Jennings says... and I quote:


Michigan is in a state of flux -- losing its quarterback (Devin Gardner), top receiver (Devin Funchess) and top defensive player (Jake Ryan) from the 2014 season. Utah has had a few significant losses as well -- Nate Orchard, Travis Wilson, Kaelin Clay and Dres Anderson … just to name a few.


Is something going on? Is this a conspiracy?

TELL ME TELL ME TELL ME!
Well y'all, when I wake up in the morning it'll be 1/2 way through this hell otherwise known as "recovery", and in 3 weeks I'll be able to walk on my right leg again. Thanks for helping keep me sane so far.
by leftyjace
2015-02-18 22:22:24
It is so interesting seeing how some of my friends and family react to the whole 50 Shades of Grey thing, especially given things I know about them. Some are just as hypocritical about this book as they can be about books of scripture, I swear.
by leftyjace
2015-02-15 14:55:22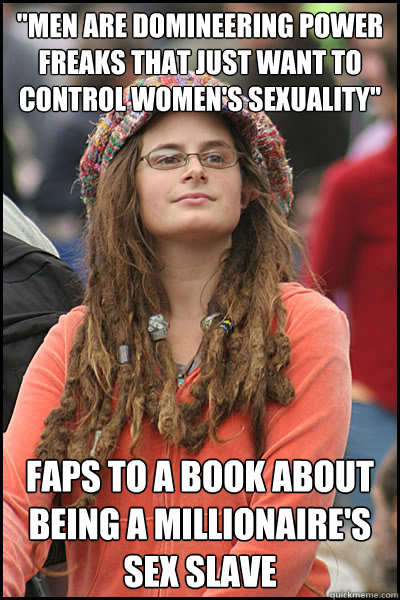 Saw this picture today, first thing that came to mind was the proliferation of grammar nazis on this board (of which I am one)... made me LOLOLOL
by leftyjace
2015-02-11 08:58:25
---
Top 10 Most Recently Posted Messages:
Everything I've found says they DID make the cut.
(29 days ago, 0 stars)
I think he meant more options, the position is in better shape. He's talking about the skillset of the entire RB group. I took it as there really won't be much of a letdown from one RB to another, and they'll all be high performers.
(31 days ago, 0 stars)
Confirmed. Whit said it outright at the Crimson Club Luncheon today.
(31 days ago, 1 stars)
OK, here's my notes from the luncheon. A few nuggets in there very worth reading. Sorry to link to an external, I'm too lazy to type them on here.
(31 days ago, 12 stars)
So is anyone else at the Crimson Club luncheon right now?
(31 days ago, 0 stars)
And without 3 inches.
(45 days ago, 0 stars)
By the way, it's actually averaging about 30 posts a day since inception (10-1/2 months ago), and probably 1/2 to 2/3's of that is in the last 2 months.
(45 days ago, 1 stars)
Hehe definitely not near as active as here. Though it is starting to pick up a bit, and I would bet that when the season starts it'll get hopping.
(45 days ago, 6 stars)
Not a problem over on Utehub... just sayin'.
(45 days ago, 13 stars)
Actually, IAWTP.
(56 days ago, 0 stars)
By the way, you never answered my question. How else do you propose incentivizing people to save and invest money?
(56 days ago, 0 stars)
OK. Let's create a basis for this discussion. I'm going to point a few things out.
(56 days ago, 1 stars)
You didn't :) I just don't think we'll agree. We are coming at it from two completely different angles.
(56 days ago, 0 stars)
You are entitled to your opinion. I am entitled to disagree with you. The end.
(56 days ago, 0 stars)
How else do you propose incentivizing people to save and invest? And for the record, he would pay 20% IF it was long term (held for a year or more)... if short term, it'd be a 28% tax rate. Depends on when the equity was sold.
(56 days ago, 0 stars)
THIS ^^^^^^ RIGHT ^^^^^ HERE. Very few people understand WHY his tax rate was lower. And it's because the vast majority of his income came from capital gains, not salaried income.
(56 days ago, 1 stars)
Ogbe to UVU. Could be a good game Dec. 6th.
(83 days ago, 2 stars)
I see your point. While I personally have not experienced any of that, I am white and I do live in a city where I believe police brutality and inappropriate activity is less than in other areas of our country.
(84 days ago, 0 stars)
If only I had more red stars to give.
(84 days ago, 0 stars)
This is a tough one. In Conceal Carry training, you are told to tell the cop about the gun BEFORE reaching anywhere. In fact, you are to tell the cop first thing when he comes to the door.
(84 days ago, 0 stars)
I'll just leave this right here...
(84 days ago, 8 stars)
Link?
(91 days ago, 1 stars)
Is it ironic that we have to rely on Oakland to put a stop to the crap that our dumb ass legislature is trying to do? Wow. This election cycle has made me so anti-Utah-legislature-incumbent that it's ridiculous.
(93 days ago, 5 stars)
So... how far has soccer come in the US?
(95 days ago, 1 stars)
Spoken like a true Libertarian. (That's a compliment, BTW)
(97 days ago, 0 stars)
You can't make this crap up. I work with this guy. I knew he was a delusional fan, but wow...
(97 days ago, 0 stars)
Messi. Unbelievable. Jerk.
(100 days ago, 4 stars)
RE: Brooks and Guzan are like iron man and war machine. Two impenetrable bad asses.
(104 days ago, 1 stars)
Bradley's value going forward is worth 10x his weaknesses going back. He had an off game (kind of) but he's needed. We'll see Beckerman in the semis since Jermaine Jones went and punched someone like an idiot.
(104 days ago, 1 stars)
Someone has been reading (or watching) Zoo :)
(106 days ago, 0 stars)
Some sound advice... check to see if Utah Disaster Kleenup is TOO busy to handle you.
(113 days ago, 1 stars)
Watching my Yankees, and who steps up to the plate for the Angels? None other than CJ Cron. Awesome!!! Starting 1st Baseman!!!! Gotta love it!!!
(115 days ago, 1 stars)
Huh. Thanks for the pics! Honestly, I don't think the speakers look bad. But that's just me.
(119 days ago, 6 stars)
Where are ya goin'? I'm goin' ta pick a fight! Well, at least we didn't get all dressed up for nothin'!
(125 days ago, 0 stars)
Game Tracker for those that want to:
(125 days ago, 0 stars)
Yay! Evan Moeai is back!
(128 days ago, 14 stars)
Something doesn't add up here.
(129 days ago, 1 stars)
This is more true than many want to admit because it sounds like an "excuse" that a big company like Intel would give. Nevertheless, there is some truth to it.
(136 days ago, 0 stars)
^^^^^^^^^ THIS. I wish MLS would do the same thing. That would be so cool!
(136 days ago, 0 stars)
Hmmmmmm... sounds similar to how people are with the Soccer category on here.
(139 days ago, 1 stars)
I don't.
(160 days ago, 2 stars)
It's times like this that I am so, so grateful for the "Ignore" feature on this board.
(160 days ago, 3 stars)
Words cannot express the hope and joy that rose within me upon reading this.
(162 days ago, 1 stars)
Sales Engineering, Product Management. Considerable experience in both fields. Good idea on the prof orgs.
(162 days ago, 0 stars)
Job Searching...
(162 days ago, 0 stars)
Change is coming.
(163 days ago, 2 stars)
And coaches... and facilities... and fan base... and bear spray... and bowls of rice...
(176 days ago, 4 stars)
I just had another footballgasm.
(183 days ago, 1 stars)
I'm about 4 episodes into the latest season of House of Cards, and I am highly appreciative of her addition to the cast.
(183 days ago, 1 stars)
I never had Wolff. Probably the most interesting guy I had was Hans Ehrbar. He was my Marxian Econ prof. The class format was a trip... learned a lot though.
(189 days ago, 1 stars)
I have not read Progress & Poverty, I'll remedy that when I'm done with my current books. You are correct, I have a little bit of an economics background - B.S. Economics, U of U. :) Also got my MBA from the U, and have had the pleasure of...
(189 days ago, 1 stars)
Please elaborate. Sounds like you may have an interesting viewpoint I could benefit from hearing.
(189 days ago, 1 stars)
One other thing I'd like to point out
(189 days ago, 3 stars)
There are some major things that need to be considered here:
(189 days ago, 5 stars)
So just out of curiosity, for those of you that attended Republican Caucus meetings last night... how many besides mine had an opening prayer?
(190 days ago, 2 stars)
I just had a footballgasm.
(190 days ago, 4 stars)
<<<>>>
(195 days ago, 0 stars)
Just want to make sure everyone is aware... real time streaming of all of the games is available on the NCAA March Madness Live App. Pretty darn cool. Watched the Utes yesterday on it. Sorry if already posted.
(195 days ago, 1 stars)
Yep - it just barely showed up! I'll edit my original post to reflect.
(196 days ago, 0 stars)
I hope everyone on this board Wang Chungs tonight
(196 days ago, 8 stars)
For those in Salt Lake County that are unsure as to who your elected officials are...
(196 days ago, 2 stars)
As of right now (1:05 PM MDT), here are the elected offices that have no opposition party...
(196 days ago, 3 stars)
Take a walk? Read a book? Meditate? Something offline for a change? I know, I know... getting pretty radical there.
(199 days ago, 2 stars)
And just like that, flashbacks of Brewsters Millions start running through my head.
(204 days ago, 1 stars)
I do believe this may be the most awesome thing I've seen today. POTD for sure.
(210 days ago, 1 stars)
We are in some good company. And how cool is it that half of those with that accomplishment are PAC-12 schools?
(213 days ago, 0 stars)
Agreed. Time for you to run for office.
(217 days ago, 1 stars)
Wow. Just read everything below. I spoke too soon, apparently.
(233 days ago, 0 stars)
Yep. 100%.
(233 days ago, 0 stars)
I haven't read any previous posts... but before I do I just want to say that I feel so bad for Brandon Taylor. :( I'm sure he is destroying himself worse than anyone else could ever hope to.
(237 days ago, 22 stars)
And that, sir, is precisely why I have him on ignore... and have for some time.
(238 days ago, 1 stars)
Wine cellar, basement... same diff.
(238 days ago, 1 stars)
Hey now... I live in West Jordan in the basement of my Mom's single-wide trailer. Got a problem with that?
(238 days ago, 3 stars)
HOLY wow... Goodness, we are getting more and more STACKED, BABY!!!!
(239 days ago, 1 stars)
RE: Tangaloa Kaufusi, that is...
(239 days ago, 1 stars)
Tangaloa Kaufusi, that is...
(239 days ago, 0 stars)
Kaufusi to Stanford.
(239 days ago, 0 stars)
Proof positive that "Vaguebooking" is not just limited to Facebook.
(240 days ago, 2 stars)
RE: Weekly predictions
(241 days ago, 0 stars)
Two tickets available for the Cal game. Section L, Row 17. If interested shoot me a private message.
(248 days ago, 1 stars)
I have two tickets I need to sell for Wednesday's game against Cal, Section L Row 17. If interested, send me a Prime Minister.
(249 days ago, 0 stars)
For those of you that are uncivilized and wouldn't know ;) , one of Alan Rickman's greatest performances (if not THE greatest performance of his career) was as Colonel Brandon in the movie Sense & Sensibility. A great actor.
(259 days ago, 6 stars)
What is so crazy is how the song relates to the "screen" phenomenon today. People don't talk to each other directly - but they bury themselves in the "neon lights" of their smartphones and computers. The song is/was almost prophetic.
(262 days ago, 1 stars)
Isn't his voice amazing? I love it when they do covers. Their version of Shout (by Tears for Fears) is pretty darn cool, as well as Land of Confusion (by Phil Collins). This version feels as malicious as the lyrics actually are.
(262 days ago, 2 stars)
Ya, I noticed that too. Fun little "character plug". Served no purpose in the article other than to besmirch him. Pretty sad, really.
(269 days ago, 6 stars)
:) Truly not trying to be ironic, though I see your point. It's just funny to see comments from some I have ignored followed by pages of rebuttals and vitrol. I sometimes wish the Ignore feature allowed you to also ignore responses to those posts.
(280 days ago, 1 stars)
I have never seen a message board where the trolls are willingly and knowingly fed to bursting more than on this board. Do people just not understand the ignore function, or what? Ok, rant over. Merry Christmahanukwanza.
(280 days ago, 3 stars)
So what happened with Wintrich? The CB thread about his honor code violation was deleted. What happened?
(281 days ago, 0 stars)
Troy Williams is official.
(287 days ago, 18 stars)
Nevermind
(289 days ago, 0 stars)
Covey said he's not missing this game for the world. He says that a 2 year mission is enough time to let his ankle heal. So... there's that, at least.
(295 days ago, 4 stars)
So... with David Collette of USU losing his appeal for a full release, can he transfer to another institution and start playing immediately as a walk-on, without scholarship benefits? Just curious.
(295 days ago, 0 stars)
I love the ignore feature. I didn't even see what he typed. It's a beautiful thing.
(297 days ago, 3 stars)
Oh, wow. Interesting. Wouldn't that be something.
(297 days ago, 0 stars)
As a follow up - it's not just ESPN. Andy Staples of SI.com lists Vegas as the #10 most intriguing non-playoff bowl.
(297 days ago, 0 stars)
All bowl money is pooled and equally divided amongst all PAC-12 teams - even those that didn't get to go to a bowl.
(297 days ago, 3 stars)
A fair point and a distinct possibility, to be sure.
(297 days ago, 0 stars)
And I agree. And I honestly don't think we would have been in the Vegas bowl again if it was a team other than BYU we would be facing. But that doesn't mean I don't understand the perspective of Larry Scott and why he would support this bowl bid.
(297 days ago, 0 stars)
I posted similar to this on another message board (a basketball board, ironically), and thought I should post it here to give you all the opportunity to blue star me to death and tell me what a $#!++y Utah fan I am.
(297 days ago, 8 stars)
If this isn't used as leverage the next time Whit talks to Dr. Hill about his compensation, I don't know why not.
(300 days ago, 2 stars)
Top 10 Most Recommended Messages:
My daughter is having a little bit of heart surgery today. Positive thoughts and good vibes would be very much appreciated. (71 stars)
2011-07-11 07:44:05
Surgery went good. My daughter is fine. It was a bit trickier than they wanted it to be so it took longer, but she's doing OK and prognosis is good at this point. Thanks everyone for your kind thoughts and wishes. The wonders of modern medicine... :) (50 stars)
2011-07-12 08:44:35
Highlights from the Crimson Club Luncheon (49 stars)
2010-10-20 14:40:19
I lost my father today. Please call your parents and tell them you love them. (48 stars)
2012-02-29 20:48:50
Well... depends on if that chip causes more shoulder surgery. (30 stars)
2012-08-27 15:05:01
Keep WebMonkey in your thoughts (28 stars)
2015-10-06 08:07:27
HAPPY BIRTHDAY, WEBMONKEY!!!! (28 stars)
2015-02-08 09:34:28
Hilarious. Got it from Stewart Mandel's College Football Overtime. (28 stars)
2012-09-17 11:40:53
I happened to walk by Tom Holmoe on the way out. I made sure to say quite loudly "Boy, and they wonder why we don't want to schedule them anymore." I felt better afterwards. Ya. (27 stars)
2015-12-03 00:37:45
Well, he opened it... he's going to Louisville, Kentucky. Proud of my boy. (26 stars)
2012-02-19 11:55:52
Top 10 Most Viewed Messages:
Keep WebMonkey in your thoughts (1334)
2015-10-06 08:07:27
SI College Football Power Rankings (937)
2010-09-10 11:18:30
Holy wow. Finn gets a LIGHT SABER??? (799)
2015-08-27 11:53:50
So what happened with Wintrich? The CB thread about his honor code violation was deleted. What happened? (789)
2015-12-23 12:38:29
Highlights from the Crimson Club Luncheon (778)
2010-10-20 14:40:19
ATDHE.NET for the win (694)
2010-09-10 17:47:47
Troy Williams is official. (669)
2015-12-17 09:50:21
I am personally very, very grateful we are playing Montana State (666)
2011-08-12 18:53:48
Diora Baird > Charlotte McKinney > Kate Upton. Discuss. (644)
2015-02-02 22:46:46
This Rapture thing sucks. I came back down. (604)
2011-05-24 13:28:40