For all users. This page is automatically generated and contains the most recent and best work on the message board.
Post Statistics:
* Note: Current rankings are based on activity in the last calendar year.
Recent Topics:
So.... Star Trek: Into Darkness will blow you away if you are a Star Trek fan.
by leftyjace
2013-05-16 10:48:37
Went and saw it last night and.......... wow.

Can't say much because ANYTHING you say about the movie or plot or ANYTHING will be a MAJOR spoiler.

There are just so many tie-ins to the Trek canon, it's awesome. I debated some plot specifics with some friends before the movie came out, and my friends are going to be greatly surprised and astonished at a lot of what happens in this movie.

If you are a trek fan of any amount... even miniscule... you will love this movie.

And if you're not a trek fan, you won't get a lot of the "inside jokes" and references, but it should still be incredibly appealing.

Still laughing about stuff this morning.
Am I too late to offer a choice for the best bad movie ever?
by leftyjace
2013-03-05 15:23:31
Come on, you guys. This is awesome.


Saw this on another message board, was just too funny not to share...
by leftyjace
2013-01-25 10:50:04
I'm not in an anti BYU mood, I'm not. But I was curious... how did they do against BCS schools versus how we did the last two seasons?
by leftyjace
2013-01-17 19:31:45
Well, it stacks up like this.

Records against BCS Schools

2011 Season:
Utah ==> 6-5
BYU ==> 2-2

2012 Season:
Utah ==> 3-6
BYU ==> 2-3

TOTAL, 2011 & 2012 Seasons:
Utah ==> 9-11 (.450 winning percentage)
BYU ==> 4-5 (.444 winning percentage)

Interesting.
Eight Seconds opened for Wang Chung back in the day at Abravanel Hall... and completely stole the show. I was on the front row with Amy Hayes. Blew me away... can't believe they weren't more popular. Almacanter is one of my favorite albums.
by leftyjace
2013-01-09 12:40:38
Yet another endorsement of the work of Ute_fan_forever
by leftyjace
2012-12-11 09:44:30
I had a ton of stuff to do around my house to try to get it "up to snuff" for selling in the spring. And frankly - at risk of having my man card pulled - I will admit I'm horrible with home projects. I just suck at them.

So I had Ute_fan_forever come do a $#!+-ton of work for me - everything from fixing some drawers to painting and more - and the man did a fine job. And with a smile no less.

You need something done, talk to him. He'll get it done, and do it right.
So, I'm curious...
by leftyjace
2012-12-03 08:48:37
Someone posted somewhere (I can't remember where) about the B1G expanding and possibly trying to get rid of Penn State.

What with expansion going like crazy, I have to ask...

What is the possibility that Larry Scott goes after his original dream scenario and tries to remove Utah from the PAC-12? Is this even possible? If so, what would it take for us to get the shaft like that?

I hope it's not possible, I just want to be realistic in my thinking of expansion scenarios. If someone could please calm my worries by telling me that legally it would be impossible for the PAC-12 to remove us and take Texas instead, I would be very grateful to you.
Don't know if it's been posted yet - if so, I'm sorry - but it's official. Kaepernick gets the start over Alex.
by leftyjace
2012-11-23 11:25:57
Per Jim Trotter, SI.com:

http://sportsillustrated.cnn.com/2012/foo tball/nfl/11/21/49ers-harbaugh-kaepernick / index.html


"I'm going with Kaepernick," Harbaugh told Smith per the source. "Alex, I'm sorry."


I hate to say it, but as a huge Alex Smith fan, and as a huge Niners fan... whether I would have made the same decision or not, I saw this coming. Kaepernick looked ridiculously good last week.

It'll be interesting to see what happens this week.

Meanwhile... I feel bad for Alex. Really bad.
So yes, I am proud to say I went and saw Breaking Dawn Part 2.
by leftyjace
2012-11-15 21:53:40
Was given tickets to an advanced private screening, saw it a few hours ago. Took my little sister, who is quite the Twilight fan. I have also read the books so I was interested to see how it went.

It was interesting. They changed the last 1/2 of the movie to deviate from the books. But well done. Those that have read the books are in for quite the surprise.

Now please excuse me, I need to turn in my man card.
Ladies and Gentlemen, I give you the successor to "Friday, Friday!"
by leftyjace
2012-10-26 14:09:09
What a great first round of the playoffs!!! 4 game 5's... amazing. Congrats to the Giants and the Tigers, and may the best teams win today!!!!
by leftyjace
2012-10-12 11:30:34
Go Yankees!!!!
A big Thank You
by leftyjace
2012-10-06 10:01:22
Monkey, thanks for having us to play on the Pirate Ship. It was a blast! That was the most creative band configuration I have ever had the pleasure of being a part of.

A lot of USC fans actually came by and took pics because they couldn't believe what they were seeing - not just a Pirate Ship, but one with a live band in it to boot! We definitely left an impression on some of their fans.

It was great to meet a number of you in person! And it is SO good to know that LadyUte is truly as hot as you all have always said she is. I was scared, but no longer.

Big thanks to everyone!

xoxoxoxoxo xoxoxoxo

Love,

leftyjace
CONGRATULATIONS TO UTAHUTE72.... THE WINNER OF OUR UTEFANS FANTASY BASEBALL LEAGUE!!!!!!!
by leftyjace
2012-10-04 10:17:33
I think I know how he did so well...




But I digress.

First place trophy goes to good ole' 72!!!!!




Second Place trophy goes to PageUte!!!!




And Third Place trophy goes to Yours Truly, Leftyjace!!!





4th - Bird is the Word (a friend of mine that helped fill out the league)
5th - The Radical SubstiUte
6th - SportUte
7th - Fielder for Prez! (another friend of mine)
8th - UteKing
9th - H-Man
10th - SForkUte

Congrats to everyone, it was a fun season!
I love underwear.
by leftyjace
2012-09-22 15:20:50
http://i.imgur.com/U98s5.jpg [Mod edit: possibly not safe for work]
I think it is so cool to see some posts about Volleyball.
by leftyjace
2012-09-22 08:15:11
I didn't even realize they played last night. Instead, what I did was finally watch the match in Boulder that i taped last week. Even though they lost, I was cheering loudly and impressed with the team. I have always loved watching women's volleyball, and now I think I may just have to consider going to a few matches this year.

So cool!

Go UTES!
Oh man. It's National Cheeseburger Day. I'm in trouble.
by leftyjace
2012-09-18 09:25:13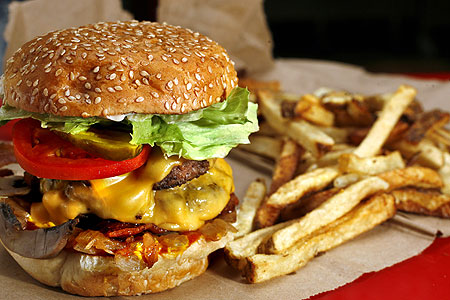 A positive BYU fan story from Saturday's game
by leftyjace
2012-09-17 17:51:38
For those that didn't know, I took my brother-in-law to the game Saturday. He is a died-in-the-wool BYU fan.

He was scared to death because of all the things he'd heard about going to games at the U when BYU played. He asked me repeatedly if I thought he should wear something else other than his BYU gear. He honestly worried about getting in a fight. (Ironic, seeing as how he's actually taller and weighs more than me, and I'm not a small man. Anyone taking the two of us on would have a hard time - and I'd have to defend him against drunk Utes, he's family.) So after telling him there were lots of other people there wearing BYU gear, he proudly wore his own.

We parked in the MEB parking lot and started our hike across campus and some people gave him some good natured razzing. We started heading over to the main tailgate lot. When he saw it and the glorious sea of red, he turned to me nervously and said "Man, you need to know that to me, that looks like the lion's den." I told him not to worry, it'd be fine. We stopped by the Pirate Ship and said hi to Monkey & Co. as well as my normal tailgate group, and even though some people lightly booed him in jest for wearing BYU gear, it was all in fun and people were more than respectful to him and nice.

As we left the tailgate lot and headed to the stadium, he expressed total surprise at how he was treated, and was very pleased.

Throughout the game he enjoyed himself, and really loved the energy of the stadium. He said it's the loudest he's ever experienced at a football game, and he even talked about how he hates going to games in LES because the lack of energy and because nobody wears blue - it's a total rainbow, whereas with us it's obvious everyone at the game is very vested and everyone takes pride in wearing red.

When the game got tight and things were going BYU's way, he was cheering and nobody was giving him crap for it. He even was able to high five a few BYU fans close to us and nobody berated him or objected to it. I think it helped that he wasn't over the top and certainly was never disrespectful to the Utes or any of the surrounding fans, of course - but nevertheless, I was impressed with my fellow fans.

At the end of the game, no one - I repeat, no one - turned on him and got in his face about the loss. He was upset at the manner in which they'd lost, yes, but he kept his cool and we just walked out of the stadium. Some people even kind of consoled him a bit as we were walking down the stairs in the NE corner.

All in all, his experience was an extremely positive one. He said he'd love to go to other games with me if I ever felt like inviting him.

My thanks go out to Monkey & Co. at the Pirate Ship and to everyone else who ran into us at the game. All of you turned that particular BYU fan's perceptions completely around and he now looks at the U program, the U fans, and the U in general in a much better light.


Hilarious. Got it from Stewart Mandel's College Football Overtime.
by leftyjace
2012-09-17 11:40:53
You know what makes this "rivalry" matter? The douchebaggery of the BYU fans. If they weren't such IDIOTS and JERKS all the time, we wouldn't care as much. Logic dictates we SHOULDN'T care. But...
by leftyjace
2012-09-17 11:26:15
by the same token, if someone's being a total jerk to you and you get a chance to pound them down, doesn't it feel good???

I agree with "we shouldn't have rushed the field because it's not a meaningful game any more". Totally get that logic. I agree. That's ALSO why I'm an advocate of never playing those blue-balled IDIOTS again.

But there's two sides to the story, and I completely understand being totally overjoyed at beating any team that has Pudslav on it and a fan base that's as downright idiotic and stupid as BYU's.

Can't help it.

I love it when they lose. Especially when they lose to us.

Give us a 5-10 year break to let things calm down and gain some correct perspective on just what playing BYU really means to the success of the University of Utah football program.

Meaning... NOTHING.

Okay, blue star me. Go ahead. I'm prepared. I can take it. <sigh>
Okay, I need some trusted Ute fans to do some work for me.
by leftyjace
2012-09-11 10:25:07
I have asked on here before, but stupid me, I didn't write the information down that was provided so I have to ask again. At the time I was feeling things out, and now it's reached a point where I have to get it done. I'm sorry to ask again but I have searched and can't find my previous post on the matter (I'm dumb like that).

I need two things: an Electrician and one of those firms where they pump dirt/cement underneath slabs to raise them back up to where they're supposed to be.

I have cement slabs all around my house in the back yard (think back patio) that are sinking. One of them has my electric main coming through it, and is attached to the electrical box. The box is being pulled down and away from the house, and I'm worried that eventually it will just snap and become a real wreck and possibly a fire hazard.

So...

Any suggestions for someone that does cement pumping/slab straightening/cement work, and a good Electrician?

I need to get these people out this week basically to get quoted and figure out what's going on, so any guidance is appreciated.
Come on, Andy! Take it too him! US OPEN FINAL!!! SCOTLAND!!!!!!!!!!!!!!!
by leftyjace
2012-09-10 14:00:11
Tonight I will be representing... from San Francisco.
by leftyjace
2012-09-07 08:55:03
A little over 6 months ago, my father died. A few weeks before that we had purchased tickets to two San Francisco Giants games where we would go on a Father/Son trip and watch them take on the Los Angeles Dodgers. It was to be our second "baseball trip" among many, with our first being to Yankee Stadium. We were going to start hitting as many baseball stadiums as we could. Unfortunately, things don't always work out the way we want them to.

As a season ticket holder, I don't know if I was smart enough to pick a weekend when the Utes were on the road or if I was just lucky - that period is now kind of a blur, and I don't remember if the schedule had been released by then. But I'm glad I didn't put myself in the precarious position of having to choose between going to a couple of baseball games and going and seeing my Utes play in RES - in which case, I'm sure I would have taken my Dad anyway.

So tonight I won't be in Logan, or at home in front of my huge screen TV cheering on my Utes. I will be at AT&T Park watching some fun baseball with playoff implications.

But know this...

I am wearing my RED UTAH JERSEY. I am wearing my RED UTAH HAT. And I will constantly be checking my ESPN iPhone App to monitor the score as my beloved UTES take it to the Aggies.

And my brother-in-law, who is taking my father's place on this trip and is himself a devout BYU fan, can just suck it if that makes him uncomfortable.

GO UTES!!!!!! GAMEDAY!!!!!!!!!
So... just how great is this Netflix thing, anyway?
by leftyjace
2012-09-05 09:52:43
I know, I know... I'm behind the times. Is it worth the $8 a month? Heck, is it even worth the free trial?
Thought you all would get a kick out of this... we're also playing the morning of the Utah/BYU game as Solid Gold, oh and YES... we will be sporting serious U gear on that show.
by leftyjace
2012-08-29 08:49:46
Don't know how to embed this video, tried but failed...

Here's the link to the article.

http://www.kutv.com/news/features/guests/ stories/vid_567.shtml

I'm the fat ass Utah fan singing lead vocals.
If anybody wants to see me, Mr. Leftyjace, live and in person...
by leftyjace
2012-08-27 09:37:52
Tune into the KUTV Channel 2 morning news show tomorrow. My band is doing the musical stabs and interludes and stuff all morning. And yes, we will be in costume. Should be fun.
Ouch. Poor Abby :(
by leftyjace
2012-07-29 16:21:26
http://sportsillustrated.cnn.com/2012/oly mpics/2012/writers/grant_wahl/07/28/us-col ombia-wambach-black-eye/index.html?hpt=hp_ t1


Anybody ever been to Copenhagen?
by leftyjace
2012-07-24 01:05:10
What's cool to do?
What should I avoid?
Is it easy to jaunt down to Germany and have fun?
Are the chicks as hot as they say?
Are the guys as wimpy as they say?
Should I try to recruit any football or basketball players while I'm there?
My contribution to Cover Band Sunday... I really dig this interpretation of this song... soooo cool.
by leftyjace
2012-07-08 21:19:38
OK, guys, I know this is a weird request, but... PLEASE read this. It's important. Well... at least it's important to me.
by leftyjace
2012-07-06 11:00:03
For those that don't know, I'm a lead singer in a cover band that plays every week on Thursday nights (think... College Night) at a prominent Salt Lake venue. We're ramping up the show in preparation for school starting again in the Fall.

The bottom line is I can't sing every week. I travel a ton for work, and my voice can take only so much. Plus there's a Thursday night football game coming up soon that I simply MUST be at... if you know what I mean.

If you know ANYONE... and I mean ANYONE... that is a male singer, is under the age of 45, is experienced (this is not an amateur gig, not by a long shot), likes covers, and would have interest, please... please... please allow me to speak with them.

We tried out a few female singers to co-sing lead with me for a while, thinking that they'd be able to handle the duties when I was gone, and that didn't work out. We've tried out other leads, but they're all lacking in experience. Good voices, but not polished, not used to performing, not good at imitating.

I know this is a weird place to plead for something that seems so trivial, but I'm really reaching here. My personal network is tapped out, as well as the networks of my 3 other band mates. I've placed ads multiple times at KSL as well as craigslist, and am just not finding anyone.

Thanks in advance for talking to your friends and family about this. And if you know someone, please by all means send me a Board Mail or SOMETHING.

Oh... and if they're wondering... yes, we have a lot of fun.
Need concrete and electrical assistance... who's good? Any Utes out there able to take care of me?
by leftyjace
2012-06-30 12:06:40
I have concrete slabs in my back yard that are sinking. One of them is right next to the house, and has a pipe coming out of it that's attached to my electrical meter on the house. The end result is the meter box is detaching from the house. I'm pretty concerned - not sure what to do or how to fix this.

I'm worthless when it comes to household maintenance/upkeep/construction and such. But I am NOT turning in my man card.

So do any of you fair and wonderful Ute fans know how to diagnose and fix these types of issues?

Also could potentially use some help with some cabinetry work in my kitchen... and a few other things.

Anyway... Board Mail me! Thanks!!!
---
Top 10 Most Recently Posted Messages:
That's a yummy lookin'... taco.
(2 days ago, 3 stars)
SHAMELESS PLUG: If you're bored this weekend, come see my band play at Club 90. (For those that don't know, my band played the Pirate Ship @ the USC Game.) And make sure to say "Hi"!
(6 days ago, 11 stars)
Oh... and I know you like George Takei half naked, but I prefer... other cast members similarly draped.
(7 days ago, 2 stars)
I loved them both. Don't know that I can pick a favorite. I suppose if I were to be forced, I'd pick ST:TNG because there were 7 seasons, not just 3. More to enjoy. :)
(7 days ago, 0 stars)
In my opinion, yes. But then again, I relish any opportunity to see Alice Eve in skimpy clothing.
(7 days ago, 2 stars)
So.... Star Trek: Into Darkness will blow you away if you are a Star Trek fan.
(7 days ago, 5 stars)
Porcupine Tree is one of my favorite bands. Steven Wilson is amazing. My favorite album is In Absentia... Just amazing stuff. Then again...I'm a musician.
(14 days ago, 1 stars)
Inside and out, my friend... inside and out :)
(22 days ago, 0 stars)
I know there's no way she'd do the oral thing... but here you go...
(22 days ago, 0 stars)
I'm certain that's part of it. I'm pretty much screwed right now because my knee has gotten so bad. Surgery is scheduled for May 24th... I just gotta make it until then, and get through knee rehab... and then I can run/jump/everything again.
(25 days ago, 0 stars)
OK, so, I'm in a funk I can't seem to shake. Seeking advice from the UF.N studs and studettes. What do YOU do to shake a funk? Creative answers appreciated and welcome.
(26 days ago, 1 stars)
And for the record, I do not have a party affiliation. I'm just curious what this could mean. I open myself up to receiving wisdom from the mighty UF.N brains.
(28 days ago, 0 stars)
So... correlation between unemployment percentage and dominant party affiliation?
(28 days ago, 0 stars)
So.... does anybody have any connections in the BLM?
(29 days ago, 0 stars)
Losses may have been immediately recovered, but I'm sure some people lost a ton and others gained a ton...
(30 days ago, 2 stars)
OMG that's one of the funniest things I've ever seen
(30 days ago, 0 stars)
Why? Serious question.
(30 days ago, 0 stars)
Yes... he is. An amazing man. You'd be an even bigger fan if you knew some of the stuff he's done for his home country of Panama and what he's done here in the States. After baseball, he's going full time philanthropy. True class act.
(42 days ago, 0 stars)
Me four!
(42 days ago, 3 stars)
That's what I'm thinking... I'm going to get a double frame. But it won't sit in my closet... I'll put it where my Bachelors is on the wall right now. Right next to my Elementary School Grad Certificate.
(45 days ago, 0 stars)
here you go... this was taken last week.
(45 days ago, 2 stars)
Did you bench press her?
(45 days ago, 7 stars)
No, silly... when do I DRINK THE BEAR? Or spill it on a BYU fan? Good grief, Forky.
(45 days ago, 2 stars)
Amazing woman. Hung my Elementary Graduation Certificate. Didn't do that for my Jr. High Certificate though. Hmmmmmmmmmm. Maybe we're on to something here.
(45 days ago, 2 stars)
I have a nice bum bum. Or so I've been told.
(45 days ago, 0 stars)
So why is it that I was so eager to frame my Bachelor's, but my Master's Degree is still sitting on my bookshelf in the envelope I received it in? What's wrong with me? Can anyone provide psycho-analysis of this phenomenon?
(45 days ago, 0 stars)
Where does the bear come in?
(45 days ago, 2 stars)
In that order?
(45 days ago, 2 stars)
Headed to the Dominican Republic soon for our President's Club trip. Staying at the Iberostar Grand all-inclusive resort in Punta Cana. Has anyone been there, or to the DR for vacation? Advice? Pointers? Etc.
(45 days ago, 1 stars)
See you all there! :)
(54 days ago, 1 stars)
Great! Now we just need to make sure we're getting all the good ones, and not losing recruiting battles to USU, BYU, etc.
(65 days ago, 2 stars)
RE: Actual conversation that took place yesterday...
(65 days ago, 0 stars)
Oh my hell yes. Love that country. I could definitely Ex-Pat there.
(70 days ago, 0 stars)
Am I too late to offer a choice for the best bad movie ever?
(79 days ago, 7 stars)
By the way, found this - very interesting stuff.
(86 days ago, 0 stars)
So here's an honest question. I realize the $85 billion is miniscule in comparison to the $3.7 trillion... but how much of that $3.7 trillion goes to service the debt? So in essence, what percentage is the $85 billion from the true operating budget?
(86 days ago, 0 stars)
This is good to hear. I was debating whether to watch it, and you have now convinced me that I should at least watch an episode or two. Much Grass, gents.
(86 days ago, 0 stars)
not only that, but... it's better than watching the NFL combine and stuff.
(86 days ago, 0 stars)
So for those that care, I did go with the AppleTV's. Got the MLB.TV Premium, and am currently watching preseason baseball... on my AppleTV streaming from my iPad, because preseason isn't available on AppleTV or Roku or anything yet. :) Life is good!!
(86 days ago, 3 stars)
The only thing left to say is...
(97 days ago, 0 stars)
Shush, little one. Everything's gonna be alright... rockabye.
(101 days ago, 5 stars)
Ironically, as of this exact moment, the hire has been posted on the Deseret News web site... and NOT the Salt Lake Tribune web site. Surprised? I think not.
(101 days ago, 1 stars)
Thirded!
(104 days ago, 3 stars)
Did I miss something? Did BJ officially get removed from the position? Honest question.
(106 days ago, 0 stars)
I think they'll still qualify, but it won't be as #1 or #2 in the group. Someone's going to be better than them. Mexico will be #1, that's for sure. They just have to be in the top 2/3's in the 6 country group.
(106 days ago, 0 stars)
They didn't. $&%$@#&$%@#*&^@%*&%@*#$%@#(*&^@#%*&%$@#*$ ^@#*(&^@#(*$%
(106 days ago, 0 stars)
$^@%$&@#%$@#&$%
(106 days ago, 1 stars)
Wow. Wow. What a bicycle kick. Wow.
(106 days ago, 0 stars)
BEAUTIFUL!!!! Love that over-the-top attack... nice little tap.... awesome!!! And we needed it... Howard has been saving our bacon defensively, and I don't know if he can keep it up the whole match... WOW!!!!
(106 days ago, 0 stars)
REALLY surprised Bocanegra isn't in the starting XI. He'll be a great late sub, for sure though. Love that Omar Gonzalez is getting the nod.
(106 days ago, 1 stars)
That was going to be my plan...
(106 days ago, 0 stars)
RE: Charts.
(107 days ago, 4 stars)
Hmmmmm....I think I was there.... :)
(107 days ago, 8 stars)
Are you talking about the one a few years ago? The Time Machine tour?
(107 days ago, 2 stars)
Come on, work with me here.
(107 days ago, 2 stars)
OK, I need some feedback from the collective brilliance that is UF.N. So my question is... Roku or AppleTV? And why?
(107 days ago, 0 stars)
Saw this on another message board, was just too funny not to share...
(118 days ago, 23 stars)
I'm not in an anti BYU mood, I'm not. But I was curious... how did they do against BCS schools versus how we did the last two seasons?
(126 days ago, 0 stars)
I'll see you there... my uncle is a season tix holder for the Ducks, so this year I'm going with him there, and next year he's going with me here.
(133 days ago, 1 stars)
She did... she was (is) a beautiful woman and a great friend and neighbor to a goofy kid one year younger than she was. They were actually her tickets... I was so grateful she took me.
(134 days ago, 0 stars)
Never put it on a mix, but loved the album... used to play Red Rain over and over and over...
(134 days ago, 2 stars)
But you would probably only know them by this song... on the same album...
(134 days ago, 2 stars)
Eight Seconds opened for Wang Chung back in the day at Abravanel Hall... and completely stole the show. I was on the front row with Amy Hayes. Blew me away... can't believe they weren't more popular. Almacanter is one of my favorite albums.
(134 days ago, 3 stars)
And this. The man that got me into New Wave in the first place.
(134 days ago, 1 stars)
And this...
(134 days ago, 1 stars)
Um... ya. Been rockin' to this all morning.
(134 days ago, 1 stars)
Huh? What's New Wave?
(134 days ago, 0 stars)
Geez, dude, if you wanted to know you could have just asked me.
(155 days ago, 1 stars)
A sequence of notes are programmed in. Each consecutive note is triggered by an impact on the keyboard. He doesn't have to hit the right note, he just has to hit the keyboard, and make sure to have the impact be in time with the tune. Many drummers..
(158 days ago, 1 stars)
Not to further stoke the gun control debate, but I found this paper very interesting. I think it's probably worth a read by both sides of the fence.
(159 days ago, 0 stars)
On 7200 south driving behind a maroon Ford minivan with the license plate UTE GAL. Coincidence? I think not.
(160 days ago, 2 stars)
Hey! We kept Raul Lopez! And he was... um... er... ya.
(161 days ago, 0 stars)
And you guys complain about MY team? The two LA teams are going to have a higher payroll here pretty soon - one of them already does thanks to Magic Johnson.
(161 days ago, 0 stars)
Can't blame you there. Some of the most, um, aggressive stuff is what I listen to when I lift.
(162 days ago, 0 stars)
Good hell. And I even like screamo, and that sucks.
(162 days ago, 1 stars)
Throws a nice ball? Hell, the kid isn't even trying and he's throwing 30-40 yards... cross-field! That's some serious arm strength... wow. I really like this kid!!!! Excited!!!!
(162 days ago, 2 stars)
I know... what a RUSH!
(163 days ago, 1 stars)
Takes one to know one...
(163 days ago, 0 stars)
Rush in the Rock and Roll hall of fame. Well, it's about damn time.
(163 days ago, 13 stars)
Yet another endorsement of the work of Ute_fan_forever
(163 days ago, 13 stars)
She is a sweetheart. When we did the morning news show the day of the Utah/BYU football game, she was the lone person cheering for BYU... it was fun to razz her on air.
(164 days ago, 0 stars)
So, I'm curious...
(171 days ago, 0 stars)
Don't know if it's been posted yet - if so, I'm sorry - but it's official. Kaepernick gets the start over Alex.
(181 days ago, 1 stars)
RE: With the Terps and Scarlet Knights joining the B1G, you play Pac 12. If you HAD to, what two schools would you add to make 14.
(185 days ago, 0 stars)
Less cheese but still cheesy. But a really cool ending to the battle.
(189 days ago, 0 stars)
So yes, I am proud to say I went and saw Breaking Dawn Part 2.
(189 days ago, 3 stars)
Kyle Van Noy is a relative of mine by marriage (we are actually cousins of a sort). Anyway, he has been open with the fam that his plan is to enter the draft after this season.
(196 days ago, 0 stars)
He was too busy eating Halloween candy anyways
(204 days ago, 1 stars)
Party pooper
(204 days ago, 2 stars)
Did anybody else notice that the Jazz looked pretty freakin' awesome tonight?
(204 days ago, 11 stars)
I know, I know....
(205 days ago, 0 stars)
Embarrassing Admission: I left. I may have been sicker than a dog and probably shouldn't have been there in the first place, but I did leave early. And hurried home. For a date with my porcelain goddess.
(205 days ago, 0 stars)
What's with everyone wanting to unload their tix against Washington State? Don't you people want to see an epic victory??
(205 days ago, 5 stars)
Because we need SOMETHING to laugh at...
(209 days ago, 0 stars)
Ladies and Gentlemen, I give you the successor to "Friday, Friday!"
(209 days ago, 0 stars)
You have yet another boardmail. :)
(210 days ago, 0 stars)
it's been taken down.
(210 days ago, 0 stars)
So I finally called Comcast to drop it and go with data only. But... a basic cable package - like the bare minimum - plus Blast Plus is $20 a month less expensive than Blast Plus only. Good grief. That's just nuts.
(211 days ago, 0 stars)
Completely agree with this. He's doing a great job.
(215 days ago, 1 stars)
Congrats to the Tigers! Amazing. They will win the Series. As far as my boys? Hey, 95 wins, made it to the ALCS, I think it was a solid season. I just hope they don't overreact and blow things up too much.
(217 days ago, 1 stars)
Top 10 Most Recommended Messages:
My daughter is having a little bit of heart surgery today. Positive thoughts and good vibes would be very much appreciated. (71 stars)
2011-07-11 07:44:05
Surgery went good. My daughter is fine. It was a bit trickier than they wanted it to be so it took longer, but she's doing OK and prognosis is good at this point. Thanks everyone for your kind thoughts and wishes. The wonders of modern medicine... :) (50 stars)
2011-07-12 08:44:35
Highlights from the Crimson Club Luncheon (49 stars)
2010-10-20 14:40:19
I lost my father today. Please call your parents and tell them you love them. (48 stars)
2012-02-29 20:48:50
Well... depends on if that chip causes more shoulder surgery. (30 stars)
2012-08-27 15:05:01
Hilarious. Got it from Stewart Mandel's College Football Overtime. (28 stars)
2012-09-17 11:40:53
Well, he opened it... he's going to Louisville, Kentucky. Proud of my boy. (26 stars)
2012-02-19 11:55:52
So... I am sitting in my very last class period ever, only 1.5 hours left... then a trip to Shanghai & Beijing, and walking to some serious Pomp & Circumstance... UNIVERSITY OF UTAH EXECUTIVE MBA BABY!!!!!! Woohoooooo!!!!!! (26 stars)
2011-04-15 15:35:45
Today is my birthday. I am also a Red Star Whore. You know what to do. TIA! :) (24 stars)
2011-01-17 08:50:01
Saw this on another message board, was just too funny not to share... (23 stars)
2013-01-25 10:50:04
Top 10 Most Viewed Messages:
SI College Football Power Rankings (816)
2010-09-10 11:18:30
Highlights from the Crimson Club Luncheon (651)
2010-10-20 14:40:19
ATDHE.NET for the win (576)
2010-09-10 17:47:47
I am personally very, very grateful we are playing Montana State (505)
2011-08-12 18:53:48
So... I am sitting in my very last class period ever, only 1.5 hours left... then a trip to Shanghai & Beijing, and walking to some serious Pomp & Circumstance... UNIVERSITY OF UTAH EXECUTIVE MBA BABY!!!!!! Woohoooooo!!!!!! (474)
2011-04-15 15:35:45
This Rapture thing sucks. I came back down. (469)
2011-05-24 13:28:40
Unbelievable. Simply unbelievable. I think I may have the most clueless ex-wife on the face of the planet. (444)
2012-03-04 14:30:46
Today is my birthday. I am also a Red Star Whore. You know what to do. TIA! :) (439)
2011-01-17 08:50:01
You know what's awesome? At 5pm today I will be left with 10 class days and 2 weeks in Asia until I graduate with my Executive MBA at the U. And then I will have TWO degrees from the U hanging on my wall. Awesome. (434)
2011-02-04 09:13:41
Class sucks. That is all. (426)
2011-01-15 10:05:52