For all users. This page is automatically generated and contains the most recent and best work on the message board.
Post Statistics:
* Note: Current rankings are based on activity in the last calendar year.
Recent Topics:
This is fantastic.
by Ute2004
2017-01-20 22:17:02
My super fast, how the south does, cause I like to talk to myself PREDICTIONS (Holy $#!+E!!! PREDICTIONS!!!)*
by Ute2004
2017-01-18 15:53:35
*But, this is all pre-spring ball based purely off schedules and pre-injuries that will happen in spring ball and fall camp and then you have summer suspensions, etc.
USC was a scheduled win for us last year. Washington is a scheduled win for us this year.
by Ute2004
2017-01-18 11:49:25
Look at Washington's schedule to end the year next year:

UCLA
Oregon
Stanford
Utah
WSU

We could potentially go 4-0 in November next year. UCLA plays Washington right before us. WSU plays Stanford right before us. Colorado does have a bye before us.

Oregon will be better overall but easier for us to matchup against.
Football thought of the day:
by Ute2004
2017-01-10 22:28:39
Being ranked #23...I think it is fair. Maybe a little bit low, but very fair. We beat #3 USC, we held our own vs #4 Washington and #17 Colorado...BUT we did lose to Cal and Oregon.

I'm happy with our season. Not satisfied, but happy. We are living in the golden age of Utah football. There will come a time in our lives...ok, maybe my life (some of you are OLD), when we will have a coach that runs this program into the ground and we will wish for 6 wins.

I'm going to enjoy this run we are on...especially with next's year's schedule. There are six potential losses on the that schedule.

What a year! Joe Williams was a terrible then amazing story. Troy Williams was solid for his first year here. Luafatasaga came on strong and Hansen lived up to the billing. Our OL received a lot more experience for next year than originally thought. Garrett Bolles was a beast. And Isaac Asiata...what a pro. What a man. If you were to design the perfect man, it may just be Isaac Asiata.

Any year we end up ranked is a great year (for reference, those people haven't been ranked in 7 years. lol).

This year should be an A to an A-, but due to the collapse I give this year a very, very solid B+.

And I can't freaking wait for Spring Ball.
It was posted before that if missionaries was such a huge advantage, BYU would be winning a lot more than they are right now.
by Ute2004
2017-01-10 16:11:43
The obvious fallacy in this argument is that missionaries that can actually play are a small percentage of total football players.

BUT, missionaries are a big advantage for BYU and Utah and whoever else uses them. Missionaries are men playing a boy's sport. They are bigger, stronger, thicker. Would Steve Tui'kolovatu start at USC as a 21 year old JR or 22 year old SR? Probably not. BUT, as a 25 year old SR, he is an instant starter at USC.

Here is my retort to that hypothesis:

How many games would BYU win every year if they didn't have any returned missionaries on their team?

It is a HUGE advantage for BYU. Like I mentioned below, a 25 year old two star OL/DL is equal to a 3-4 star 20 year old OL/DL in a lot of cases just because of how much more mature a 25 year old's body is.

The other obvious issue is the way a mission brainwashes you (and it does and to argue otherwise is silly). How many of their best players have been returned missionaries that actually started out at other schools?

If BYU lost returned missionaries from their disposal, they would turn into a pretty average MWC team really fast.

Returned missionaries might not be a big advantage for certain schools, but to BYU, the advantage is HUGE, because without returned missionaries, their program would fade away into irrelevancy overnight.
Man, there is a clear top 3 in the PAC-12: Arizona, Oregon and UCLA...maybe USC as well.
by Ute2004
2017-01-05 22:02:00
The biggest question is how does the next group shake out? We need to be the best of the rest to make the tournament. We need to do really, really well vs the rest of the PAC-12. Then, win a game or two in the tournament. I think we can do it.

We will see.
Why are people so worried about our DL next year? We are freaking stacked again at DL. We probably have a top 10 DL again.
by Ute2004
2017-01-05 11:51:56
Fitts, Lotulelei, Mokofisi. We return three starters.

Then, we add Anae, who was incredible this year.

Then Maxs Tupai, Leki Fotu, Chris Hart, Havili-Katoa, Tonga, Vainuku, Pututau...

And that doesn't into account any recruits we might land...Tufele...

And our LB'ers will be very good as well. Luafatasaga was a beast to end the year. He will be incredible next year.

Our safeties will be fine with Hansen, Ballard, Fogal, etc.

Our only weak point will be CB, and Shah has shown that he can coach kids up.
Man, our road games are hellish next year:
by Ute2004
2017-01-04 12:09:06
@ Oregon
@ Washington
@ Arizona
@ USC

Wowza. The scheduling gods are paying us back for the easier schedules we have had.

Home: ASU, Colorado, Stanford, WSU, UCLA.

If I could hope and pray for any schedule, it would look like this:

North Dakota
@ BYU
SJSU
@ Arizona
bye
@ USC
WSU
UCLA
@ Washington


shit. we might be a six win team next year. There is no good way to schedule this.

At some point, we will have USC/Stanford/Washington/UCLA in back to back weeks. With WSU surrounding that.

Fetch.
P5 teams with more wins than Utah the last three years:
by Ute2004
2017-01-03 14:44:56
1 - Alabama - 40
2 - Ohio State - 37
3 - Clemson - 37
4 - Florida State - 33
5 - Wisconsin - 32
6 - Stanford - 30
7 - Oklahoma - 29
8 - TCU - 29

P5 teams with the same number of wins the last 4 years as Utah:

9 - Baylor
10 - Georgia

So, the last three years, Utah is AT WORST, the 11th best program in the country.

Pretty damn fantastic if you ask me. Pretty fucking fantastic in fact.

Imagine if Whitt can improve the offense with Taylor?

Holy shit.

P5 teams with less wins than Utah the last three years:

Michigan
Oregon
USC
Notre Dame
LSU
Tennessee
Florida
Washington
Penn St
Mississippi State
Ole Miss
Oklahoma State
Colorado
Virginia Tech
Pittsburg
Nebraska
Arizona
Kansas State
Georgia Tech
UCLA
Arizona State
Missouri
Auburn
Louisville
Iowa
North Carolina
Northwestern
I love listening to Norm Chow.
by Ute2004
2017-01-03 10:29:06
On Whitt as Utah's OC, as many claim:


I never saw Whitt. He told me to go to work and I worked. He'd talk to me about situations during the game, if he liked the tempo or whatnot, but every coach does that. During the week, Whitt left me alone. I've not heard he treats anyone else differently.


On Saban/Whitt's philosophy of protecting the defense:


Defense wins championships. I've heard that Saban tells his offense, "just don't screw it up." It's the smart way to coach. It's the smart way to win games. If your offense protects your defense, you will win games.


Chow on Lane Kiffin:


My god. Someone tell Kiffin to just keep your mouth shut.
Ha ha.
by Ute2004
2016-12-23 09:14:24
BYU Football 2011-Present. The University of Utah was invited to the Pac12 in 2010. As a result, BYU threw a fit because they weren't invited and went Independent to try and prove equal footing. Now the highlight of Independence is being considered a P5 opponent by a few major conferences & being an ambassador (whatever that means) in college football. While going back to the MWC would offer so much more to the school, fans & administrators try to put on a show that Independence is the bees knees.
See also[edit]

https://en.wikipedia.org/wiki/Cutting_off _the_nose_to_spite_the_face
Man, what the heck happened last night? No rebounding and no defense won't get you far in life.
by Ute2004
2016-12-23 08:17:26
I don't know if I've seen such a poor effort since K has been here. It was BAD. Also, why didn't we offer Childs? Man, that was a miss, even if he is nothing more than a bench player. Jakob is nothing.

Holy cow, we were terrible. I am not optimistic at all.
Honeycutt has his own clothing line. Check it out.
by Ute2004
2016-12-21 22:16:55
Joyousresolution.com
What I want to see from our bowl game:
by Ute2004
2016-12-21 10:02:42
1 - Bowl prep gives you extra practices (there are no limits to how many or how few practices you hold. You can only do 20 hours a week and four hours a day). Spring ball limits you to 15 practices. That means that bowl prep practices can actually be the same if not more prep time than spring ball. That is HUGE. So, I expect some big jumps from certain players.

2 - Zach Moss. I'd like him to get 20 carries this game. He should be fully healthy by now. Let him run. Let's get him ready to be the MAN next year. Give Joe Williams about 10 carries.

3 - Troy Williams. A bad MCL tear usually takes 4-6 weeks to heal. Williams should be as close to 100% as he has been all year. I expect to see a much, much better QB out there. A true dual threat guy.

4 - ARod/Harding. I don't know who the frack calls plays or how they do it, but I expect a big jump in these guys. The team will be healthy.

5 - Smith, CB. Let's see what this big boy can do. He is a younger McGill/Rowe in our system. Let the transformation from WR to NFL CB begin.

6 - Luafatasaga. He was incredible the last couple games. I want to see him go from everywhere guy to playmaker guy. Let's see him channel his inner Paul. I'd like to see a TO from him this game.

7 - Hansen. Put Hansen at LB'er the whole game. Let Fogal play FS and move Marcus to SS. If Marcus stays next year, he will play SS. Let's see what he can do there.

Indiana is a tough, physical team. BUT, we are much more talented than they are, and they play our style of football. IF JC guys need a year to improve and take a big jump after spring ball and IF ARod/Harding are getting better and IF Troy is healthy....

We should win by two scores. 38-24 Utah.
My Owls lost their head coach to Baylor. Sucks to be a mid major. Temple was getting rolling and now they have to start all over again.
by Ute2004
2016-12-06 10:05:06
I loved Temple's offense. Temple is what Utah could be if Whitt ever decided to play offense. Tough, hard hitting defense, an offense that was physical but used a lot of under center which allows you to run play action off the run very effectively.

I wonder how he will do recruiting there. One thing that no one talks about is Briles coached high school football, so he had connections up the wazzu and could find all those diamonds in the rough in the 1,000+ Texas high schools.

Will another Baylor coach have that advantage?
Why I wouldn't be surprised if only Marcus Williams leaves early:
by Ute2004
2016-12-03 09:52:18
1 - I outlined the money below. Marcus, Garrett, Kylie, Lowell all have first round potential.

2 - Marcus is an athletic freak. He should test out amazing at the combine, which will help his draft stock. He will and should leave early. Go get paid my friend.

3 - Lowell's stock has slipped a little. I think people were expecting Star, and Lowell was amazing, but he wasn't Star level. I bet his draft grade comes back as a 2nd rounder or go back to school.

I'd give Lowell a 50/50 shot at coming back.

4 - Garrett Bolles. He has two bad strikes and one amazing strike. His technique SUCKS. It is TERRIBLE. BUT, he is so athletic and such a FREAK, that he is still amazing. And he has his past. It is very checkered, and because of that, I could see his stock slipping.

I'd lean towards Bolles coming back, because he has first round talent, he can clean up his footwork and become a much better pass blocker, and he can show the NFL that his past is in the past.

If he leaves early this year, he could slip due to his past and footwork.

If he comes back and cleans up his technique, he might be a top 3 pick.

That is no guaranteed money, a 4 year, 2.5 million dollar deal vs a 25 million dollar FULLY GUARANTEED deal.

That is money you come back for.

5 - Kylie Fitts - he is not drafted right now due to his injury. If he comes back, he will be drafted and may get up into the second round territory.

He comes back.

It wouldn't shock me if Lotulelei, Bolles and Fitts all return next year.
Why Ohio State will be left out if Alabama, Clemson, Washington and Penn St win out.
by Ute2004
2016-11-28 18:42:19
Here is the criteria in ranking the teams:


When circumstances at the margins indicate that teams are comparable, then the following criteria must be considered:
 Championships won
 Strength of schedule
 Head-to-head competition (if it occurred)
 Comparative outcomes of common opponents (without incenting margin of victory)


Ohio State, Penn State, Alabama, Clemson and Washington are all comparable.

Ohio State won't have a Championship.
SOS will be comparable, especially after everyone plays one more game.
Head to head...well, Ohio State lost already.
Comparative outcomes, Ohio State and Washington both blew out Rutgers.

If you go by the Playoff Committee's criteria, Ohio State needs someone to lose to get into the playoffs.

Here's the crazy thing: If Washington, Penn St and Clemson win and Alabama loses, you could argue that Alabama should be left out in favor of Ohio State. Ohio State will have the better win, Oklahoma will be ranked higher than USC, and both will have one loss.
If Clemson, Washington and Penn St win and Alabama loses, I'd put OSU in and leave Alabama out.
by Ute2004
2016-11-27 18:39:16
Ohio St didn't win their conference and neither would Alabama. That alone puts Penn St, Washington and Clemson in.
Whoa. Penn St has two losses. I change my opinion.
by Ute2004
2016-11-27 16:17:03
If Washington, Clemson and Alabama win out, they are locks.

The fourth spot comes down to who beats Wisconsin by more: Penn St or Ohio St. Hell, I'd even put Alabama and the PAC-12 champ down as locks. Clemson is a lock if they win out.

If Penn St barely beats Wisconsin, it wouldn't shock me if they get left out for Ohio St.
Today's game: Watch all the other games and try to find a worse OC than ARod/Harding.
by Ute2004
2016-11-26 15:26:18
It can't be done.
Our LB'ers will be much better. This is the last position group to catch up from the MWC days. We lucked out that Norris ended up being so amazing and Paul came from Erickson. We have lost 3? players to injury from that position.
by Ute2004
2016-11-21 18:14:44
That being said, we return Tauteoli, Luafatasaga, Davr Hamilton, Thompson, and quite possibly Chase Hansen next year.

We are fine at LB after this year.

It just sucks that we don't have Masina or Hooker or that freaking Tui'kolovatu left then Fitts was hurt so we weren't able to slide Mokofisi out to DE and move Pita T to LB (his position in the NFL if he makes it).

If we have one or two of those three players this year, our LB'er situation is completely different.

There is a reason why the coaching staff wish no fortune or success on Tui'kolovatu. He screwed Utah over big time, after Utah kept him eligible and helped him become such a good DT.

That loss may have been our biggest loss of the year.
Let's go get 10 wins!
by Ute2004
2016-11-21 00:00:52
The ending wasn't what we hoped for, but 10 wins would be amazing and much better than 8.

Let's go get 10 wins! And pay Colorado back for 2011.
I think Oregon has the longest streak in college football of scoring 20+ points a game.
by Ute2004
2016-11-19 09:43:58
That ends today!!!!
SACK LAKE CITY!!!
by Ute2004
2016-11-10 23:14:49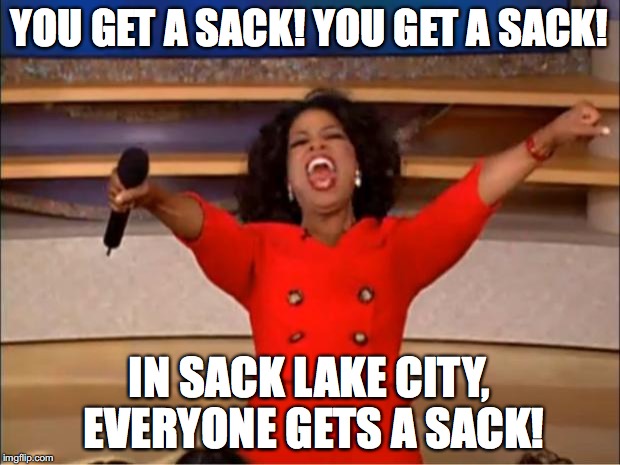 Calm down. This is vintage ARod. Come out every game, throw the ball around, try some stupid ass trick play, commit a couple of TO's, have Utah go down 7-14 points...
by Ute2004
2016-11-10 20:26:42
Then ARod wakes the fuck up, runs the ball, plays Utah football and we win.

It's almost like Whitt tells ARod, "You have the first quarter. After that, we don't throw the ball anymore."

ARod has to be the worst offensive coordinator in football.
Where does ASU sit defensively?
by Ute2004
2016-11-10 15:37:56
Total Defense: 10th overall
Rushing Defense: 1st overall.
They give up 116 yards per game rushing. Average 3.5 yards per carry.
Pass Defense: 12th.

Conference only stats:
Total Defense: 11th
Rush Defense: 3rd
Pass Defense: 12th.

Not too bad with the rush defense. Their pass defense is awful. Let's look into the rush defense a little more:

Cal ran the ball 47 times for a 4.3 ypc and 159 yards. Not too bad.

USC ran the ball 33 times for a 4.8 ypc and 157 yards.

UCLA ran the ball 23 times for -1 yard. Wow.

Colorado ran the ball 52 times with a 6.1 ypc and 315 yards.

WSU ran the ball 19 times for -52 yards.

Oregon ran the ball 46 times for a 5.3 ypc average and 245 yards.

My point? Their rush defense is a myth. It is not indicative of how good they are. When teams committed to the run, they ran the ball effectively vs ASU. When teams passed the ball 100 times and took sacks from that blitzing defense, it made their run defense look a whole lot better.

USC, Colorado, Cal and Oregon ran the ball for these averages:

44 carries a game.
219 yards per game.
5 yards a carry.

We will run the ball tonight, and we will be very good at it. Especially if Moss is healthy. If Moss is healthy, it wouldn't shock me if both Williams and Moss were close to 100 yards.
Finally!
by Ute2004
2016-11-10 10:08:14
ASU will bring the heat. They will try to stop the run and hit Troy. This game will come down to ARod going back to his MWC days, pulling out the Jerome Brooks-quick toss to the WR plays. Let Butler-Byrd get the ball in space and make something happen. So some quick slants with Patrick. Maybe even a couple max protect, two route pass plays where we send B-B across the middle of the field and Patrick on a post route. We can/should beat them easily, but this is the type of game (see Arizona last year) where we seem to let a vastly inferior team stick around.

And Scalley needs to dust off the Arizona game plan. He was fantastic vs Arizona. Do that again. Do the 3 down linemen-hybrid defense again. Let Pita T play some OLB, where he is much better rushing the QB.

I'm so freaking glad there is football tonight. It feels like it has been forever.
So, Nebraska is ranked #10 with one loss. We were ranked #17. Shows you how little the "experts" know and how #%!@ing lazy they are at their jobs. Nebraska is currently getting worked over by Ohio State, while it took Washington getting some terrible
by Ute2004
2016-11-05 21:39:40
calls in their favor for them to beat us.

How much do you want to bet that Nebraska will be ranked higher than us come Monday?

What a freaking joke.
Three wins from a Rose Bowl. Three, very winnable games, from a Rose Bowl. Go get it fellas. Let's go smell some roses.
by Ute2004
2016-11-04 22:53:14
We are getting healthy, we have extra time to get ready for Oregon and ASU, and Colorado, while tough, is a very winnable game.

Let's do this.
How is Michigan ranked #3 and Washington #5?
by Ute2004
2016-11-02 10:12:30
Michigan's best win: Wisconsin, a two loss P5 school. Their OOC was Hawaii, UCF, Colorado. Colorado is a decent team and ranked right now.

Washington's best win: Utah, a two loss P5 school. Their OOC was Rutgers, Idaho, Portland State. No team as good as Colorado on there.

Now, Texas A&M: Their OOC is PV A&M, New Mexico St and UTSA. They have by FAR the worst OOC schedule. Oh, what about UCLA you say? I don't count that as an OOC game for one simple reason: Michigan and Washington both play 9 conference games. A&M only plays 8. So, UCLA becomes their defacto 9th conference game, you know, to even up the schedules.

At the end of the year, Michigan will have played 10 P5 schools. Washington will have played 10 P5 schools. If Michigan and Washington both make their conference championship game, both will have played 11 P5 schools. Texas A&M? It looks like they will end up playing a whopping 9 P5 schools. Yet, the committee thinks they have somehow done more to earn a playoff spot over Washington.

The rankings are a joke.
---
Top 10 Most Recently Posted Messages:
That is who you bring back? Ugh.
(62 days ago, 1 stars)
Because Jesus is Republican.
(63 days ago, 2 stars)
Huh? You get what you pay for? Doesn't the president get like $300,000 per year? People don't run for president for the money. Same with Utah State Legislatures. Don't they get like $15,000 a year? Again, they aren't doing it for the paycheck.
(63 days ago, 0 stars)
What opinions did they tweet?
(63 days ago, 0 stars)
Nothing at all. The power/prestige is incentive enough.
(63 days ago, 1 stars)
It's how Baylor became so good. Art Briles was a high school coach, who had connections all over the place. He would go and find all these kids and get them to Baylor.
(63 days ago, 1 stars)
Only the ones that he married at 14 that he has convinced that salvation is though obedience to him.
(63 days ago, 5 stars)
Keep fighting and wait. Eventually, the older generation will die off and things will improve.
(63 days ago, 4 stars)
That's awesome. I'm getting sick of the shovel.
(64 days ago, 0 stars)
Except he's not right. Utah has the fifth most NFL guys in the PAC-12. Which, ironically, is about where we finish every year. Interesting....
(64 days ago, 0 stars)
RE: A lot of NFL talent in that video and 1 conference championship in 12 years because we constantly hire $#!+ offensive coordinators.
(65 days ago, 0 stars)
This is fantastic.
(65 days ago, 0 stars)
46% of voters did not vote. 25.6% voted for Hillary. 25.5% voted for Trump.
(65 days ago, 0 stars)
Every time I listen to Trump, this is all I see:
(65 days ago, 3 stars)
This is what is most ironic. Republicans HATE mormons. They feel that they are just as evil as the taliban and isis. Yet, Utah falls in line, rank and file. It's very interesting, until you realize that
(65 days ago, 2 stars)
Right now, this isn't a left vs right debate. It's a top vs bottom. I wish people would realize that. Take a step back and really look at what is going on here.
(65 days ago, 3 stars)
Your favorite board had 21 posts today, not counting the thread I started (which was the longest thread today).
(66 days ago, 2 stars)
Since the playoffs, Alabama has been ranked #1, #2, and #1. They have one title out of those three years. My point?
(66 days ago, 2 stars)
How many of those were under the BCS umbrella and the ESPN blowjob on the SEC era?
(66 days ago, 5 stars)
I recently read that the jobs aren't replaced by robots but moved overseas. It's not profitable to help your employees anymore. It's better to screw them to increase stock.
(66 days ago, 2 stars)
My issue with all this is that the hospitals and corporations (reason #10484030 to not go see a large "chain" doctors office) do this on PURPOSE. The purposely call for the pediatrician, because they know he is out of network and he can charge
(66 days ago, 1 stars)
He probably posted all over cougarboard about how smart he was gaming the system.
(66 days ago, 3 stars)
There should be a law passed that if you go to a company for care and the initial Dr is a preferred provider, then all other doctors that see you must be bound by the insurance and agree to their fees.
(66 days ago, 1 stars)
I'm definitely taking time off work to check out spring ball. Snow all you want right now, come March, this crap had better be gone.
(66 days ago, 0 stars)
Thanks!!!
(66 days ago, 1 stars)
When is spring ball? I want to see this spiffy new offense.
(66 days ago, 0 stars)
Kind of like when Reagan slashed taxes, realized he made a huge mistake and then started raising them again.
(66 days ago, 1 stars)
Yup, I estimated up trying to be smart. That didn't work out well for me. lol.
(66 days ago, 1 stars)
Good point. It's late and I'm wrong.
(67 days ago, 3 stars)
There are 150 million households in the US. They are spending over 200 million on the inauguration party this Friday. Seems like there is a simple solution to fix a lot problems right there.
(67 days ago, -1 stars)
Man, Vegas looks like a great time to be had.
(67 days ago, 0 stars)
When it comes to recruiting, Graham is pond scum. He will say anything to anyone if he thinks it will help him.
(67 days ago, 0 stars)
Yeah, Utah, UCLA and Colorado all lose a ton, but all bring back a ton as well. They are the definite middle. If all three are strong against the North and split each other, then they could all end up with 9 wins...or 6. ha ha.
(67 days ago, 0 stars)
Who knows. Utah is weird with all the mormon stuff, Graham knows how to recruit against us, and it warm with nice honeys down there. I hope we don't lose Jaylon Johnson, but who knows.
(67 days ago, 0 stars)
Utah:
(67 days ago, 0 stars)
Arizona:
(67 days ago, 0 stars)
ASU:
(67 days ago, 0 stars)
UCLA:
(67 days ago, 0 stars)
USC:
(67 days ago, 0 stars)
Colorado:
(67 days ago, 0 stars)
This will be the south standings, as I update each team, and I know that there may be some discrepancies.
(67 days ago, 0 stars)
My super fast, how the south does, cause I like to talk to myself PREDICTIONS (Holy $#!+E!!! PREDICTIONS!!!)*
(67 days ago, 0 stars)
Ha ha. The best route out there.
(67 days ago, 0 stars)
Tufele increased by going to a high school bowl game or whatever they are, camps, and completely dominating everyone there.
(67 days ago, 0 stars)
p.s. My post above is what a prediction looks like. Just a hint for those that may need it.
(67 days ago, 0 stars)
I agree. We had 10 wins scheduled last year. We might not ever have it that easy again.
(67 days ago, 0 stars)
Colorado's schedule is Washington circa 2016 easy. Maybe easier.
(67 days ago, 0 stars)
First impressions, the south is scheduled to finish like this:
(67 days ago, 0 stars)
ASU might lose 10 games next year. Brutal schedule.
(67 days ago, 0 stars)
I agree. 2-2 will be needed for a shot at 9-10 wins. 0-1 wins puts us at 6-7 wins. Big month.
(67 days ago, 1 stars)
So, who predicted a 4-0 November?
(67 days ago, 1 stars)
USC misses Washington and Oregon.
(67 days ago, 1 stars)
Colorado misses Stanford and Oregon next year. Lucky.
(67 days ago, 1 stars)
Who predicted a 4-0 November?
(67 days ago, 0 stars)
USC was a scheduled win for us last year. Washington is a scheduled win for us this year.
(67 days ago, 0 stars)
If we win at home, at Provo (which is a guaranteed win) and at Arizona, that's 9 wins.
(67 days ago, 1 stars)
Once again, the scheduling Gods have smiled down on us.
(67 days ago, 0 stars)
One change that needs to happen is insurance companies need to not be able to set the prices. What should happen instead is the insurance company should agree to pay $X amount for a procedure to ANY dr. That way, if the insurance company says they
(68 days ago, 1 stars)
Going along with healthcare...You guys mention price shopping..with how insurances are done, that really isn't possible. Let me explain.
(68 days ago, 2 stars)
I think we might be missing the forest here whilst we debate over a tree.
(68 days ago, 2 stars)
I don't always agree with Moore but I do agree that change starts locally. Run for office. Vote in local elections. That is where real change happens.
(68 days ago, 0 stars)
Everyone should read this again.
(68 days ago, 0 stars)
FUSC
(69 days ago, 0 stars)
I've seen nothing to suggest there is any plan.
(70 days ago, 0 stars)
Change happens at the local level then spreads up to the top. Not the other way around. Until we forget about national politics and focus on local politics, nothing will change.
(70 days ago, 2 stars)
You have a GREAT point. Go through, find a couple things to fix, call it TrumpCare, don't repeal anything but fix somethings, and everyone will love it after that.
(70 days ago, 1 stars)
Yeah, Kuzma really shat the bed the last 5 secs. That being said, what a game.
(70 days ago, 1 stars)
Luafatasaga will be our defensive MVP next year.
(71 days ago, 0 stars)
I always enjoy when Utah beats down BYU.
(72 days ago, 2 stars)
Like Troy next year, Huntley the two after, then Tuttle/Shelley the two after?
(72 days ago, 0 stars)
Balls and sockets. It's all you kids talk about these days.
(72 days ago, 0 stars)
I don't think we HAVE to get him. Tufele is the prize of this class. BUT, he would be a damn fine feather in the cap. A DAMN fine feather. Could you imagine him and Tufele in the middle? Shoot.
(72 days ago, 1 stars)
I think both play this fall. Troy was hurt most of last year and Huntley is built very thinly. It wouldn't shock me if whoever wins the job gets hurt 5 or 6 games in and the other is required to lead us down the homestretch.
(72 days ago, 1 stars)
BYU-P has been a basketball school for...oh, I dunno...2,603 days now. lol.
(72 days ago, 1 stars)
Great minds think alike, my friend. Great minds.
(72 days ago, 1 stars)
I agree with your disagreement. I think Jayce will a key component of this team in 2 years.
(72 days ago, 3 stars)
Thats awesome! Remind me how BYU did vs USC and UVU? Then compare what BYU did vs Colorado and what Utah did vs Colorado.
(72 days ago, 4 stars)
Is there any more awful response than, "well someone else did it too"?
(73 days ago, 0 stars)
Robert Kirby's response to Trump seems to be the best response I've ever seen:
(73 days ago, 9 stars)
Your post is everything that is wrong with our political environment. You call me naive right off the bat, which is step 1 towards not accomplishing anything.
(73 days ago, 3 stars)
Utah is 60% mormon. If 33% of mormons are active LDS, that means that 18% of Utah goes to LDS Church at least once a month (the definition of "active"). 18% is active LDS vs over 90% of our legislature.
(73 days ago, 2 stars)
Also, we, as a people, need to become more worried about our local politics than national. That is where real change begins.
(73 days ago, 2 stars)
Your answers will be found in the middle. Both sides have good ideas, both have terrible ideas. When we learn to work together again, we will prosper again.
(73 days ago, 4 stars)
And yet, bishops, relief society presidents, high councilmen are asked to work for 20+ hours a week with no compensation. I'd bet that if you gave Bishops $10,000 a year, it would change their lives. Some of them, it would feel like the windows of
(73 days ago, 1 stars)
Nice change of the subject.
(73 days ago, 1 stars)
Going along with Bagley's cartoon: I'd like to have been there for the big meeting.
(73 days ago, 2 stars)
It's the lack of experience before becoming a politician that bothers me. The politicians that were wildly successful before their careers seems to be very few.
(74 days ago, 0 stars)
Most politicians are failed lawyers. That is all you need to know about them. More proof there are too many lawyers in this country.
(74 days ago, 2 stars)
And Benson is credited with saying you can't be a good mormon and democrat. Not every word that proceeds from a prophet's mouth is prophetic. They are men, just like you and I. They are just better compensated for their work.
(74 days ago, 2 stars)
I think it is because there are some gaping holes, and subconsciously you know about them, but talking about them forces you to face them. So, instead of facing them, you run.
(74 days ago, 2 stars)
I think the PAC-12 gets 5-6 teams into the tourney. There is a clear top 3, with UCLA, Arizona and Oregon. USC may be in that league or just outside of it. That means we need to be the best of the rest. This USC game is HUGE. If we can end up 4th or
(74 days ago, 1 stars)
I'm active LDS and I start the majority of the Mormon threads around here. I'm dealing/plowing through my own issues and I appreciate the members of this boards thoughts.
(74 days ago, 2 stars)
You were up 14 and Tim Patrick handed Jackson his ass. Deal with it. You say $#!+ like that and you come off like a spoiled bitch.
(75 days ago, 2 stars)
Football thought of the day:
(75 days ago, 2 stars)
This story is...smh. What about the dad? They aren't even divorced. For him to be locked up for over 1 year...what about the siblings? Extended family? Teachers? State education? Holy cow. So many questions. I feel like this story is a LONG ways from
(75 days ago, 1 stars)
This is the key. They did have a lot of years, but in multiple capacities. They weren't just a senator for 40+ years.
(75 days ago, 2 stars)
It was posted before that if missionaries was such a huge advantage, BYU would be winning a lot more than they are right now.
(75 days ago, 1 stars)
Sitake is all in with missionaries. He isn't even hiding it. He knows he can't recruit to BYU and win how he wants to win. He knows his best shot is missionaries and transfers. He is putting the full court press on all missionaries while they are on
(75 days ago, 2 stars)
Why can't BYU fans realize this? YES, it is an advantage to have a kid go on a mission especially when it comes to the OL/DL.
(75 days ago, 1 stars)
I heard that Troy Taylor had head coaching offers at G5 programs this year. He's a smart guy. He likes stability but wants to be on top as well. He's a great fit for Utah.
(76 days ago, 0 stars)
Top 10 Most Recommended Messages:
Tevin Carter has been given another year of eligibility. Our defense will be NASTY with a middle of Carter, Paul and Lotulelei. Throw in a little Pease...I feel bad for opposing offenses. (52 stars)
2015-03-18 15:11:16
Since we are talking so much TDS tonight, found this gem on UConn's board: (39 stars)
2014-08-20 23:00:33
Delon Wright coming back for senior season!!!!!!!!! Go Utes!!!!!!! (35 stars)
2014-03-23 00:14:34
Loved Riley in the Utah game last year. He comes in, promptly goes 3-3. BYU fans rejoice with lots of "fetch yes!", "Flip, Riley is awesome," "Look at that sexy hair, BYU is coming back!" Whitt has a look of "you are passing when you are down 30 in (35 stars)
2012-08-09 09:27:55
Hey, you fat bastards!!! Tim Patrick received another year!!!!!!!!!!!!!!!!! (33 stars)
2016-06-30 10:28:08
BYU called out on ESPN chat. (33 stars)
2011-08-31 16:45:39
From Bill Reilly on Williams (32 stars)
2016-08-09 12:42:02
I'm happy that your life has been so pleasant that you have no idea the circumstances around his situation. I am sad that you are too stupid and bigoted to look past your white and delightsome shades and try to obtain some context. (31 stars)
2015-12-17 22:38:52
Whitt on the coaches show: "our SOS shows we aren't afraid to play anyone" ha ha. (31 stars)
2014-08-27 08:14:21
Before anybody boos Chow the next time he runs a draw play on a third and looooong, remember that Ole Miss lost their game trying to be cute on a 3rd and 27. (31 stars)
2011-09-04 23:59:28
Top 10 Most Viewed Messages:
My fellow Ute Fans - I am currently hiring an Office Manager for one of my offices and wanted to let anyone who might be interested know. If you are interested, or know someone who is interested, please boardmail me. The office is in Orem. (4309)
2013-03-28 20:52:07
I don't get why people say that the smart money decision for Poeltl is to leave this year. If he would have been drafted #15 this year, but comes back, ups his stock and goes #10 next year, he will make an additional $2,000,000 on his rookie deal by (2955)
2015-04-22 17:56:09
Are we the anti-ASU's of the conference? They always start out 6-0, then lose out. We do the opposite. :( (2533)
2012-11-04 23:17:17
The best conference in the galaxy is being dominated by two mediocre Big 12 teams. Bwahahahahahahahahahahahahahahaha! The SEC sucks. Play 9 conf games like a real man. (2180)
2013-12-05 17:08:48
CONFERENCE CHAMPIONS: (2153)
2014-11-19 18:48:19
So, I posted earlier tonight that Christensen wants out. Fly fishing Ute posted the same thing. Many of you wonder why he would want out. Let me paint a picture for you. (1736)
2014-11-22 21:12:11
You hit the nail on the head. Ute fans have been second class fans in the state of Utah. Even now with Jimmer-mania going on in the media... (1402)
2011-06-21 15:04:13
OK, the FUBAR ending to the season. Let me begin by saying Stanford wins out in the regular season. Utah wins out. Everyone in the world would hate that. (1381)
2015-11-09 15:18:28
Board mail any juicy info? (1307)
2014-12-25 23:21:40
Reading the tea leaves: (1265)
2016-01-05 18:46:41