Another spring ends, another round of "we are freaking stacked at RB and DL".
by Ute2004
2017-04-19 10:24:46
Whitt has his faults, but when it comes to those two positions, the man is a magician.

We will have a top 3 or 5 DL again this fall. Our RB's will be three deep again this fall.

That is amazing. That is a guaranteed 7-8 wins. What a great time we live in when it comes to Utah sports.
Scrimmage Highlights
by Ute2004
2017-04-12 10:21:56

<script async src="//platform.twitter.com/widgets.js" charset="utf-8"></script>
I find it hilarious that FBYU-P fans have jumped so hard on the Scott Mitchell Bandwagon.
by Ute2004
2017-04-05 12:19:39
He went on Criddle's show yesterday, and now they are all over themselves circle jerking about how Mitchell is a great mormon (which, I could care less about. I'm sure he is a great mormon), how he loves BYU more than Utah, how great his podcast is, how he and Ty are these great friends.

Now, there is nothing wrong with any of that.

BUT, what makes me laugh is how surprised they are that a former Ute could be such a good guy. More proof that a lot of these guys are just sheltered morons.

More proof that all their "Utah fans did this and this to me" is all bullshit. They build up this idea of what Utah fan is in their minds and then reinforce to themselves with their made up stories and then are SO shocked when they actually meet a Utah fan and realize that they are normal people.

You know, it's a Church thing. I remember growing up and going out with adults and seeing them drink at dinner and thinking how normal they all were. Drinking didn't turn them into slobs, rude, obnoxious people who would most definitely go home and beat their wives and then end up in a ditch my sunrise.

The Church tries so hard to show that their way is the only way and if you don't do it their way then you will fail. I guess I shouldn't be surprised. Anyways, my rambling thoughts of the day.
More Utah Stripe:
by Ute2004
2017-03-29 22:57:23
https://twitter.com/utah_football/status/ 847252347432587266
Here are my two practice reports that I've posted on other sites:
by Ute2004
2017-03-29 10:44:44
From the first practice:

Disclaimer: This is what I saw. Take it for what it is. I mostly watched QB's, then WR's, then DB's, then RB's. I noticed little to no DL/OL/LBer. Also, if anyone saw/heard differently, I'd love to knw what.

First, in warmups, Troy Taylor spent the entire time walking the whole field, talking to everyone. Offense, defense, everyone. Most coaches stay in their area, but he was everywhere.

We run a different formation/base offense. Our TE's spend a lot of time as FB's. The QB's line up in shotgun with the HB beside them. But, 2-3 yards in front and offset, we have an H-Back/TE/FB. I like it a lot. It's fantastic. It's almost like our OC is intelligent, see our talent, OL, and RB's, and realizes there is a way to put them in a better position to suceed. I love it.

HB QB

FB

WR WR OL OL OL OL OL WR

We ran that so much, I'd say it is our base offense.

I followed the QB's around today. In their position drills, Batemen looked to be the best. He throws a very, very pretty ball. He is big as well. He just looks like a QB. They had Huntley and Williams on one end, who were throwing to WR's running down towards Bateman. He was alone on that end, throwing the WR's back to the other end.

Troy Williams is Troy Williams. I think what we saw last year is what he is. He is quicker and lighter on his feet, but he also misses some really easy throws. He just looked like Troy Williams. That is why I'm not sure he starts for us (again, this is ridiculously pre-mature, it is one practice…the first practice at that). BUT, he looked like what he looked like last year.

Tyler Huntley. He looks good. He throws a nice ball. I'm not sure what to say other than that. Ask me specific questions, but he looks good.

On deep ball drills, Bateman was by far the best. I think Huntley was next best and Williams was the least accurate. But, Bateman was the best by a large margin.

On timing drills, Williams was the best. He had the best anticipation, got the ball our the quickest. Huntley was the second best. Bateman waited too long. He waited for the WR's to make their breaks, get open, then he threw it in there. The throw was pretty, tight spiral, and fast. But late.

Lots of fly sweeps. Lots of fly sweeps.

Tyquez Hampton…he was a beast. He is HUGE. He looks like a JR WR. Great hands. Caught just about everything his way, had one drop.

Fulks. Has hands of stone. It's too bad. No catch is an easy catch for him. If he catches it.

Ballard is a beast. He is very, very, very good. Holy cow, he is good. Our safeties may not take a huge step back. Marcus was amazing, Ballard isn't as good, but he is a long ways from bad. He had a lot of plays today and an INT.

Anae made a lot of plays. A lot of plays. Leki Fotu is HUGE.

Siosi Wilson, Singleton. Both had some amazing plays, both had some terrible plays. Let me take that back, Wilson had some great plays. Singleton had a lot of drops. Kenric Young seemed to hurt his hamstring…again.

Tyrone Smith. He is HUGE. Tall. Long. Athletic. Shah screamed at him once, "You are big like a big man and move like a little man!" It's true. He had some BIG mental mistakes on 2 or 3 plays and gave up TD's…BUT, he had a lot more amazing plays. Come this fall, he will be a starter at CB and in a year or two, he will be a first/second round draft pick. He will be great. He is by far our best CB already.

Our redzone issues…remain. We have problems there. We move the ball well down the field, get into the redzone, and accomplish nothing. I don't think we scored a single TD starting in the redzone.

Caleb Repp is big and fast. He will do good things as a pass rusher this fall at DE.

We played a lot of 5 man fronts that evolved into some 3-4 as well.

Zack Moss…he looks GREAT. He can catch, man can he catch. He is fast, big, and quick. He looks good. Calves the size of my head. Thick as a tree. I think he will be very, very, very good for us.

Troy McCormick looked solid at WR. Some drops, but quick, looks thicker and some good catches.

Samson Nacua at WR. Man, he looked good. Smooth. Made it look easy. There is a reason they moved him, and it was the right reason.

We rotated a lot of WR's throughout the practice. I think we do that all year. I bet 8 WR's play a lot of reps.

Alec Dana looked really good as well. Caught everything in sight, big, fast. Our WR's look different than in year's past. We did have drops, but it seemed to be from the old crew (Singleton, man he dropped a lot, Young, Fulks. Even Wilson had some drops, including a TD). But Dana, Simpkins, Hampton and Nacua have a lot of promise. They looked good. They run hard. Holliday yelled at Singleton and Young for dogging it a lot. Yelled at Dana once, and Dana came back strong and recieved praise as well.

Blackmon played well. Guidry will have a chance to start at NB, but Blackmon is out to win that job as well. I don't think we see much of Boobie at NB. Blackmon had some really good plays, tight coverage, pass breakups, etc. He and Smith looked good.

Huntley. We play different when Huntley is in. We run RPO's more with him. Huntley can run. He can throw. He has all the tools. He needs experience. For example, in one stretch, he pulls the ball and runs for 15+ yards. The next play, goes through his reads and hits his third option for a big gain. Next play, is flushed out of the pocket, scrambles right, throws an amazing throw for a 5 yard gain. A real bullet. THEN the next play happens. He gets pressured again, forces a throw and it is picked off by Smith and would have been a pick six.

The tools are there, he just needs experience. That is what will cost him the job.

Davr Hamilton and Johnny Capra got into it a little bit today. Some choice words, "football words" I told my kids, some shoving.

In 11 on 11…it wasn't bad, but it looked a lot like last year. Troy ran with the one's. Huntley ran with the two's. Bateman got one series. Troy would make a good throw, miss an easy throw. Move the offense then stall out in the redzone.

Huntley was solid as well. Actually, he came out on fire and then cooled off as the series went by. But, he can run. That is one thing he can do that the other two can't do. If he can learn to not force plays, it wouldn't shock me if he wins the job.

Bateman didn't look that great in his 11 on 11. As good as he was in individual drills, and he was the best one, he was the worst in 11 on 11. In his one series, he had a ball tipped and intercepted.

Now, to be fair to him, he only got one series and Williams and Huntley had 4 or 5 each.

Wow, that's a lot. Sorry for any spelling mistake/grammar.

Off one practice, I'm not sure that Williams is our starter. Bateman and Huntley can just do other things better. Troy will have a fight on his hands to keep the job. NOW, remember that I am a "leave the incumbant as the starter" guy. I always backed Travis, never really thought Thompson had a chance to win the job because Travis was so steady.

But, Travis never had Huntley and Bateman behind him. Those two can do things. I reserve the right to change my mind on this, but as of right now, I wouldn't bet on Troy being the starter.
This is fantastic.
by Ute2004
2017-01-20 22:17:02
My super fast, how the south does, cause I like to talk to myself PREDICTIONS (Holy $#!+E!!! PREDICTIONS!!!)*
by Ute2004
2017-01-18 15:53:35
*But, this is all pre-spring ball based purely off schedules and pre-injuries that will happen in spring ball and fall camp and then you have summer suspensions, etc.
USC was a scheduled win for us last year. Washington is a scheduled win for us this year.
by Ute2004
2017-01-18 11:49:25
Look at Washington's schedule to end the year next year:

UCLA
Oregon
Stanford
Utah
WSU

We could potentially go 4-0 in November next year. UCLA plays Washington right before us. WSU plays Stanford right before us. Colorado does have a bye before us.

Oregon will be better overall but easier for us to matchup against.
Football thought of the day:
by Ute2004
2017-01-10 22:28:39
Being ranked #23...I think it is fair. Maybe a little bit low, but very fair. We beat #3 USC, we held our own vs #4 Washington and #17 Colorado...BUT we did lose to Cal and Oregon.

I'm happy with our season. Not satisfied, but happy. We are living in the golden age of Utah football. There will come a time in our lives...ok, maybe my life (some of you are OLD), when we will have a coach that runs this program into the ground and we will wish for 6 wins.

I'm going to enjoy this run we are on...especially with next's year's schedule. There are six potential losses on the that schedule.

What a year! Joe Williams was a terrible then amazing story. Troy Williams was solid for his first year here. Luafatasaga came on strong and Hansen lived up to the billing. Our OL received a lot more experience for next year than originally thought. Garrett Bolles was a beast. And Isaac Asiata...what a pro. What a man. If you were to design the perfect man, it may just be Isaac Asiata.

Any year we end up ranked is a great year (for reference, those people haven't been ranked in 7 years. lol).

This year should be an A to an A-, but due to the collapse I give this year a very, very solid B+.

And I can't freaking wait for Spring Ball.
It was posted before that if missionaries was such a huge advantage, BYU would be winning a lot more than they are right now.
by Ute2004
2017-01-10 16:11:43
The obvious fallacy in this argument is that missionaries that can actually play are a small percentage of total football players.

BUT, missionaries are a big advantage for BYU and Utah and whoever else uses them. Missionaries are men playing a boy's sport. They are bigger, stronger, thicker. Would Steve Tui'kolovatu start at USC as a 21 year old JR or 22 year old SR? Probably not. BUT, as a 25 year old SR, he is an instant starter at USC.

Here is my retort to that hypothesis:

How many games would BYU win every year if they didn't have any returned missionaries on their team?

It is a HUGE advantage for BYU. Like I mentioned below, a 25 year old two star OL/DL is equal to a 3-4 star 20 year old OL/DL in a lot of cases just because of how much more mature a 25 year old's body is.

The other obvious issue is the way a mission brainwashes you (and it does and to argue otherwise is silly). How many of their best players have been returned missionaries that actually started out at other schools?

If BYU lost returned missionaries from their disposal, they would turn into a pretty average MWC team really fast.

Returned missionaries might not be a big advantage for certain schools, but to BYU, the advantage is HUGE, because without returned missionaries, their program would fade away into irrelevancy overnight.
Man, there is a clear top 3 in the PAC-12: Arizona, Oregon and UCLA...maybe USC as well.
by Ute2004
2017-01-05 22:02:00
The biggest question is how does the next group shake out? We need to be the best of the rest to make the tournament. We need to do really, really well vs the rest of the PAC-12. Then, win a game or two in the tournament. I think we can do it.

We will see.
Why are people so worried about our DL next year? We are freaking stacked again at DL. We probably have a top 10 DL again.
by Ute2004
2017-01-05 11:51:56
Fitts, Lotulelei, Mokofisi. We return three starters.

Then, we add Anae, who was incredible this year.

Then Maxs Tupai, Leki Fotu, Chris Hart, Havili-Katoa, Tonga, Vainuku, Pututau...

And that doesn't into account any recruits we might land...Tufele...

And our LB'ers will be very good as well. Luafatasaga was a beast to end the year. He will be incredible next year.

Our safeties will be fine with Hansen, Ballard, Fogal, etc.

Our only weak point will be CB, and Shah has shown that he can coach kids up.
Man, our road games are hellish next year:
by Ute2004
2017-01-04 12:09:06
@ Oregon
@ Washington
@ Arizona
@ USC

Wowza. The scheduling gods are paying us back for the easier schedules we have had.

Home: ASU, Colorado, Stanford, WSU, UCLA.

If I could hope and pray for any schedule, it would look like this:

North Dakota
@ BYU
SJSU
@ Arizona
bye
@ USC
WSU
UCLA
@ Washington


shit. we might be a six win team next year. There is no good way to schedule this.

At some point, we will have USC/Stanford/Washington/UCLA in back to back weeks. With WSU surrounding that.

Fetch.
P5 teams with more wins than Utah the last three years:
by Ute2004
2017-01-03 14:44:56
1 - Alabama - 40
2 - Ohio State - 37
3 - Clemson - 37
4 - Florida State - 33
5 - Wisconsin - 32
6 - Stanford - 30
7 - Oklahoma - 29
8 - TCU - 29

P5 teams with the same number of wins the last 4 years as Utah:

9 - Baylor
10 - Georgia

So, the last three years, Utah is AT WORST, the 11th best program in the country.

Pretty damn fantastic if you ask me. Pretty fucking fantastic in fact.

Imagine if Whitt can improve the offense with Taylor?

Holy shit.

P5 teams with less wins than Utah the last three years:

Michigan
Oregon
USC
Notre Dame
LSU
Tennessee
Florida
Washington
Penn St
Mississippi State
Ole Miss
Oklahoma State
Colorado
Virginia Tech
Pittsburg
Nebraska
Arizona
Kansas State
Georgia Tech
UCLA
Arizona State
Missouri
Auburn
Louisville
Iowa
North Carolina
Northwestern
I love listening to Norm Chow.
by Ute2004
2017-01-03 10:29:06
On Whitt as Utah's OC, as many claim:


I never saw Whitt. He told me to go to work and I worked. He'd talk to me about situations during the game, if he liked the tempo or whatnot, but every coach does that. During the week, Whitt left me alone. I've not heard he treats anyone else differently.


On Saban/Whitt's philosophy of protecting the defense:


Defense wins championships. I've heard that Saban tells his offense, "just don't screw it up." It's the smart way to coach. It's the smart way to win games. If your offense protects your defense, you will win games.


Chow on Lane Kiffin:


My god. Someone tell Kiffin to just keep your mouth shut.
Ha ha.
by Ute2004
2016-12-23 09:14:24
BYU Football 2011-Present. The University of Utah was invited to the Pac12 in 2010. As a result, BYU threw a fit because they weren't invited and went Independent to try and prove equal footing. Now the highlight of Independence is being considered a P5 opponent by a few major conferences & being an ambassador (whatever that means) in college football. While going back to the MWC would offer so much more to the school, fans & administrators try to put on a show that Independence is the bees knees.
See also[edit]

https://en.wikipedia.org/wiki/Cutting_off _the_nose_to_spite_the_face
Man, what the heck happened last night? No rebounding and no defense won't get you far in life.
by Ute2004
2016-12-23 08:17:26
I don't know if I've seen such a poor effort since K has been here. It was BAD. Also, why didn't we offer Childs? Man, that was a miss, even if he is nothing more than a bench player. Jakob is nothing.

Holy cow, we were terrible. I am not optimistic at all.
Honeycutt has his own clothing line. Check it out.
by Ute2004
2016-12-21 22:16:55
Joyousresolution.com
What I want to see from our bowl game:
by Ute2004
2016-12-21 10:02:42
1 - Bowl prep gives you extra practices (there are no limits to how many or how few practices you hold. You can only do 20 hours a week and four hours a day). Spring ball limits you to 15 practices. That means that bowl prep practices can actually be the same if not more prep time than spring ball. That is HUGE. So, I expect some big jumps from certain players.

2 - Zach Moss. I'd like him to get 20 carries this game. He should be fully healthy by now. Let him run. Let's get him ready to be the MAN next year. Give Joe Williams about 10 carries.

3 - Troy Williams. A bad MCL tear usually takes 4-6 weeks to heal. Williams should be as close to 100% as he has been all year. I expect to see a much, much better QB out there. A true dual threat guy.

4 - ARod/Harding. I don't know who the frack calls plays or how they do it, but I expect a big jump in these guys. The team will be healthy.

5 - Smith, CB. Let's see what this big boy can do. He is a younger McGill/Rowe in our system. Let the transformation from WR to NFL CB begin.

6 - Luafatasaga. He was incredible the last couple games. I want to see him go from everywhere guy to playmaker guy. Let's see him channel his inner Paul. I'd like to see a TO from him this game.

7 - Hansen. Put Hansen at LB'er the whole game. Let Fogal play FS and move Marcus to SS. If Marcus stays next year, he will play SS. Let's see what he can do there.

Indiana is a tough, physical team. BUT, we are much more talented than they are, and they play our style of football. IF JC guys need a year to improve and take a big jump after spring ball and IF ARod/Harding are getting better and IF Troy is healthy....

We should win by two scores. 38-24 Utah.
My Owls lost their head coach to Baylor. Sucks to be a mid major. Temple was getting rolling and now they have to start all over again.
by Ute2004
2016-12-06 10:05:06
I loved Temple's offense. Temple is what Utah could be if Whitt ever decided to play offense. Tough, hard hitting defense, an offense that was physical but used a lot of under center which allows you to run play action off the run very effectively.

I wonder how he will do recruiting there. One thing that no one talks about is Briles coached high school football, so he had connections up the wazzu and could find all those diamonds in the rough in the 1,000+ Texas high schools.

Will another Baylor coach have that advantage?
Why I wouldn't be surprised if only Marcus Williams leaves early:
by Ute2004
2016-12-03 09:52:18
1 - I outlined the money below. Marcus, Garrett, Kylie, Lowell all have first round potential.

2 - Marcus is an athletic freak. He should test out amazing at the combine, which will help his draft stock. He will and should leave early. Go get paid my friend.

3 - Lowell's stock has slipped a little. I think people were expecting Star, and Lowell was amazing, but he wasn't Star level. I bet his draft grade comes back as a 2nd rounder or go back to school.

I'd give Lowell a 50/50 shot at coming back.

4 - Garrett Bolles. He has two bad strikes and one amazing strike. His technique SUCKS. It is TERRIBLE. BUT, he is so athletic and such a FREAK, that he is still amazing. And he has his past. It is very checkered, and because of that, I could see his stock slipping.

I'd lean towards Bolles coming back, because he has first round talent, he can clean up his footwork and become a much better pass blocker, and he can show the NFL that his past is in the past.

If he leaves early this year, he could slip due to his past and footwork.

If he comes back and cleans up his technique, he might be a top 3 pick.

That is no guaranteed money, a 4 year, 2.5 million dollar deal vs a 25 million dollar FULLY GUARANTEED deal.

That is money you come back for.

5 - Kylie Fitts - he is not drafted right now due to his injury. If he comes back, he will be drafted and may get up into the second round territory.

He comes back.

It wouldn't shock me if Lotulelei, Bolles and Fitts all return next year.
Why Ohio State will be left out if Alabama, Clemson, Washington and Penn St win out.
by Ute2004
2016-11-28 18:42:19
Here is the criteria in ranking the teams:


When circumstances at the margins indicate that teams are comparable, then the following criteria must be considered:
 Championships won
 Strength of schedule
 Head-to-head competition (if it occurred)
 Comparative outcomes of common opponents (without incenting margin of victory)


Ohio State, Penn State, Alabama, Clemson and Washington are all comparable.

Ohio State won't have a Championship.
SOS will be comparable, especially after everyone plays one more game.
Head to head...well, Ohio State lost already.
Comparative outcomes, Ohio State and Washington both blew out Rutgers.

If you go by the Playoff Committee's criteria, Ohio State needs someone to lose to get into the playoffs.

Here's the crazy thing: If Washington, Penn St and Clemson win and Alabama loses, you could argue that Alabama should be left out in favor of Ohio State. Ohio State will have the better win, Oklahoma will be ranked higher than USC, and both will have one loss.
If Clemson, Washington and Penn St win and Alabama loses, I'd put OSU in and leave Alabama out.
by Ute2004
2016-11-27 18:39:16
Ohio St didn't win their conference and neither would Alabama. That alone puts Penn St, Washington and Clemson in.
Whoa. Penn St has two losses. I change my opinion.
by Ute2004
2016-11-27 16:17:03
If Washington, Clemson and Alabama win out, they are locks.

The fourth spot comes down to who beats Wisconsin by more: Penn St or Ohio St. Hell, I'd even put Alabama and the PAC-12 champ down as locks. Clemson is a lock if they win out.

If Penn St barely beats Wisconsin, it wouldn't shock me if they get left out for Ohio St.
Today's game: Watch all the other games and try to find a worse OC than ARod/Harding.
by Ute2004
2016-11-26 15:26:18
It can't be done.
Our LB'ers will be much better. This is the last position group to catch up from the MWC days. We lucked out that Norris ended up being so amazing and Paul came from Erickson. We have lost 3? players to injury from that position.
by Ute2004
2016-11-21 18:14:44
That being said, we return Tauteoli, Luafatasaga, Davr Hamilton, Thompson, and quite possibly Chase Hansen next year.

We are fine at LB after this year.

It just sucks that we don't have Masina or Hooker or that freaking Tui'kolovatu left then Fitts was hurt so we weren't able to slide Mokofisi out to DE and move Pita T to LB (his position in the NFL if he makes it).

If we have one or two of those three players this year, our LB'er situation is completely different.

There is a reason why the coaching staff wish no fortune or success on Tui'kolovatu. He screwed Utah over big time, after Utah kept him eligible and helped him become such a good DT.

That loss may have been our biggest loss of the year.
Let's go get 10 wins!
by Ute2004
2016-11-21 00:00:52
The ending wasn't what we hoped for, but 10 wins would be amazing and much better than 8.

Let's go get 10 wins! And pay Colorado back for 2011.
I think Oregon has the longest streak in college football of scoring 20+ points a game.
by Ute2004
2016-11-19 09:43:58
That ends today!!!!
SACK LAKE CITY!!!
by Ute2004
2016-11-10 23:14:49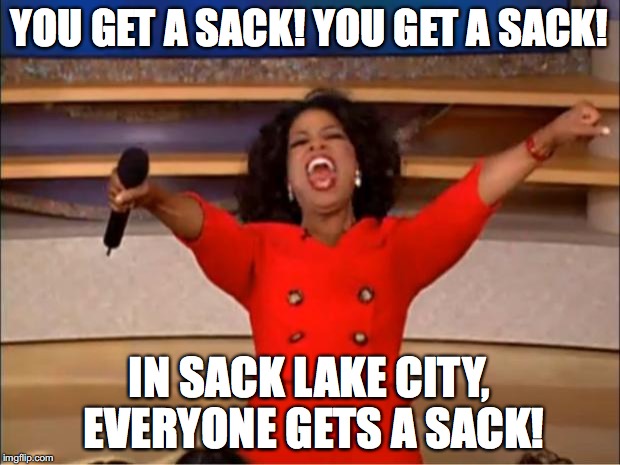 Calm down. This is vintage ARod. Come out every game, throw the ball around, try some stupid ass trick play, commit a couple of TO's, have Utah go down 7-14 points...
by Ute2004
2016-11-10 20:26:42
Then ARod wakes the fuck up, runs the ball, plays Utah football and we win.

It's almost like Whitt tells ARod, "You have the first quarter. After that, we don't throw the ball anymore."

ARod has to be the worst offensive coordinator in football.