For all users. This page is automatically generated and contains the most recent and best work on the message board.
Post Statistics:
* Note: Current rankings are based on activity in the last calendar year.
Recent Topics:
The coaching carousel begins. While we're anticipating which teams will go to what bowls, how bout some speculation on who will fill the P5 coaching vacancies?
by 3UteDad
2015-11-29 19:43:56
Southern California
South Carolina
Georgia
Virginia Tech
Missouri
Miami
Maryland
Illinois
Syracuse

I've already seen speculation that Georgia may go after David Shaw or Gary Patterson.

This will be a busy time for Bronco withdrawing his name from consideration for each opening.
There are some advantages to playing below the rim...
by 3UteDad
2015-11-18 18:37:35
<script src="https://platform.vine.co/static/scri pts/embed.js"></script>
Was there any doubt? Gionni Paul PAC12 Defensive Player of the Week...and Walter Camp National Defensive Player of the Week.
by 3UteDad
2015-11-09 12:30:21
Paul, a senior linebacker from Winter Haven, Fla., was named the Walter Camp National Defensive Player of the Week after accounting for two of Utah's four takeaways in the Ute's 34-23 victory over Washington. Paul returned a fumble 54 yards for a touchdown and returned an interception 27 yards to the Washington 8-yard line, ultimately setting up a touchdown. He had nine total tackles and a game-high two sacks, including a key sack in the third quarter on 3rd-and-6 at the Utah 30-yard line. His sack forced the Huskies who were then trailing by four points to punt. This is Paul's second Pac-12 weekly honor this season, previously winning the award on Sept. 14.
SIAP, Chase Hansen talks about playing safety.
by 3UteDad
2015-10-21 20:16:07
Eager redshirt freshman Chase Hansen just wants to play even... if it's on defense

"It's all about the team," Hansen said. "It'll always be about the team and right now the best way I can help the team is on defense and special teams. So that's what I'm doing."
"He's fast, he's tough, he's got size, he's instinctive and as the third quarterback there's not really any reps for him right now," said Whittingham, who added that the shift to safety is temporary and Hansen will be back at quarterback this spring. "That's the vision we have right now."
If you were Devontae Booker would you rather be the Heisman Trophy winner or the first RB (and highest paid) in this year's draft?
by 3UteDad
2015-10-19 14:07:49
Unless Booker puts up incredible numbers over the last half of the season he'll be an also ran in the Heisman voting. However, I think he's showing all the skill and versatility the NFL looks for in a star running back. He has a better chance of being the first back taken than of winning the Heisman...not a bad consolation prize.
Someone mentioned Gionni's tatt when I posted this pic a few days ago...here's your answer.
by 3UteDad
2015-10-12 20:15:45
Even as Gionni Paul wears Utah red, there's still a constant reminder of his previous affiliation on his right biceps: a tattoo of the Miami "U," half orange, half green.

Ink lasts for a lifetime, but that doesn't mean it can't be covered up. And Paul plans to swap out his old "U" for a new "U." He's thinking red for this one.

"I'm really about to change it," he told reporters Monday. "I'm about to go over it. My heart is at the University of Utah right now. Forever."


Utah football notes: Gionni Paul keeps dazzling for Utah defense

Too bad we can't crowd source the funding for this.
I'm sure this was discussed last night but I'm too lazy this morning to scroll back. How many times did Cal run that pick play when they line up 3 wide? They only called the penalty once, but they used the same formation many times.
by 3UteDad
2015-10-11 09:19:53
I remember once the Cal receiver pushed his rear end out to bump the Utah defender as he tried to get around him. I know Utah runs this same type of play, but Cal used it multiple times and racked up some significant yardage.
When the hell did everyone get so anal retentive about what the rest of the world thinks of our fans and signs?
by 3UteDad
2015-10-10 09:21:14
Ice up and let's have some football!

*Edit: I was using hyperbole when I said "everyone"...as near as I can tell it's maybe 2 or 3 posters that actually seem disturbed.
He's got candy for everyone!
by 3UteDad
2015-10-09 20:42:40
Well...maybe chicken...


Interesting that Jim Hanifan addressed the team today.
by 3UteDad
2015-10-09 18:17:15


He's a former Cal player. Does he have some current connection to the Utes besides being a former assistant coach?
For those heading to the Gameday festivities, UTA is helping out.
by 3UteDad
2015-10-09 13:16:56
UTA expands service for 'College GameDay'
Sleep well Utes!
by 3UteDad
2015-09-26 23:47:14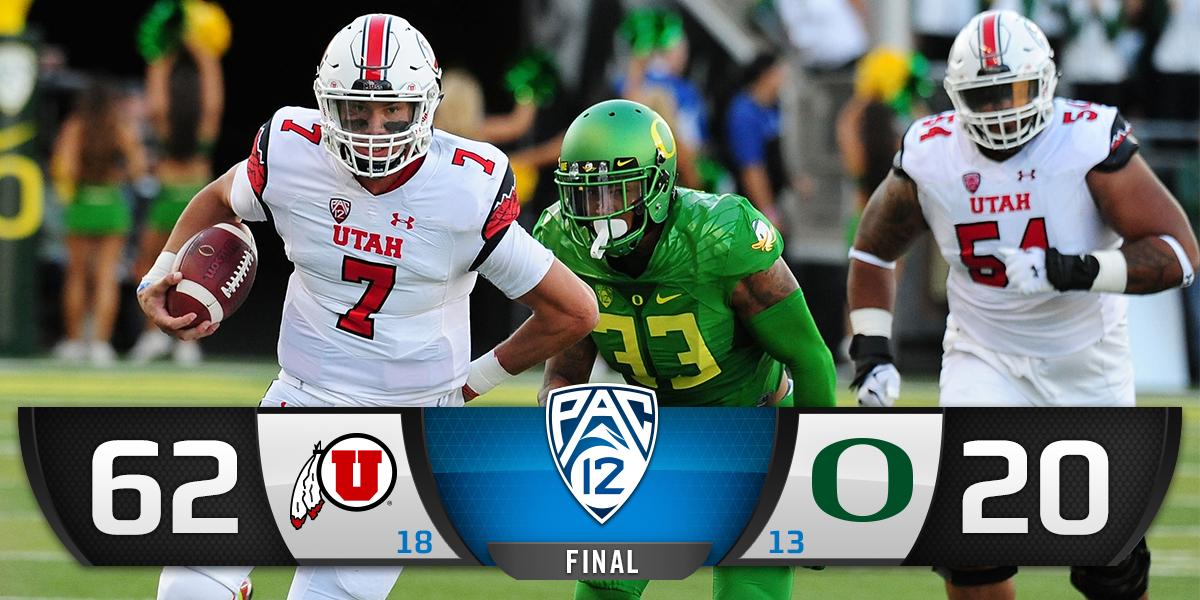 YES!
by 3UteDad
2015-09-18 22:01:26
For those courageous few trekking to Fresno for the game and looking for something to do tonight...
by 3UteDad
2015-09-18 19:05:40
take your pick...

More changes will be coming to football as we know it. Probably in the three areas of equipment and rules and discipline.
by 3UteDad
2015-09-18 15:05:11
Some institutions may give up on football all together.

87 Deceased NFL Players Test Positive for Brain Disease


Researchers with the Department of Veterans Affairs and Boston University have now identified the degenerative disease known as chronic traumatic encephalopathy, or CTE, in 96 percent of NFL players that they've examined and in 79 percent of all football players. The disease is widely believed to stem from repetitive trauma to the head, and can lead to conditions such as memory loss, depression and dementia.

In total, the lab has found CTE in the brain tissue in 131 out of 165 individuals who, before their deaths, played football either professionally, semi-professionally, in college or in high school.


When the movie "Concussion" is released there will be even more momentum for changes.
I have a tingling sensation on the back of my neck...there must be another Jeff Benedict faith-promoting article ready for publication.
by 3UteDad
2015-09-14 22:46:21


I'm done zoob bashing for now...until the next stupid thing they do...
UCLA has employed the best and the brightest in game planning for Saturday.
by 3UteDad
2015-09-14 22:06:39
I never expected to have such a sick feeling in my stomach when I logged into this board this morning. I'm waiting for some good news for those involved as I'm sure everyone here is...
by 3UteDad
2015-09-13 08:43:50
And I'm saddened that this kind of thing can happen in our community. I felt this same way when I heard about the incident with Paul Kruger a few years ago.

When did it become a thing to bring weapons to a college party?

I feel for everyone at the University...students, athletes, coaches, faculty, admin, parents who must be anxious about the safety of their loved ones.
Now that the game is over, we can focus on the big Labor Day Sales...
by 3UteDad
2015-09-04 13:42:43
Good deals on distressed khakis...


Some behind the scenes looks from last night. *Edit* Sorry, just saw this was posted a few pages back, but worth bringing back to the front page
by 3UteDad
2015-09-04 13:12:08


Mr. Harding seems to bring some intensity to the sidelines.
I wonder if he will offer a discount to Utes?
by 3UteDad
2015-09-01 07:44:36
Chiefs quarterback Alex Smith puts Bay Area home up for sale
Fox Sports is pulling out all the stops with technology for the game telecast.
by 3UteDad
2015-08-31 13:10:55
Fox Sports 1 to use 'Khaki Cam' for Michigan-Utah game broadcast

Unfortunately this isn't what I imagined it was going to be.
Japan wins the Little League World Series.
by 3UteDad
2015-08-30 16:07:33
Do Asians hit their growth spurt earlier and just stop growing at the age of 12? They all look a full head taller than their American counterparts.
Another Ute featured on the Harbus tour.
by 3UteDad
2015-08-30 13:16:57
Just looking at this picture and thinking...
by 3UteDad
2015-08-28 13:13:54
it would be kind of cool if they had floodlights they could switch on the roof at the start of the 4th quarter as darkness was coming over the stadium. Would be a fun tradition for night games.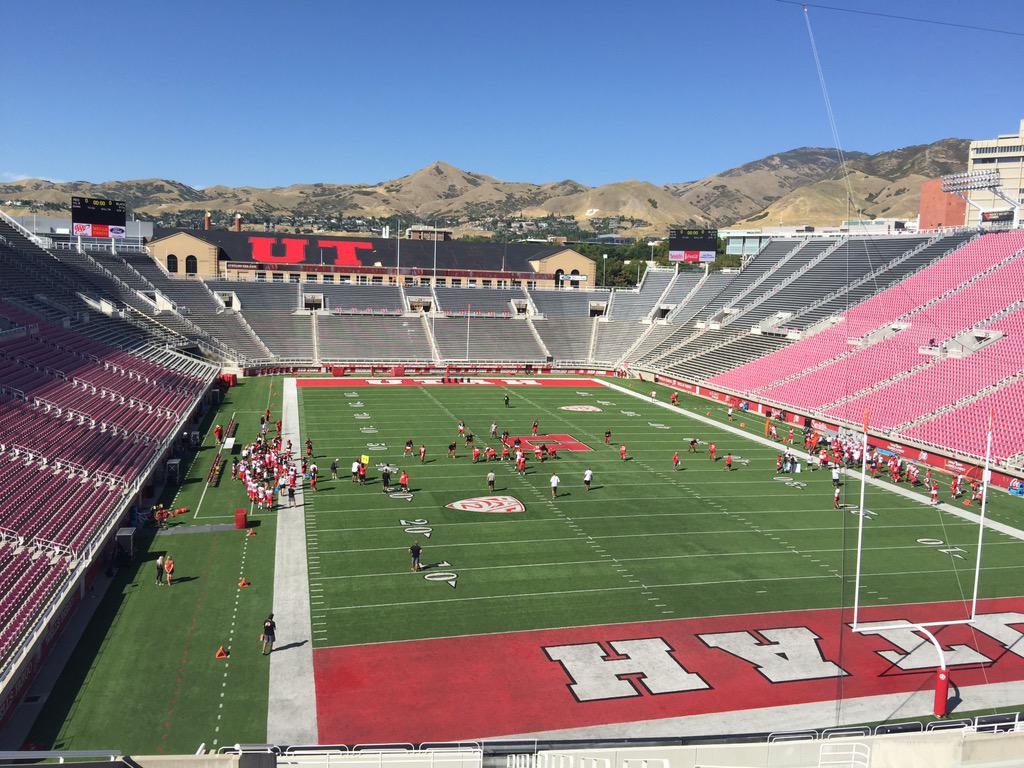 Fox Sports is having some fun with this Harbus thing.
by 3UteDad
2015-08-28 10:02:59
#nomorekhakis
by 3UteDad
2015-08-27 18:45:50
Utah football fans are fed up with the 'HarBros' & former Ute Jordan Gross is starting a movement.

#NoMoreKhakis
Facebook
There are all kinds of permutations of the Ashley Madison leaked data being published out there...
by 3UteDad
2015-08-26 20:13:16
Michigan State has most .edu accounts on cheater site Ashley Madison




The one thing that can be concluded from this information...The B1G kicks everyone's ass.
FWIW....ESPN ranking of PAC12 quarterbacks.
by 3UteDad
2015-08-26 11:37:09
9. Utah: This much hasn't changed since last season: Travis Wilson and Kendal Thompson are the Utes' two guys at quarterback, and neither has proved to be a particularly dominant force at the Pac-12 level. But both do bring strengths to the table, and in an offense built around stud running back Devontae Booker, they won't be asked to deliver superhuman feats. Coach Kyle Whittingham just needs someone to deliver stability and open a little breathing room for the rushing attack, and that much seems possible in Salt Lake City.


I'll be pulling for Travis this season after all he has been through in his time with the Utes. But if we ever go into a season again with a senior quarterback ranked so poorly, it is a failure on the part of the coaching staff, not the player.
I'm so excited...just got my new issue of Popular Mechanics...not only are they a great source for insight on sports...they have recipes!
by 3UteDad
2015-08-26 11:20:19
---
Top 10 Most Recently Posted Messages:
You should really try loving in other parts of the country too.
(1 day ago, 10 stars)
I agree with you...and his roots run very deep with Stanford. Georgia will be throwing some big money at some big names.
(2 days ago, 0 stars)
I've seen Smart mentioned for the South Carolina job with the thought that Georgia will be looking to make a big name hire after canning their coach after a 9-3 season.
(2 days ago, 0 stars)
The coaching carousel begins. While we're anticipating which teams will go to what bowls, how bout some speculation on who will fill the P5 coaching vacancies?
(2 days ago, 5 stars)
RE: To you and the #%!@ who red starred you, did you read the post before? I said that I would leave you off ignore, so that I can blue star your posts.
(2 days ago, 1 stars)
I highly doubt the status of the coaching staff is the biggest negative recruiting tactic against Utah.
(2 days ago, 2 stars)
I would have substituted "dagnabbit".
(3 days ago, 1 stars)
I hope KW goes ballistic in the locker room at the half. This team deserves an all out ass chewing. It appears they don't give a $#!+ about the season now that they aren't in contention anymore.
(3 days ago, 0 stars)
That falls squarely on Scott...he's supposed to be a senior leader and captain...instead he doesn't think about the team on a key play.
(3 days ago, 2 stars)
There are some advantages to playing below the rim...
(13 days ago, 0 stars)
RE: If I was a kid being displaced from my homeland I'd rather go to Canada than Pakistan, where the culture is similar. Are Saudi Arabia, Jordan and Turkey taking a large amount of these refugees? If not, why?
(13 days ago, 0 stars)
If you're not worried about the 3 year old little girl refugee, skip this post...
(13 days ago, 5 stars)
There will be a fair amount of movement in the coaching ranks after the season is over, as usual.
(18 days ago, 0 stars)
Should I know how your post on this "Settlers" game is related to religion?
(18 days ago, 1 stars)
Avast with your scurvy cursing!
(19 days ago, 2 stars)
This is interesting timing...
(19 days ago, 2 stars)
There's a reason for that.
(20 days ago, 5 stars)
Now all we need to do is nail down Jimmy Chitwood.
(20 days ago, 0 stars)
RE: Shocking
(21 days ago, 0 stars)
I'm not sure how you have missed this phenomena over the last 30 to 40 years, but here's some background.
(22 days ago, 6 stars)
From what I've read that President didn't have a lot of fans...the student council president, many of the faculty, and the football coach didn't back him either.
(22 days ago, 1 stars)
The flip side of that would be I wonder how long the University would have let the racial tension go on if the football team was 8 - 0 and the players protested.
(22 days ago, 2 stars)
A Rose Bowl would be beautiful...but how good would a trophy victory over Notre Dame look next to the one over Alabama?
(22 days ago, 4 stars)
It's like Steve Sarkisian going to BYU because it's a party school...
(22 days ago, 1 stars)
I think they are doing it to honor their upcoming opponent.
(22 days ago, 3 stars)
Was there any doubt? Gionni Paul PAC12 Defensive Player of the Week...and Walter Camp National Defensive Player of the Week.
(22 days ago, 8 stars)
I have always been impressed with the empathy BYU fans have with the black community...
(22 days ago, 7 stars)
I went to cougarboard to see what they were saying about the situation. They seem to be so afraid of what others will see their fans say about this that you have to be a donor to their secret society to get access to the discussion.
(23 days ago, 0 stars)
Maybe not...but I do know FUN.
(23 days ago, 3 stars)
I refuse to let 3 or 4 posters distort my view that the overwhelming majority of Ute fans are enjoying this season and appreciate this team.
(23 days ago, 19 stars)
^ Pees in his own Cheerios ^
(23 days ago, 3 stars)
What's your handle over there...nobodysaysyewts69?
(25 days ago, 1 stars)
Yes, remember "I'm the group" that makes inferences.
(25 days ago, 2 stars)
Still no capitalization...
(25 days ago, 1 stars)
"I'm the group"?
(25 days ago, 7 stars)
Why do you capitalize LDS Church and not Islam or Catholic?
(25 days ago, 12 stars)
I'm not inviting you to my PAC12 championship celebration party.
(30 days ago, 3 stars)
The last time I ate there I did the Taco Bell tsunami.
(30 days ago, 4 stars)
I don't follow BYU football...how are you guys doing this year?
(32 days ago, 10 stars)
RE: Single room, single bed....meow
(35 days ago, 0 stars)
Are you two rooming together?
(35 days ago, 1 stars)
The Utes are vying for a PAC12 championship and need to play the players that give them the best chance of getting there.
(37 days ago, 2 stars)
We don't know what coaches are telling recruits. If they're smart they are telling them the guys that are recruiting them are the guys that will be coaching them.
(39 days ago, 0 stars)
I'm not sure why that article is more ominous than any of the others.
(39 days ago, 1 stars)
I have read many places that the upcoming game with USC will be an audition for Whittingham for the Trojan head coaching job. I prefer to look at is as an audition for recruits that were once considering USC and are now giving Utah a second look.
(39 days ago, 13 stars)
SIAP, Chase Hansen talks about playing safety.
(41 days ago, 4 stars)
Did you ever hear of a hooker named "Old Milwaukee"?
(41 days ago, 0 stars)
I sacrifice a BYU virgin.
(41 days ago, 1 stars)
They are commonly referred to as "the fightin Number 2's".
(41 days ago, 1 stars)
The correct answer is "Win".
(41 days ago, 12 stars)
Maybe the NJCAA has different guidelines than the NCAA? Are NCAA rules regarding endorsements retroactive?
(42 days ago, 0 stars)
STFU? Seriously?
(42 days ago, 4 stars)
Suspicions arose when parents were given a tour of the athletes' dorm and they walked by the student lounge...
(42 days ago, 4 stars)
Looks like I hadn't seen the post above this when I posted my reply...I thought you were blue starring Shasta.
(42 days ago, 1 stars)
I think I'd like to know a little more information...
(42 days ago, 1 stars)
Why give someone a blue star just for bringing something to the attention of the board?
(42 days ago, 4 stars)
A little more info...
(42 days ago, 2 stars)
A 4 foot beaver? Egads!
(43 days ago, 15 stars)
The counterpoint to that is if you want to look at a list of players that have achieved great success at the next level, the Heisman list isn't the greatest lineup.
(43 days ago, 1 stars)
Shakespear.
(43 days ago, 0 stars)
If you were Devontae Booker would you rather be the Heisman Trophy winner or the first RB (and highest paid) in this year's draft?
(43 days ago, 2 stars)
Brevity is the soul of wit.
(43 days ago, 1 stars)
It's going to take the Trojans months to sort through the list of former players and coaches before they get to anyone outside the circle of trust.
(43 days ago, 0 stars)
Did anyone notice Travis seemed to be getting the play calls verbally from the sideline in the 4th quarter rather than having them signaled in? ASU stealing signs?
(44 days ago, 6 stars)
It's tough to put a freshman QB in charge of a contending team.
(47 days ago, 0 stars)
Your persuasive use of capital letters in your post has convinced me that you are very knowledgeable on this sort of thing, therefore I must concede the point.
(47 days ago, 34 stars)
They are playing for a potential championship season, and you are worried about the 3rd string quarterback getting hurt playing special teams?
(47 days ago, 3 stars)
Everyone do yourselves a favor and don't read the comments section. Nice article on Kendall.
(47 days ago, 0 stars)
You are assuming people have more faith in their state government than the federal government. Good luck with that.
(48 days ago, 8 stars)
Vernal?
(49 days ago, 3 stars)
He's been right under their noses all this time...
(50 days ago, 5 stars)
^Bourgeoisie^ :D
(50 days ago, 1 stars)
hmmm...I saw 34 carries and 4 receptions in the box score for 38 touches. Did I miss some?
(50 days ago, 0 stars)
Someone mentioned Gionni's tatt when I posted this pic a few days ago...here's your answer.
(50 days ago, 16 stars)
Correction...37 times.
(50 days ago, 0 stars)
I need some help...what's coming out of his pants...and what is the sailor cap for?
(50 days ago, 0 stars)
RE: Post one picture to describe current state of USC football program...
(50 days ago, 1 stars)
How about Snoop performing with the Mormon Tabernacle??? I think we're on to something...
(50 days ago, 3 stars)
Sark cuttied.
(50 days ago, 10 stars)
Maybe Snoop will sing Utah Man the next time College Gameday comes to town.
(50 days ago, 2 stars)
If I wasn't tapped out from donating to cancer victims, I would start a GoFundMe for a Whittingham retention fund.
(50 days ago, 2 stars)
It's just a smokescreen while they are locking down their first choice.
(50 days ago, 14 stars)
It makes me curious about whether Cal had that as part of their offense earlier in the season or if they put it in specifically because of something they saw in Utah's defensive scheme.
(50 days ago, 0 stars)
Just out of curiosity, what is the cuttoff point in history after which men can be judged on the morality of their actions?
(50 days ago, 4 stars)
He has a bonus clause in his contract based on the number of unused timeouts left over at the end of the season.
(51 days ago, 2 stars)
Wrong category.
(51 days ago, 1 stars)
Every father does not wish their daughters went to BYU...quite the contrary.
(51 days ago, 8 stars)
I couldn't figure that one out either. Does that mean the ineligible receiver penalty only applies on a completed pass?
(51 days ago, 0 stars)
I'm sure this was discussed last night but I'm too lazy this morning to scroll back. How many times did Cal run that pick play when they line up 3 wide? They only called the penalty once, but they used the same formation many times.
(51 days ago, 1 stars)
Tectonics.
(52 days ago, 0 stars)
When the hell did everyone get so anal retentive about what the rest of the world thinks of our fans and signs?
(52 days ago, 5 stars)
RE: That will change this weekend. I call the choir is the edge we need to win.
(53 days ago, 1 stars)
"In my day there was none of this jackpott'n around in the endzone"
(53 days ago, 0 stars)
He's got candy for everyone!
(53 days ago, 8 stars)
My guess is you are not a delicate flower and made of much sturdier pioneer stock.
(53 days ago, 3 stars)
Interesting that Jim Hanifan addressed the team today.
(53 days ago, 2 stars)
Was he out of the closet while with the choir?
(53 days ago, 1 stars)
This post made me laugh.
(53 days ago, 7 stars)
It stays with you...kinda like getting infected with that brain eating amoeba...it's not your fault.
(53 days ago, 0 stars)
Maybe I was reading Baron wrong, but I don't think he has a problem with the MoTab singing Utah Man...he has a problem with this even being an issue with two sides.
(53 days ago, 2 stars)
Top 10 Most Recommended Messages:
Runs like a champ in the spring, wheels come off in the fall. (58 stars)
2013-03-05 15:12:15
Fat chance (56 stars)
2011-07-06 15:03:58
Awesome ending to the Nebraska spring game. (55 stars)
2013-04-06 20:32:46
One player deserving of a handshake and a slap on the back...Jon Hays. He is a player with limited skills playing the most important position on the field. He never made claims to be something he was not. He hung tough through adversity and taunts.. (54 stars)
2011-12-31 17:42:15
RE: Any truth to the rumor that KBYU hired Cleanflicks to edit out the turnovers? (47 stars)
2008-11-25 21:26:11
Be honest...do you work for Deseret Credit Union? (44 stars)
2011-07-07 13:57:43
We all know what happened the last time a zoob tried to piggyback someone... (40 stars)
2012-06-20 16:26:04
That smack doesn't hold up. (37 stars)
2014-08-06 11:29:55
Get back to me when there is more excitement about a team they have beaten than a team they have scheduled. (37 stars)
2012-07-25 15:00:39
Is it just me, or does the placement of the Utah women's gymnastics sticker just above the "I'd rather have a daughter in a whorehouse" phrase qualify this as a FAIL? (35 stars)
2011-05-31 15:47:42
Top 10 Most Viewed Messages:
Kids say the darndest things... (1909)
2011-12-14 10:58:07
Well, I guess that means Mark Mangino won't be walking through that door... (1813)
2011-12-11 19:11:23
I only give blue stars because Monkey has not yet enabled the Joe Glenn feature. (1812)
2011-12-13 19:38:23
I'm a lumberjack (1738)
2011-12-14 19:54:07
Will they allow the less obtrusive Microsoft Monocle? (1355)
2013-03-28 10:25:24
"I will bring up one thing. All the "Beaver" jokes. If you want to look like a back-water hillbilly to OSU fans, then make Beaver jokes. They've heard them all and for DECADES. You won't get a rise out of them, they don't care..." (1281)
2013-09-11 14:22:11
Just got done watching a report on HBO Real Sports about the Pulaski Academy football team in Arkansas. If you haven't heard of them, they recently won the state championship, employing a strategy of only on-side kicking, and seldom punting. (1157)
2012-01-24 21:12:27
For anyone that cares, here is what seems like a plausable explanation for the twitter photoshop on Utah compliance officer Kate Charipar's twitter page. (1017)
2013-09-20 01:04:50
Isn't the author Mormon and a former BYU professor? What were the falsehoods on doctrine? (971)
2011-04-13 14:19:21
An educated reader can make their own determination on the amount of spin in their stories... (873)
2011-04-13 14:16:18